Chevrolet Epica
Model Overview
Chevrolet Epica Cars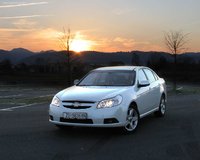 Questions
Why Won't Our Car Start?
Our car won't start and a new battery in today. The car wants to connect but can't quite do it. We're also not getting any power to our windows or door locks.
Chevrolet Epica Tansmission Problems
I am looking for epica owners who have had transmission problems with their vehicle.
Cheve Epica No Crank No Start
Our car won't start even not crank and battery is working fine . Windows, light and everything working good. It's not trun on and not crank
My Chevrolet Epica Not Shifting Gear Smoothly... Some Time Changing Gear W...
Dear Sir, I Want To Asking My Epica Chev 2006 Model Every Morning Having Ha...
Dear sir, I want to asking my Epica Chev 2006 model every morning having hard starting..what is the problem...new spark plug and fuel filter