Cadillac Escalade EXT
Model Overview
Used Cadillac Escalade EXT
Cadillac Escalade EXT Questions
Side Compartments Embeded In The Truck Box Sides (over The Wheel Wells).
I was looking at a 2002 cadillac escalade ext which had side compartments embedded in the truck box sides (over the wheel wells). I don't see this advertised on any of the other ads I've seen. Simil...
Can I Start Cadilac Escalade With Out The Anti-freeze Hose Hooked Up To Th...
Can I start my Escalades after I hooked up a new Rady ETA with no any freeze hose ... I know it can be started with no Rady ETA I just want to see if my transmission works I don't want to drive it ...
Dash Lights Cadillac Escalade
How do I fix my dash lights?
Engine Upgrade.
Do you think I could slam in a 7.6 liter twin turbo engine into a Cadillac Escalade Ext? Just day dreaming and was curious if anyone knew off their head. What vehicle would something like that fit in?
Transmission Problems.
Hello Please Help. My 09 Escalade Ext started having trouble whenever I came to a stop... either in traffic, stop signs, or red lights. After coming to a stop, I would try to accelerate and the R...
Older Cadillac Escalade EXT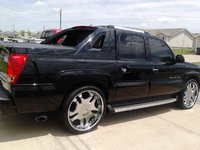 2002 Cadillac Escalade EXT
2002 Cadillac Escalade EXT reviews:
Cadillac Escalade EXT
Overview
Introduced in 2002 as part of the Escalade's turn-of-the-millenium redesign, the EXT defies classification. This pickup-SUV uses a V8 engine that delivered 6.2 L displacement, 403 horses, and 6 speed automatic transmission in 2007. With 4 doors and room for 5, the Escalade EXT leaves plenty of room for the pickup style cargo bed.
Those in the market for a used EXT should consider that models from 2002-2006 have a 6.0 L, 345 hp V8 engine with 4 speed automatic transmission. In accordance with the old adage, the Escalade EXT emphasizes quality of the ride over quantity of gas mileage. Expect to get around 13 mpg in the city and 18 on the highway.