Cadillac Escalade EXT
Model Overview
Used Cadillac Escalade EXT
Cadillac Escalade EXT Questions
Cadillac Escalade Ext
It was a green escalade ext on car Gurus
I Need To See Cars In STL & SGF
I live in Rolla, MO 65401. I do not need to see vehicles in Chicago.
Will This Work In 4l60e 2006 Cadillac Escalade EXT
No Power To Fuel Pump New Relay New Pump New Filter
No power to fuel pump no fuel at Schrader valve
Where Is The Engine Computer Cadillac Escalade EXT
I've been looking for the main computer of my Cadillac and I haven't find it, and I don't know where it is
Older Cadillac Escalade EXT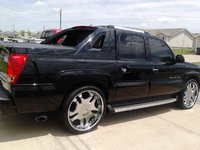 2002 Cadillac Escalade EXT
2002 Cadillac Escalade EXT reviews:
Cadillac Escalade EXT
Overview
Introduced in 2002 as part of the Escalade's turn-of-the-millenium redesign, the EXT defies classification. This pickup-SUV uses a V8 engine that delivered 6.2 L displacement, 403 horses, and 6 speed automatic transmission in 2007. With 4 doors and room for 5, the Escalade EXT leaves plenty of room for the pickup style cargo bed.
Those in the market for a used EXT should consider that models from 2002-2006 have a 6.0 L, 345 hp V8 engine with 4 speed automatic transmission. In accordance with the old adage, the Escalade EXT emphasizes quality of the ride over quantity of gas mileage. Expect to get around 13 mpg in the city and 18 on the highway.