Bentley Continental GT
Model Overview
New Bentley Continental GT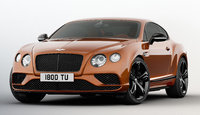 Used Bentley Continental GT
Bentley Continental GT Questions
Bentley Continental Gt '12 No Sound - Naim
Hi i have bentley continental gt 2012 after replacing new battery, there are no sound for my head unit mine is with naim sound sytem
What Steps Do I Take To Change The Main Battery In My 2005 Bentley Gt Coupe...
A/c Not Working After Battery Got Low
battery went dead while working on door, now a/c blows hot air checked fuses. not sure what happened.
How Do Cars Idle At Such A High Speed But The Brakes Stop The Car?
I have learned a lot about cars from my Bentley mechanic mom and whatever she couldn't answer I used the internet to find out. I asked her this recently and she didn't have a response so here I go: ...
I Have A 2007 Bentley Continental Gt And Want To Know If A 2012 Front Bumpe...
Older Bentley Continental GT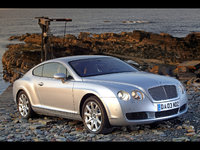 2004 Bentley Continental GT
2004 Bentley Continental GT reviews:





Bentley Continental GT
Overview
The Bentley Continental GT arrived in 2003 as replacement for the previously discontinued Continental R and T. It was the first of three new Continental models, followed soon after by the GTC convertible and the Flying Spur sedan.
The previous Continental was built upon a Rolls Royce platform, but the new model switches to VW's D-Platform. The other two current Continental models also share this foundation.
The new Continentals house a Volkswagen-engineered twin supercharged W-12, which produces 552 horsepower and 479 pound-feet of torque. A six speed automatic transmission is another Bentley first, along with the W-12. Bentley adds a steering wheel-mounted paddle shift for manual gear changes. Much of the GT's mechanics are borrowed from the VW Phaeton, which also shares the D-Platform.
Before the Spur leaves Bentley's Crewe, England assembly plant, it is eligible for many Mulliner finishing upgrades. It is not as customizable as the Azure or the Arnage, but it is also offered at a much lower price. While there is no such thing as an entry-level Bentley, shoppers should know that opting for the high-performance Spur instead of the ultra-luxury Arnage will save them about $150,000.