New Audi RS 5

The 2019 Audi RS 5 has been announced, but it is not yet available for purchase.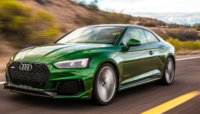 Audi RS 5 Questions
Please Why Can I Get A Right Handed Site Car Here?
i need an Audi rs5 right handed please get back to me if you can get it for me
Price Is Wrong
You seem to be way off on the fair market price on our car , dpo you have the wrong year ?
Do You Know If The Side Mirrors Fold In?