Alfa Romeo 8C Spider
Model Overview
Alfa Romeo 8C Spider Cars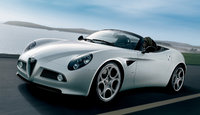 2009 Alfa Romeo 8C Spider
2009 Alfa Romeo 8C Spider reviews:
Questions
Why When Calling My Car Gurus Account Manager, After The Recorded Greeting ...
Can not get a hold of our Account Manager Marc Notarangelo,....we have old reviews/star ratings (under the prior ownership) we have a 1 star rating on there because a customer made a low offer on a...
Alfa Romeo 8C Spider
Overview
What do you get when you combine a Ferrari, a Maserati, and an Alfa Romeo and cut off the roof? An amazing Italian supercar - the 2009 Alfa Romeo 8C Spider. Not only have the legendary Italian marques combined to develop this new Alfa, but this car's name is the stuff of legend. The 1930s Alfa 8C 2300 is considered Alfa's finest prewar sports car.
The heart and soul of any sports car is its engine - even more so with an Italian sports car. And what could be more "soulful" than starting with a Ferrari engine. The block goes back to the 360 Modena V8, which later found a home in the Maserati GranTurismo and Quattroporte. For use in the 8C, the engine was bored and stroked from 4.2 to 4.7 liters, received a dry sump oil system, DOHC, four valves per cylinder, and new Alfa heads. Its variable intake camshaft timing adds to the production of 450 hp at 7,000 rpm with a 7,500-rpm redline. Torque comes in low, with 80% of its max 354 lb-ft available from 2,000 rpm. As of this writing, the Spider has yet to be put through its paces by the automotive press, but the Coupe version has recorded 0-60 in 4.2 seconds, with the top end just shy of 190 mph.
The six-speed transmission comes from the first version of the Maserati Quattroporte and allows for automatic or manual shifting. In sport mode, the transmission employs the Magneti Marelli system used in the Ferrari F430 and 599 Fiorano, speeding up shifts from 0.4 to 0.2 second and accompanying downshifts with perfect rev blips. The gearbox is in the rear, where it forms a transaxle unit with a ZF limited-slip differential. The clutch remains up front with the engine, but the engine (following current Ferrari powertrain philosophy) is set entirely behind the front axle, helping achieve a 49:51 front/rear weight balance.
Aurally, there seems to be nothing like the 8C - neither Ferrari nor Maserati. When in Sport mode the exhaust butterflies open, sharpened by quicker throttle response, faster shift speeds, and more rapid reflexes, due to less electronic stability intervention. Reviewers have likened it to the wail of a Formula 1 car: "gloriously rich, angry and assertive," "spitting and hissing like a cornered leopard," with downshifts accompanied by a "glorious garble of pops and burps."
The 8C sits on a shortened version of the Maserati GranTurismo platform. With an 11.7-inch-shorter wheelbase, the Alfa is 19.7 inches shorter overall than the GT. Some reviewers have likened its size to the Nissan 350Z's. The aluminum double-wishbone independent suspension control arms are Maserati, but the unadjustable shocks, springs, and anti-roll bars are Alfa. ABS and ESP are standard, and braking is accomplished with vented front and rear discs measuring 14.2 inches and 13.0 inches respectively.
An Alfa-styled body of carbon fiber, gloriously sensuous in a way that only Italians can articulate, wraps the 8C. Reviewers express amazement at how much the body looks like the hand-formed aluminum popular during the good old days of Italian automotive art. 47% of the 8C's weight, 1,645 lbs, is carbon fiber. The interior is rich in this material, along with leather and genuine polished aluminum. The seats are carbon fiber wrapped in leather, with bolstering that holds hips and torso in place.
The Spider's convertible top is a double-layered affair. The external sheet is made of a multi-thread material to withstand the elements and is available in a range of colors, while the inner sheet has dense sound-proofing qualities. A dashboard button animates the electro-hydraulic controlled top.
The Alfa Romeo 8C Spider is built on the same line as the Quattroporte and GranTurismo in Modena's Maserati factory, but only 500 of them will be made. Anyone interested should speak up quickly to get in on this newest Italian work of art.
Find great deals from top-rated dealersTM
Search