Looking for a New Toyota Prius in your area?
CarGurus has 1,293 nationwide Toyota Prius dealers with 7,816 new car listings.
2020 Toyota Prius
Test Drive Review
The Toyota Prius continues to be a leader among hybrids with versatility, technology, and an available all-wheel-drive variant.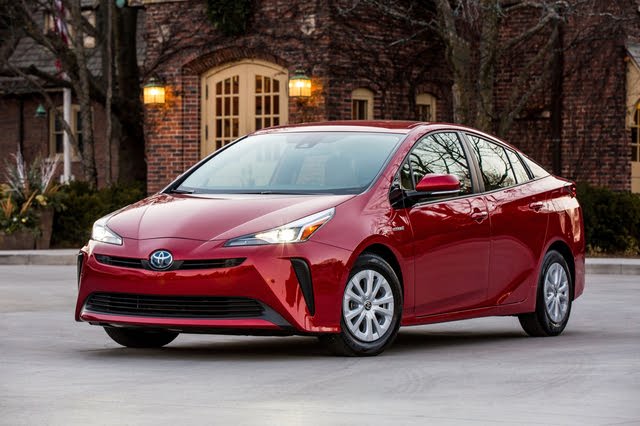 Ever heard of an eponym? It's a brand or product that is so popular that it's come to define its respective market. Think of Kleenex for tissues or Band-Aid for medical bandages. For hybrids, the Toyota Prius has ascended to near-eponym status. It was one of the first—and remains one of the most popular—hybrids ever made.
As automakers across the industry are rolling out more hybrid models, the Prius continues to be the standard-bearer of this genre. This is largely due to the fact that the Prius is a dedicated hybrid, rather than a hybrid variant of an existing model.
Throughout the industry, different companies are taking different approaches to alt-fuel vehicles, including full-electric and hydrogen fuel cell powertrains. The Prius endures as the leader in hybrid power due to a focus on fuel efficiency that doesn't compromise on style, drivability, and versatility. So how does the Prius hold its ground as more players enter the fray? Read on to find out.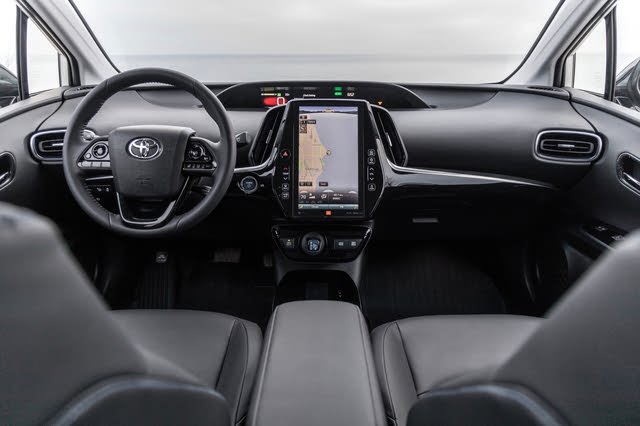 The Prius has had the same general shape ever since its second generation. This is influenced by the wind tunnel, as the jellybean-like shape yields the optimal drag coefficient. Toyota has stuck with this shape through the years, changing the styling cues within those constraints. The main evolution for the current generation is a few visual tricks to make it look more like a sedan. Despite this, it still has a hatchback.
The Prius has a futuristic style and though the rest of the industry has caught up with many of these cues, the Prius continues to look contemporary. The most revolutionary design element of the Prius is its cabin. The compact hybrid has embraced this unorthodox design since its introduction more than 20 years ago. It is defined by the central location of the instrumentation and gauges.
Trim levels for the Prius are L Eco, LE, XLE, and Limited. The entry-level trim is the L Eco. It comes standard with 15-inch alloy wheels with wheel covers, automatic climate control, cloth upholstery, and push-button start. It also comes standard with three USB ports, Bluetooth connectivity, and a 7-inch touchscreen infotainment system with Apple CarPlay, Android Auto, and Amazon Alexa compatibility. The L Eco also provides a host of standard driver-assistance features (more on that later). Moving up to the LE trim adds a rear windshield wiper, front-and-rear parking sensors, seat-back pockets, a tonneau cover for the cargo area, and additional driver-assistance features.
The Toyota Prius XLE brings a whole host of content. In addition to 17-inch alloy wheels, it adds rain-sensing wipers, synthetic leather upholstery, an eight-way power-adjustable driver's seat, heated front seats, a heated steering wheel, and wireless device charging. There's also an available 2020 Edition of the Prius, celebrating 20 years of the popular hybrid. The 2020 Edition features unique dark exterior accents, and a production run limited to 2,020 units.
The range-topping Prius Limited trim adds adaptive, self-leveling headlights, a head-up display (HUD), satellite radio, HD Radio, and a large 11.6-inch touchscreen. Interestingly, moving up to this larger screen means losing Android Auto support.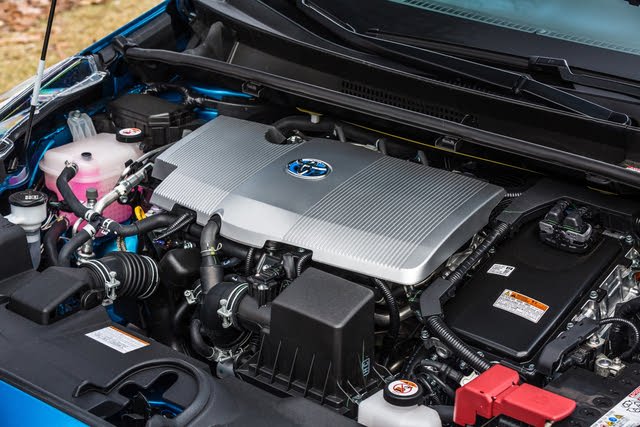 No matter which trim you select, the Prius hybrid equation starts with a 1.8-liter four-cylinder engine. It is paired to an electric motor and battery power, combining to put out 121 horsepower and 105 pound-feet of torque, with front-wheel drive (FWD). An all-wheel-drive (AWD) variant—the Prius AWD-e—is also available. It employs a second electric motor powering the rear wheels. This system is not connected to the engine or FWD components and only operates at speeds up to 43 mph.
The Prius has smooth, confident acceleration, especially at lower speeds. The handoff between electric power and conventional power is seamless—something Toyota has perfected with its experience.
There are three drive modes—EV, Eco, and Power. EV relies solely on battery power, which is not always available. Power provides quicker acceleration, but a good amount of engine noise comes with it. Eco is the ideal blend of performance, efficiency, and quiet operation.
The Prius features a unique shifter design. It may take some getting used to for first-time Prius owners. Reverse is up and to the left, Drive is down and to the right. Neutral is a single movement to the left. Park is a separate button to the left of the shift knob. This may cause some confusion, so pay close attention to the instrument panel at the top of the dash. There's one more mode on the shifter, pulling down on the lever for "B." This is for Engine Braking mode. It allows the CVT to mimic a downshift, taking some of the load off the brakes when slowing down. This is incredibly helpful for Prius owners in mountainous regions, so as not to overload the brakes.
The Prius is actually rather engaging from a handling standpoint. It's no sports car, but its low center of gravity gives it sharper handling than one might expect from a vehicle whose primary objective is efficiency. The ride is smooth and does a good job soaking up bumps in the road. Ultimately, the Prius is ideal for navigating a commute without issue.
The Prius makes good use of its space. Toyota designers have pushed the versatility of the Prius's compact platform, even if it doesn't have the conventional car layout. The doors have deep pockets for water bottles and other items. Between the front seats is a large tray area, which is a helpful spot to toss a wallet, keys, or phone. There are also helpful sub-trays around the center console.
The front seats are spacious and comfortable, providing plenty of headroom and legroom. Driver visibility is also good. The rear seats also have plenty of space, though taller drivers will have to watch their heads getting in and out of the back.
The Prius has 50.7 cubic feet of cargo space with the rear seats folded. With the rear seats up, the Prius has 24.6 cubic feet of trunk space in LE and AWD-e models, and 27.4 cubic feet in the rest of the lineup. This makes the Prius one of the most spacious and versatile options among all hybrid and electric vehicles. Despite the sedan-like design cues, the Prius is a hatchback. This is incredibly helpful and makes loading bags and large items a simple task.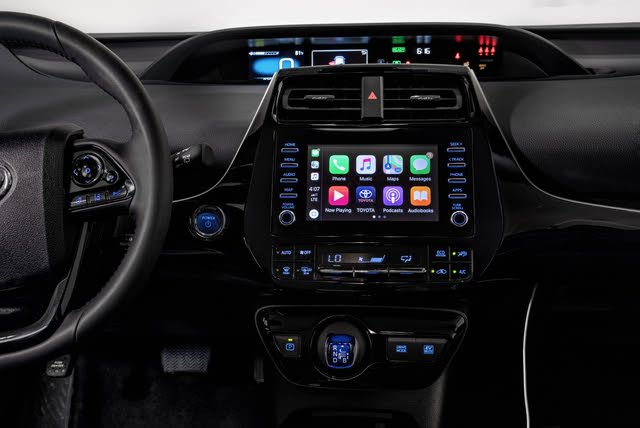 The Prius comes standard with a 7-inch touchscreen. The menu layout is sensible and easy to navigate. It comes standard with Android Auto and Apple CarPlay. Other standard features include Bluetooth connectivity, a WiFi hotspot, and three USB ports.
As mentioned, moving up to the Limited trim level upgrades the infotainment system to the large 11.6-inch screen. It has a portrait arrangement and a tablet-like layout. The screen is customizable and can be split between climate controls on the bottom half and entertainment controls on the top half. This screen comes standard with Apple CarPlay but lacks Android Auto. The Prius is available with satellite radio, HD Radio, (HUD), and a 10-speaker JBL premium audio system.
The top-center instrument panel is one of the Prius' defining interior components. This has been a "central" component to Prius design since the very first generation. This screen has grown to include hybrid drivetrain status and other critical readouts. Many of these menus can be toggled via the directional pad on the steering wheel. Like the unique shifter design, this instrument panel may take some getting used to. But its high placement on the dash means it's closer to the driver's line-of-site. If this placement is an issue, the available HUD will be crucial.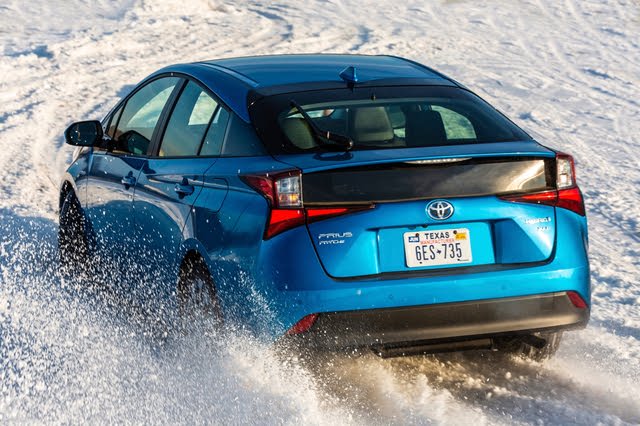 The Prius comes equipped with a whole host of high-tech standard safety features as part of Toyota Safety Sense 2.0. These include automatic emergency braking, forward-collision warning, lane-departure warning, adaptive cruise control, and automatic high beams.
Optional safety features include blind-spot monitoring, rear cross-traffic alert, front-and-rear parking sensors, and active park assist. The available lane-tracing assist is also particularly helpful. It can detect the lane lines on a road or highway, and center the vehicle in that lane. This isn't autonomous driving, but it will lighten the driver's workload on a road trip or commute. This is all in addition to safety standards like traction control, a tire-pressure monitoring system, and a full array of front- and side-impact airbags.
The Prius earned a five-star rating from the National Highway Traffic Safety Administration (NHTSA). The 2019 Prius also earned a "Top Safety Pick" accolade from the Insurance Institute for Highway Safety (IIHS). However, it fell short of the IIHS' highest "Top Safety Pick+" rating due to "average" scores in the passenger-side small overlap front crash test, and in headlight testing. Those scores also apply to the 2020 model.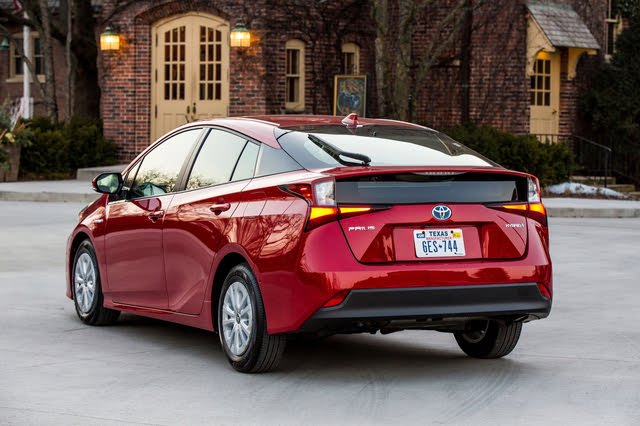 The most efficient version of the Prius is the Eco trim. It returns fuel economy of 58 mpg city, 53 highway, 56 combined. The standard Prius returns 54 mpg city, 50 highway, 52 combined. All-wheel drive slightly lowers the EPA estimates, to 52 mpg city, 48 highway, 50 combined.
Base MSRP for the 2020 Toyota Prius is $24,525 for the L Eco trim. The LE starts at $25,735. The all-wheel-drive variant of the Prius starts at $27,135. Moving up to the XLE trim will cost $28,575. The all-wheel-drive XLE starts at $29,575. If you're feeling nostalgic, the 2020 or 20th Anniversary Edition starts at $29,875. The range-topping Limited starts at $32,650.
The Prius is backed by a three-year/36,000-mile basic warranty and a five-year/60,000-mile powertrain warranty. The hybrid components are backed by an eight-year/100,000-mile warranty, and the battery is backed by an impressive 10-year/150,000-mile warranty.
With so many hybrid variants of conventional vehicles, you could conceivably have your cake and eat it too. But if fuel economy is your top priority, only a dedicated hybrid like the Prius will do. Because of its loyal following, Prius ownership might feel like something that you commit to. Don't worry—you don't have to swear a blood oath. More importantly, the Prius doesn't force you to sacrifice. The cabin is comfortable and versatile, and the driving dynamics are solid. Prius ownership is not the lifestyle change that some might think, and Prius owners know this all too well. They also know the incredible benefits of owning the halo car of hypermiling.
Updated
From open-wheel racecars to specialty off-road vehicles, George Kennedy has driven it all. A career automotive journalist, George has been a contributor, editor, and/or producer at some of the most respected publications and outlets, including Consumer Reports, the Boston Globe, Boston Magazine, Autoblog.com, Hemmings Classic Wheels, BoldRide.com, the Providence Journal, and WheelsTV.
What's your take on the 2020 Toyota Prius?
2020 Toyota Prius Top Comparisons
Users ranked 2020 Toyota Prius against other cars which they drove/owned. Each ranking was based on 9 categories. Here is the summary of top rankings.
Have you driven a 2020 Toyota Prius?
All Prius Incentives
Enter your zip to see incentives for a new Prius in your area.
Cars compared to 2020 Toyota Prius
Looking for a Used Prius in your area?
CarGurus has 6,127 nationwide Prius listings starting at $2,500.
I just purchased a 2020 Toyota Prius and drove 352 miles (mostly all interstate). Speeds varied from 55, 65, 75. Total average mpg was 38.9. The dealer told me that cold weather decreases mpg. Is thi...
I bought a 2020 Toyota Prius with 50 state emission control. I find it is noisy on acceleration, is this due to the 50 state emission option? If so how can I get rid of this option?
Trims
AWD-e
L Eco FWD

Starting At: $25,693
LE AWD-e

Starting At: $25,677
LE FWD

Starting At: $25,456
Limited FWD

Starting At: $33,680
Technology AWD-e
Technology FWD
XLE AWD-e

Starting At: $29,500
XLE FWD

Starting At: $27,900
Quick Links