Looking for a Used Wrangler in your area?
CarGurus has 40,218 nationwide Wrangler listings starting at $3,999.
2020 Jeep Wrangler
Test Drive Review
Jeep's new diesel engine gives the Wrangler Unlimited newfound grunt but is a wash when it comes to your wallet.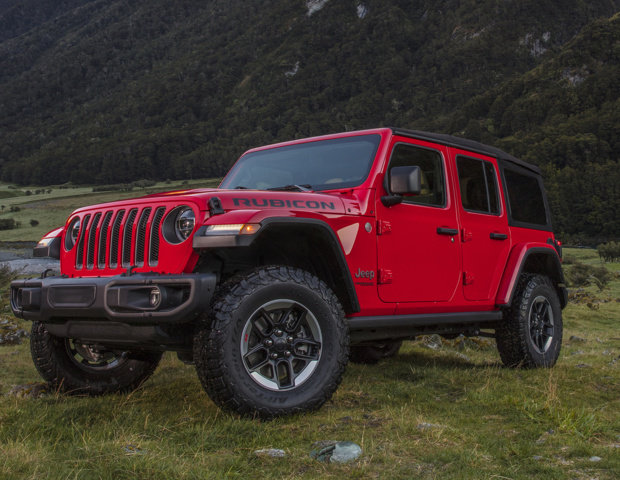 It's hard to find a car with better brand recognition than Jeep's Wrangler. It is an American 4x4 icon, with military roots and millions of miles of trails traversed. As awesome as Jeeps are, they require one caveat: They are not very efficient. This has become more glaring as the rest of the industry works to improve fuel economy. Jeep has made incremental improvements in the past several years, with mild hybrids and turbocharged 4-cylinder engines, but these setups still don't get much better than V8-level fuel economy.
So for 2020, Jeep offers a new diesel engine in the Wrangler Unlimited. Read on to learn if this new engine actually improves the Wrangler's fuel economy. And if not, does the Wrangler Unlimited do other things well enough to make up for its fuel thirstiness?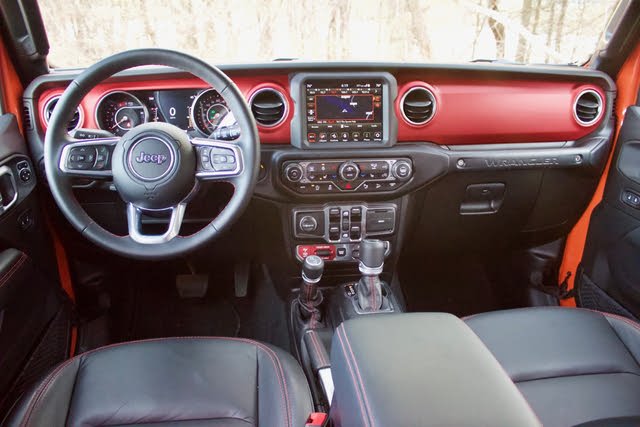 Jeeps are unmistakable on the road, especially Wranglers. They have circular headlights, a seven-slat grille, and boxy styling. Some may be aware that you can fold down the windshield and remove the doors, but even if you don't, the exposed hinges and bolts give the Wrangler an unmistakably industrial look. Another component of that Jeep persona is the removable top. All these conspire to make the Wrangler Unlimited look more like a fully enclosed "recreational utility vehicle" of sorts than a commuter car.
Inside, Jeep has invested a lot of effort to keep the cabin fresh. Because of its packaging, the Wrangler Unlimited can't have the same kind of flowing dash design as many new crossovers. Instead, it goes for a retro look, with circular climate vents and gauges. The result is an SUV that makes the most of its ergonomic shortcomings by going straight for brutish utility with a dash of style.
Trims for the Wrangler Unlimited include Sport, Sport S, Sahara, and the Rubicon that we drove. The Sport has a USB port, a 5-inch touchscreen system, eight speakers, and little else. Heck, it even has manual windows and locks. This speaks to the rugged nature of the Wrangler Unlimited, as does its wash-out interior with an in-floor drain plug.
Rugged is fun, but creature comforts will pay more dividends in daily commuting. As such, we recommend checking out the Sport S, which adds power windows and locks as well as air conditioning and remote keyless entry. It also makes a couple of key options packages available. The Technology Package swaps out the so-so 5-inch touchscreen for a 7-inch touchscreen with Uconnect infotainment, Apple CarPlay, and Android Auto. The Cold Weather Group adds heated front seats, a heated steering wheel, and remote start. This is a must-have in colder climes.
The Sahara is the most upscale trim of the Wrangler Unlimited. It features body-color fender flares,18-inch alloy wheels, and bigger brakes. It also includes all the content from the Technology Package and makes more options available, such as leather seating and the hardtop with interior headliner, which will quiet down road noise a lot.
But the Rubicon is the king of the mountain, literally. You'll note it by its slightly taller ride height, thanks to big mud-terrain tires, and a lifted off-road suspension. You'll also notice the power-dome hood with "Rubicon" lettering across the side. Beneath the skin, this flagship gets plenty of mechanical upgrades, and the cabin is outfitted with much of the content from the Sahara.
After that, there are a number of special editions, such as the Willys and Willys Sport, both of which feature a number of off-road upgrades that aid in both form and function. As the name suggests, the Black and Tan edition combines black body paint with the new tan soft top for a classic safari-inspired look.
Other special editions include the Sport Altitude, Freedom, Sahara Altitude, North Edition, and Rubicon Recon. Perhaps no brand makes better use of one shape than Jeep does with all the various versions of the Wrangler Unlimited.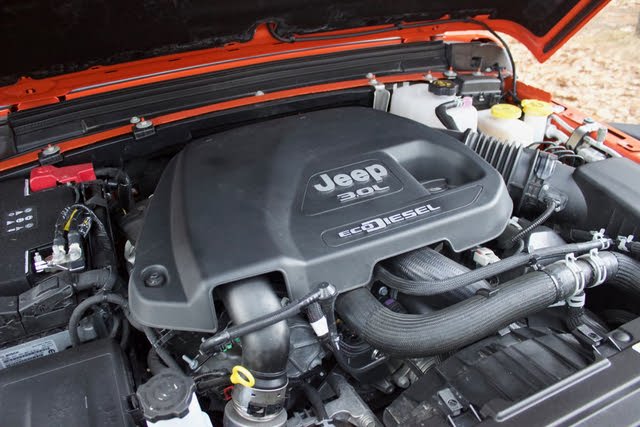 The base engine in the Wrangler Unlimited is a 3.6-liter V6 making 285 horsepower and 260 pound-feet of torque. A 6-speed manual comes standard with the V6. This engine is also available with an 8-speed automatic, but it should be noted the automatic is the only transmission option with any of the other engines. Buyers can also select a turbocharged 4-cylinder engine that makes 270 hp and 295 lb-ft of torque.
Then we come to the new-for-2020 3.0-liter V6 turbodiesel. It makes 260 hp and an impressive 442 lb-ft of torque, and you really feel that extra torque.
Getting up to highway speeds and overtaking is no problem with the diesel. And frankly, it's better than the other engines at lower speeds, too, thanks to all that torque. It does have an engine shutoff, which is very abrupt. Thankfully, there is a cancel button right in the dash nearly at eye level.
Once you're on the highway, you'll hear a lot of road noise, which is why we recommend the upgraded headliner. You sit very upright, the Wrangler has some unique blind spots, and thanks to its off-road tires, the Rubicon tends to wander on the highway. It's a similar experience to driving a truck, where the steering wheel has some play, but because the track is narrower than a full-size truck's, it's even more of a ride. In fact, a whole lot of the Jeep experience is an acquired taste.
The Wrangler Unlimited is definitely a rough ride for anyone used to driving a car-based SUV like a Honda CR-V or Toyota RAV4. There are SUVs that offer true off-road capability, but with a bit more comfort. The most notable is the Toyota 4Runner, and then moving upmarket, there is the Lexus GX, and the Land Rover Range Rover Sport. Still, within the Wrangler lineup, there's the Sahara, which is a bit more comfort-minded.
For all these quirks, the Wrangler Unlimited is at home on the trail. It navigates rocks and ruts with ease, and the diesel engine allows you to charge up hills or crawl over rocks with more precision. The locking front and rear differentials allow all four wheels to claw along in unison, while the disconnecting front sway bar allows for more front-wheel travel, which is perfect for very uneven terrain. For all its on-road shortcomings, the Wrangler's performance score is largely based on these off-road attributes. A 4x4 SUV should be judged on how well it suits its purpose, not on the same set of standards as a family sedan.
As for fuel economy, the Jeep Wrangler Unlimited with the new diesel engine returns fuel economy of 22 mpg city, 29 highway, and 25 combined.
Those numbers might not seem impressive, and nearly all small SUVs get better fuel economy. But the most efficient gas-powered version of the Wrangler Unlimited is the 4-cylinder turbo with the 8-speed automatic. That setup returns only 21 mpg city, 22 highway, 21 combined, so the diesel actually makes a marked improvement. It should be noted that we observed closer to 22 mpg in a week of driving, but I think we were having too much fun driving the Wrangler quickly.
It must be noted that diesel power has its limitations. Diesel fuel often costs as much as, if not more than, the most expensive premium fuels. Over the course of a year, your total fuel costs would be about the same, and you should note the diesel engine is a $4,000 option. Also, consider that not every gas station has diesel fuel. You really need to think about your lifestyle and driving habits to decide whether the diesel makes sense for you.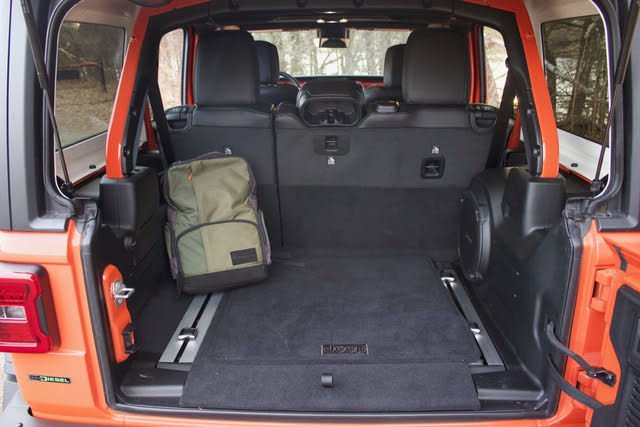 The Wrangler is available in two basic forms. The standard Jeep Wrangler has two doors and is covered as the standard Wrangler (engine, trim, and feature availability changes for the two-door, which is part of why they get split up). We're driving the four-door Wrangler Unlimited, which has been a sales success for Jeep. Today, the majority of Wranglers sold are four-door Unlimiteds.
Like any Wrangler, the doors come off and the windshield folds down. Jeep provides a small tool kit to remove any hex bolts or brackets to do this. But the most popular Wrangler feature is its droppable and removable roof, and there are a few ways of doing that.
The base soft top can retract partially or all the way. In order to retract the roof, you need to remove the rear window panels, which slide out easily along small plastic C-channels. Once those panels are out, you can leave the top up in "Safari Mode" or drop the top with an incredibly easy motion. And as we mentioned, there is also the option of a tan soft top for 2020.
I prefer a soft top, but the hardtops are quite popular, as they add a bit more protection from the elements. You will need to store the hardtop if you remove it, and getting that done will require multiple people. Our test version came with the black three-piece hardtop, which had removable roof panels over the driver and front passenger. You can also get a body-color version of this top.
Of course, if you have no interest in any of this kind of work, Jeep now offers the Sky One-Touch roof. It's a hardtop on the back and sides, but the roof itself is a retractable piece of cloth that accordions back without requiring any work.
With the top on and the rear bench lowered flat, the Wrangler Unlimited has about 72 cubic feet of cargo space. That's less cargo space than significantly less-capable SUVs, like the Honda CR-V and Toyota RAV4, offer. You may give up comfort and cargo space to own one, but as we mentioned in the performance section, the Wrangler can do things no other SUV can.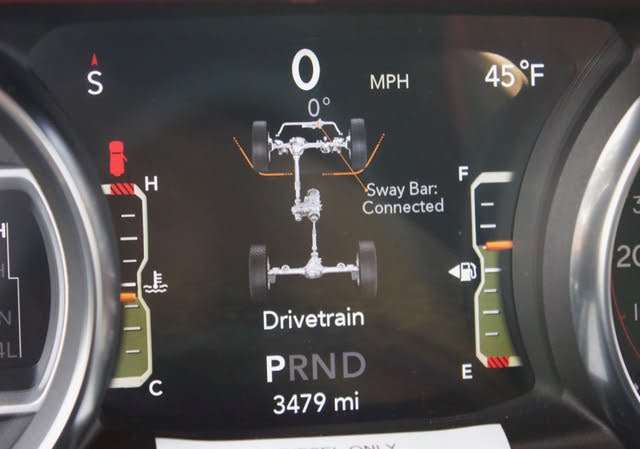 The Sport and Sport S trims come with a pretty basic 5-inch touchscreen infotainment system. It's a quantum leap from even the upgraded system from just a few years ago, and it comes with Bluetooth and USB connectivity.
The Rubicon and Sahara come standard with a 7-inch touchscreen that features a more robust example of Uconnect, with Apple CarPlay and Android Auto. This 7-inch screen can be had as an option on the Sport S via a Technology package, which also adds automatic temperature control and a 7-inch digital display in the center of the instrument panel.
The Sahara and Rubicon are both available with an even larger 8.4-inch Uconnect infotainment system, which adds navigation, HD Radio, and real-time traffic and weather updates. This option also adds a 4G LTE WiFi hotspot, an auto-dimming rear-view mirror, and automatic high beams.
Finally, this 8.4 Uconnect package adds an Alpine premium audio system, which places a large subwoofer in the space between the right roll bar and the right inner fender wall. Even at highway speeds, this system produced tremendous sound.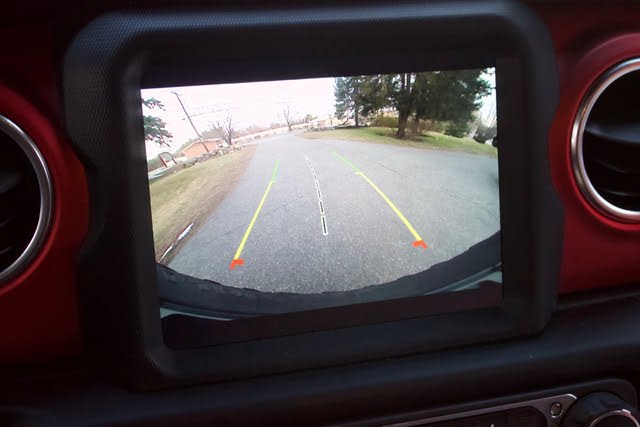 Standard safety equipment includes airbags, electronic roll mitigation, and a backup camera, with a clever location on the hub of the external spare tire. But outside of that, the safety options packages are well worth selecting.
The base safety package is $895 and adds rear parking sensors as well as blind-spot monitoring and rear cross-path detection. These are all truly helpful, as the Wrangler Unlimited has some awkward sightlines, especially to lower/smaller objects. The Advanced Safety Group is $795 and adds adaptive cruise control and full-speed forward-collision warning. Our test model also had automatic high beams.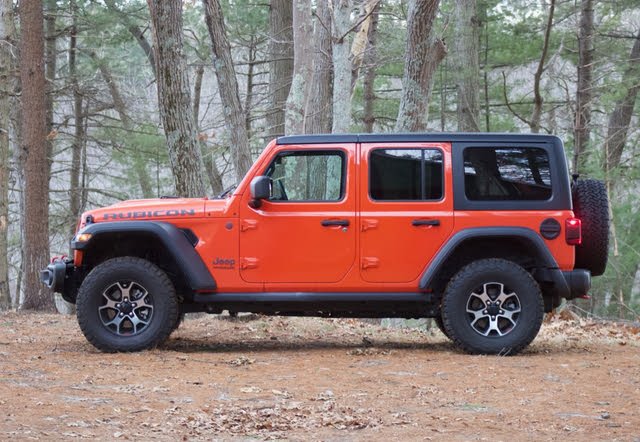 The 2020 Jeep Wrangler Unlimited has a base MSRP of $31,795, but as we said, you don't get much at all with it. We recommend the Sport S, which starts at $34,995, but that's still not everything we want. Tack on the recommended Cold Weather, Technology, and Advanced Safety packages, and the price gets closer to $40,000. A Sahara starts at $38,645, and some options will push that up into the mid-40s.
The Wrangler Unlimited Rubicon starts at $42,125, but with all the options, it clocked in at $60,810. The most notable option was $4,000 for the diesel engine, as well as $2,000 for the 8-speed automatic (which is required with this engine—there's no other option).
That is certainly quite steep and treads into luxury-car pricing, but there's a reason for that. The Wrangler Unlimited costs more than other SUVs because it can do what other SUVs cannot, and it can go where most other SUVs dare not venture.
When you look at its economics, the diesel engine is pretty much a draw, but there's more to this engine than cost. In addition to providing that extra power, the diesel engine has a distinct sound. If you're considering a Wrangler Unlimited, it's likely a lifestyle vehicle, designed for getting off the beaten path and experiencing the world. The diesel engine's notable sound contributes to the uniqueness of the Wrangler Unlimited and is a perfect soundtrack for its next adventure.
Updated
From open-wheel racecars to specialty off-road vehicles, George Kennedy has driven it all. A career automotive journalist, George has been a contributor, editor, and/or producer at some of the most respected publications and outlets, including Consumer Reports, the Boston Globe, Boston Magazine, Autoblog.com, Hemmings Classic Wheels, BoldRide.com, the Providence Journal, and WheelsTV.
What's your take on the 2020 Jeep Wrangler?
2020 Jeep Wrangler Top Comparisons
Users ranked 2020 Jeep Wrangler against other cars which they drove/owned. Each ranking was based on 9 categories. Here is the summary of top rankings.
Have you driven a 2020 Jeep Wrangler?
Cars compared to 2020 Jeep Wrangler
Looking for a Used Wrangler in your area?
CarGurus has 40,218 nationwide Wrangler listings starting at $3,999.
Trims
Black and Tan 4WD

Avg. Price: $37,605
Freedom 4WD

Avg. Price: $40,960
Recon 4WD
Rubicon 4WD

Avg. Price: $45,515
Sport 4WD

Avg. Price: $36,243
Sport S 4WD

Avg. Price: $35,819
Unlimited Altitude 4WD

Avg. Price: $40,894
Unlimited Black and Tan 4WD

Avg. Price: $40,236
Unlimited Freedom 4WD

Avg. Price: $40,985
Unlimited High Altitude 4WD

Avg. Price: $52,486
Unlimited Moab 4WD
Show 11 more trims
Quick Links