Looking for a Used Model 3 in your area?
CarGurus has 1,897 nationwide Model 3 listings starting at $37,900.
2018 Tesla Model 3
Overview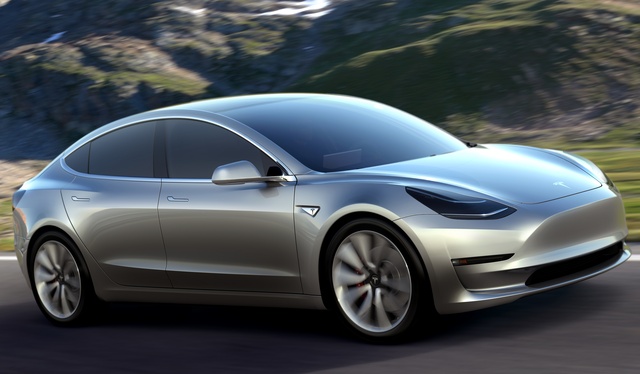 The Model 3 marks the third major vehicle launched by electric-vehicle (EV) manufacturer Tesla, following the Roadster in 2007 and the Model S in 2011. (The Model X crossover, introduced in 2016, was based on the Model S and is considered vehicle number 2.5.) All three follow the company's master plan, drawn up early in Tesla's history by founder Elon Musk, that put into place a slow but steady progression from low-production, high-priced cars to high-production, affordable electric vehicles. That effort culminates with the debut of the 2018 Model 3, Tesla's first mass-market sedan.
For the Model 3, Tesla has set some ambitious goals, with 100,000 vehicles planned for 2018 and as many as 500,000 units to be produced annually by 2020. As Musk notes, with mass production comes affordability. Pricing for the 2018 Model 3 starts at $35,000, although add-ons and options could push that number into the high 40s. Still, that's $30,000 less than the Model S, and nearly $40,000 less than the Model X. Incentives will reduce the final cost even further, making this a move in the right direction for the innovative automaker.
Beyond pricing and production numbers, the base Model 3 breaks new ground by delivering a driving range of 215 miles on a single charge—up from 208 miles for the base Model S—and a 0-to-60 time of under 6 seconds, which are decent performance numbers for a budget EV. Standard features include built-in autopilot hardware and supercharging capabilities for a reduced charging time. Unlike the 3-row 7-passenger platform of the Model S, the Model 3 sits on a shorter wheelbase and seats 5 passengers across 2 rows, making it more like an everyday sports sedan. It's lighter and more maneuverable than its larger cousin, though not quite as functional for families, and it could certainly serve as a daily driver—and that's the intent.
Given the Model 3's shorter footprint, the automaker wanted to ensure ample legroom and headroom inside. To achieve this, the designers pushed the front seats and dash forward towards the front wheels and nose, which was possible thanks to the lack of combustible engine under the hood. In fact, the Model 3 features both front and rear trunks, and Tesla notes that the vehicle has more cargo space than any other similarly sized gas-powered sedan. For optimal rear-seat headroom, the Model 3 comes equipped with a single continuous pane of glass in the rear roof area. This not only allows for more space, but also provides a feeling of openness and makes a strong visual statement.
The Model 3's sporty, aerodynamic exterior design might at first glance cause you to mistake it for a fairly typical upscale sports sedan, with a nose that bears a vague resemblance to that of a Chevrolet Corvette and body lines not unlike those of a BMW 3 Series. But upon closer look, the differences become apparent. The absence of a grille is the first giveaway—unlike with the Model S, Model X, or even the Roadster, there is no attempt to mimic the grille of a gas-powered vehicle. In its place is a flat, undecorated front panel above a wide air scoop. It's a little disconcerting at first, and a definite eye-catcher, but the subtle headlights, an arcing cabin line, and a stubby rear end provide a sense of familiarity. There's a futuristic aspect to the design, but the Model 3 doesn't overstate itself.
So far, Tesla has not revealed much about the Model 3's powerplant and battery, but it's safe to assume it will feature the same technology as the Model S's. An electric powertrain sits between the rear wheels to drive them directly and includes a motor, a rotor, a drive inverter, and a gear box. Together, the power components provide smooth, instant acceleration the moment the driver steps on the pedal.
Tesla currently offers the Model S with a choice of two batteries and three performance levels, and the same will likely hold true for the Model 3. Musk has stated specific performance numbers for the Model 3, so expect a base, mass-produced battery with set performance numbers and available upgrades that boost both power and price. The challenge for Tesla lies in ensuring an ample supply of batteries—production at its new solar-powered Gigafactory in Nevada has been ramping up quickly to meet expected demand.
By equipping the Model 3 with a supercharging system, Tesla ensures that drivers can recharge their vehicles to 50 percent capacity in about 20 minutes. Musk notes that there are currently about 3,600 dedicated supercharging stations worldwide and almost 3,900 "destination" charging stations in public places such as restaurants, hotels, and shopping centers. It appears, however, that the use of these supercharging stations will not be free for Model 3 owners. The company plans to double the number of superchargers and quadruple the number of destination chargers by the end of 2017, and owners can install a charging station at home or recharge their vehicle using a 120- or 240-volt outlet.
Like the Model S, the Model 3 has a low center of gravity, due to the integration of the battery into the chassis, and well-balanced handling, thanks to its ideal weight distribution. The automaker plans to offer the Model 3 in both rear-wheel-drive (RWD) and all-wheel-drive (AWD) configurations. As with other Tesla vehicles, the Model 3 produces zero carbon emissions.
In the cockpit, the Model 3 swaps out the traditional instrument cluster for a single 15-inch touchscreen mounted on a free-floating stalk on the dashboard between the driver and passenger. The touchscreen provides access to the car's performance data, mechanical systems, navigation, cabin controls, and entertainment system.
The tricky part will be getting your hands on a Model 3, at least initially. Tesla has already logged several hundred-thousand advance orders, with deliveries on new orders not expected for at least a couple of years. If you have one in your sights, best get in line now with your $1,000 deposit—the Model 3 is on its way, though no one knows for sure yet exactly when it will arrive.
Updated
Rob has been a contributor to CarGurus since 2007, and an automotive test-driver and writer since the early '90s. He's test-driven everything from BMWs and Jags to Bentleys and Saabs, with an occasional Range Rover, Ferrari, Porsche or Lamborghini thrown in. He also created the annual Car of the Year and Exotic Car of the Year awards for Robb Report magazine. He currently resides in California.
What's your take on the 2018 Tesla Model 3?
Have you driven a 2018 Tesla Model 3?
Cars compared to 2018 Tesla Model 3
Looking for a Used Model 3 in your area?
CarGurus has 1,897 nationwide Model 3 listings starting at $37,900.
Trims
Long Range AWD

Avg. Price: $49,339
Long Range RWD

Avg. Price: $45,028
Mid Range RWD

Avg. Price: $42,655
Performance AWD

Avg. Price: $51,332
Standard AWD
Standard RWD

Avg. Price: $41,057
Quick Links