Looking for a Used Traverse in your area?
CarGurus has 18,887 nationwide Traverse listings starting at $2,495.
2018 Chevrolet Traverse
Test Drive Review
Thanks to a complete redesign, the 2018 Chevrolet Traverse vaults to the head of its class, delivering style, size, power, and value like no other three-row crossover SUV from a mainstream brand.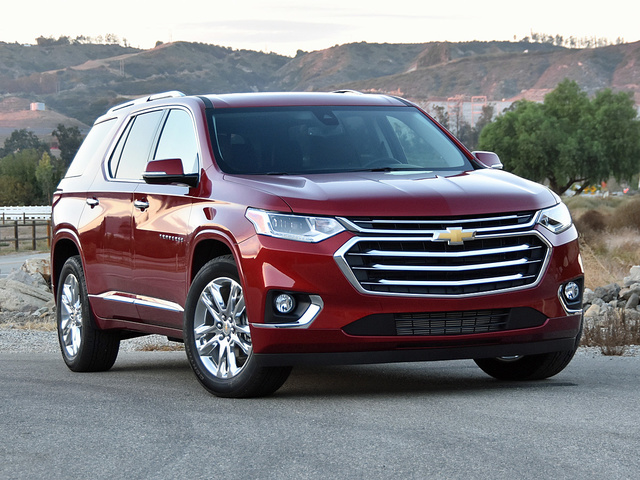 Chevrolet is no stranger to building big SUVs. With the redesigned 2018 Traverse, Chevy demonstrates mastery of the three-row crossover SUV segment, creating one that is larger, more useful, and more efficient than even the company's own Tahoe (unless you need maximum towing capability). Plus, in comparison to full-size sport-utes, the new 2018 Chevy Traverse is a raging bargain.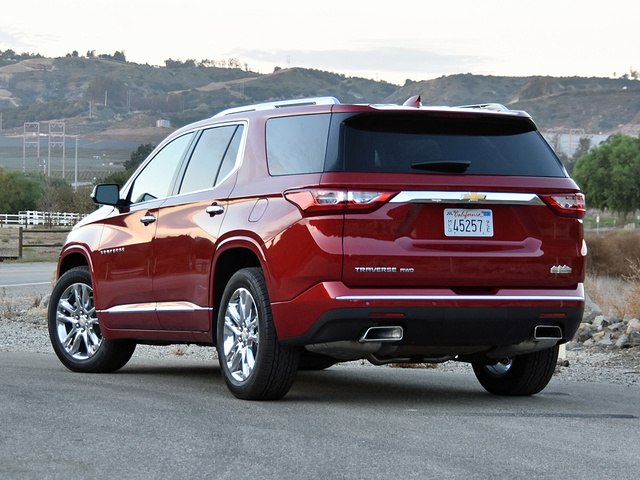 Good looks go a long way toward selling cars, trucks, and SUVs. Styling is just as important as a reputation for reliability when it comes to attracting vehicle buyers to a specific model.
If that's true, then the redesigned 2018 Chevrolet Traverse has a good chance of becoming a ubiquitous sight on American roads, especially if the automaker's advertising campaign touting all of its awards convinces people that Chevys last a long time.
Pricing starts at $30,925 for the L trim. From there, you can upgrade to LS ($33,045), LT with cloth seats ($35,940), LT with leather seats ($42,540), RS ($43,440), Premier ($45,840), and High Country ($53,045) trims. A racy-looking Redline Package is also available for the Premier ($48,415). All prices include a destination charge of $995 for shipping the Traverse from its Lansing, Michigan, assembly plant to your dealership.
My test vehicle was a High Country trim, which comes standard with all-wheel-drive (AWD) and pretty much everything Chevrolet offers as a factory-installed upgrade. With extra-cost Cajun Red paint, the window sticker came to $53,440. If that sounds expensive, just remember that a Chevy Tahoe in base LS trim with 4-wheel-drive but without any options will cost $52,005.
There. That puts things into perspective, doesn't it?
In any case, the Traverse High Country looks terrific. There isn't a bad line, awkward proportion, or odd detail on this SUV. Same goes for the interior, as long as you like Loft Brown over Black. That's the only choice with High Country trim. The high-contrast color scheme, coupled with polished metallic, gloss black, and trendy striated wood, makes the High Country's cabin look upscale enough to justify the price tag.
At the same time, though, the High Country's detailing draws attention to the disparity between the Loft Brown bits and the black plastic covering much of the cabin. Though the dashboard and upper door panels are coated to reduce gloss, there's no hiding the cheaper looking panels on the lower portions of the interior.
Cabin materials are, however, solidly affixed, lending the Traverse an impression of robust build quality.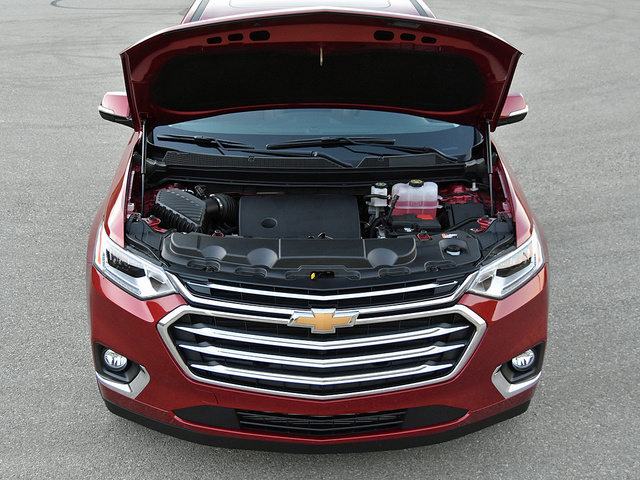 You can get a turbocharged 2.0-liter 4-cylinder engine in the new Traverse, but only in the RS trim. It delivers 255 horsepower and 295 lb-ft of torque exclusively to the SUV's front wheels.
All other Traverses have a 3.6-liter V6 engine generating 310 horsepower and 266 lb-ft of torque. A 9-speed automatic transmission feeds the power to the front wheels, and an AWD system is optional. Maximum trailering capacity with this engine is 5,000 pounds.
The High Country includes standard AWD, a special twin-clutch version designed to put power to the rear wheel with the most traction, similar to how a limited-slip rear differential would work. Also, when placed in 2-wheel-drive mode, this setup disconnects the rear axle from the driveline in order to maximize fuel economy.
As is true of most modern General Motors products, there isn't much to complain about when it comes to driving dynamics.
For a vehicle weighing a minimum of 4,300 pounds, acceleration is strong, the 9-speed automatic transmission deftly and decisively upshifting as the SUV gains speed and holding a lower gear for hill climbs and descents. The V6 is refined, too, emitting little in the way of unbecoming noise, vibration, or harshness. And it returned 20.6 mpg on my testing loop, better than the EPA's estimate of 20 mpg.
The steering, ride quality, and handling are also impressive. The Traverse drives smaller than it is, which means it's easier to maneuver in parking lots or on narrow country roads than might be expected given its exterior size.
Suspension tuning masks the Traverse's weight nicely, and with just one person aboard the SUV feels downright athletic. It's no Camaro, obviously, but it's not a sloppy mess when you're hustling, either. The ride is taut, body motions are expertly controlled, and the steering is perfectly weighted while proving responsive. No doubt, the Active Return Assist system is at work in making the steering so satisfying.
Better yet, when you load every row of this SUV's seating, the ride just gets better, smoother. Honestly, it's hard to tell that you've put hundreds of extra pounds into it, and that is true of engine response as well. When you pack it with people, the Traverse simply shrugs off the added weight.
However, given its mission in life, which is to carry up to eight people and/or lots of stuff, and to tow up to 5,000 pounds, it needs better brakes.
Under normal driving circumstances, brake pedal feel, response, and effectiveness are perfect. When driving in the mountains, however, descending to sea level from nearly 2,000 feet in elevation at a pretty rapid clip on a cloudy day with temperatures in the low 70s, they cooked themselves. By the time I reached the part of my loop where I conduct a panic-braking test, the antilock braking system could not activate. And I was the only person aboard at the time.
Chevy might call these components Duralife brakes for the fact that they last a long time, but what's more important is that the brakes add duration to your life. Chevy needs to improve here.
I also found the cabin to be somewhat loud in terms of road noise and, at higher speeds, wind noise. But if that bugs you, trot on over to a Buick dealership and get yourself a Quiet Tuned Enclave, which is the same thing as the Traverse but with an extra layer of refinement.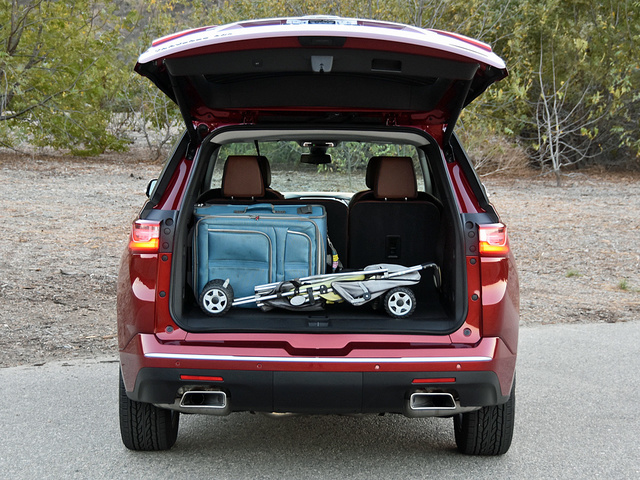 Get into a modern Chevrolet, and you're going to find exactly what you're looking for, where you expect to find it. You've got knobs. You've got buttons. They're clearly marked. They work intuitively. And look at the Traverse's transmission shifter, a traditional one with a familiar "PRNDL" layout. Except for the silly Tapshift buttons on the top, isn't it a thing of beauty?
When it comes to interior space, the Traverse is larger inside than most of its competition. In fact, when it comes to key measurements related to passenger and cargo volume, the new Traverse is bigger inside than the Chevy Tahoe. The Tahoe beats it only in terms of front seat room.
All Traverses have a triple-zone climate control system with a humidity sensor, that latter feature perhaps a reflection upon Chevrolet's Michigan headquarters. Upgrade to Premier and High Country trim, and you'll enjoy perforated leather upholstery, heated and ventilated front seats, heated rear seats, and a heated steering wheel.
Sounds pretty good, eh? Well, there is a problem, and that problem is that the driver's seat offers 8-way power adjustment including lumbar support. In turn, what that means is that a separate adjustment for bottom cushion tilt is absent, and that had a negative impact on thigh support.
Furthermore, the upper door panel material is hard plastic rather than padded material, and the door panel armrest isn't cushioned deeply enough. The test vehicle's power tilt/telescopic steering wheel was a pleasure to grip, though, wrapped in soft, smooth leather.
Moving to the second row of seating, captain's chairs are included in most versions of the Traverse. Unfortunately, you can't get a bench seat in any Traverse that has leather upholstery, which seems like an oversight to me.
The captain's chairs are comfortable, feeling like thickly padded dining-room chairs. They offer inboard armrests, they slide forward and back on tracks, and the one on the right side tips and slides forward for easier access to the third-row seat, even if you've got a child seat installed in that location.
Given the Traverse's dimensions, I was expecting better third-row seating accommodations.
I'm 6 feet tall, with longer legs and a shorter torso. As is true of the Traverse's competition, the only way I fit into the third-row seat of this Chevy is if the second-row seat is positioned in the middle of its travel. Even then, however, I think I'd get cranky in no time at all, mainly because there isn't any space for my size 13 feet. Also, the seat itself is hard and flat, but at least it provides a little bit of thigh support.
If you're planning to use a third-row seat on a regular basis, especially to carry adults, you need to check out the Volkswagen Atlas, upgrade to a Ford Expedition, or just bite the bullet and get a minivan already.
When it comes to cargo space, you've got 23 cubic feet of it behind the Traverse's third-row seat. As is true of most SUVs, that sounds a lot better than it looks. However, in the Traverse, you can squeeze a couple of full-size suitcases by standing them upright, plus a compact folding stroller. There's also a storage compartment under the cargo floor, perfect for hauling home the groceries.
Traverse High Country models have a gimmicky power folding 50/50-split third-row seat, and when they're laid flat this SUV offers 58.1 cubic feet of space, which is more than a Chevy Tahoe or a VW Atlas. Maximum space measures a whopping 98.2 cubes, again more than a Tahoe or an Atlas.
As far as in-cabin storage is concerned, the Traverse can satisfy the internal hoarder in anyone with, perhaps, the exception of its unexpectedly small center-console storage bin. Perhaps this is the price to be paid for the traditional transmission shifter.
Most impressive is the hidden cubby behind the upgraded version of the MyLink infotainment system. Push a button on the dashboard, and the screen rises to reveal a secret storage compartment.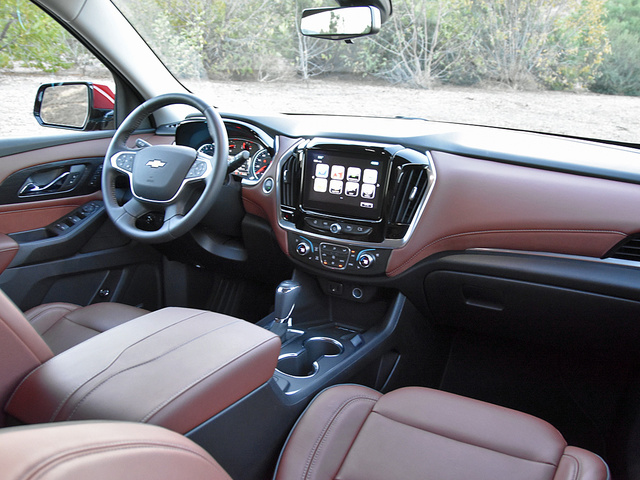 Simplicity and logic are the rule inside the Traverse, but don't take that to mean that this SUV isn't technologically advanced.
In my opinion, Chevrolet's MyLink infotainment system is one of the easiest to use in the industry, and it comes with everything from a 4G LTE Wi-Fi connection, Apple CarPlay, and Android Auto to OnStar subscription services and programmable Teen Driver report-card technology. Quick load times, fast response to input, and modern graphics make MyLink a pleasure, and Chevy includes USB connectivity or charging ports in all three rows of seats.
As an option, Traverse owners can have the dealership install a rear-seat entertainment system with or without a DVD player. It offers USB, SD card, and HDMI input jacks, as well as wireless streaming capability. Alternatively, you can get tablet computer holders, in powered or unpowered format. In addition to USB charging ports, versions of the Traverse with leather seats supply a 120-volt, 3-prong power outlet on the back of the center console.
Leather seats will also signal the presence of a navigation system, a larger 8-inch MyLink display, and a 10-speaker Bose sound system with a "Richbase" subwoofer hidden beneath the center console. (Ah, so that's where the storage space went.) Premier and High Country supply a wireless device charger forward of the transmission shifter.
Getting away from entertainment features, the Traverse offers a 360-degree surround view camera system as well as something called a rear camera mirror. This latter feature switches the rear-view mirror to a video display that shows a 180-degree view of what's behind the Traverse.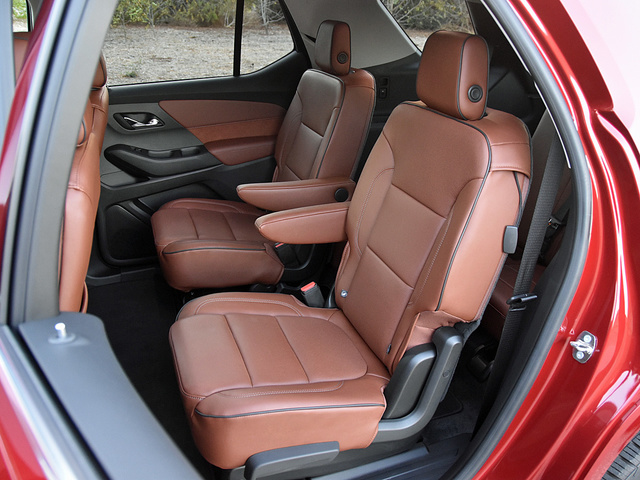 If you're a brand new parent, you'll come to appreciate the Traverse's standard Rear Seat Reminder system. If you open a back door before you get in and start the engine, when you get to your next destination, the reminder will chime and provide a message in the driver information display.
At first, you'll find this a little irritating, because it gets your attention every single time. But then, when you realize that it could remind a distracted parent about a child in the rear seat, or a pet owner that a pooch is along for the ride, or someone running late to a meeting not to forget the laptop with the presentation, you'll come to appreciate it.
Speaking of safety, the Traverse is available with all the modern driver-assistance and collision-avoidance systems. However, and this is one of the few significant criticisms I can level at the Traverse, you need to buy the pricey Premier or High Country trim levels to access forward-collision warning with pedestrian detection, automatic emergency braking, and lane-departure warning with lane-keeping assist.
At a time when Honda offers these systems as an affordable option on lower trims of the Pilot, and when Toyota makes them standard equipment on the Highlander, this strategy is not a winning one.
At the same time, though, it is worth pointing out that the Traverse provides greater distance between its third-row seat and the rear glass and tailgate than its competitors from Honda and Toyota—and most other midsize crossover SUVs. Why does this matter? Let's say you're taking your kid's soccer team to the field. You've got six children aboard, and you're stopped at a traffic light. A drunk guy is coming up behind you and slams into the back of your loaded SUV. Trust me, you want as much crush space to exist between the tailgate and those kids as is possible.
As far as crash-test ratings are concerned, as this review was published neither the National Highway Traffic and Safety Administration (NHTSA) nor the Insurance Institute for Highway Safety (IIHS) had assessed the new Traverse.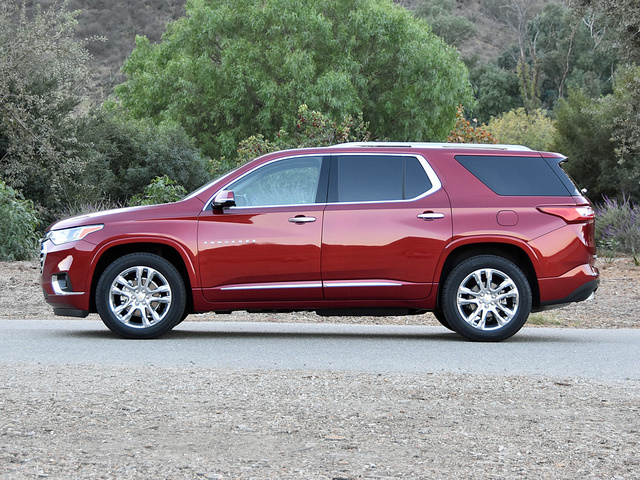 At a minimum, you're probably going to want to get the Traverse LT. Why? First, you'll get to choose from a wider variety of interior and exterior colors. Second, it looks nicer inside and out. Third, it offers something more than accessory packages and dealer upgrades. Fourth, this trim is required at a minimum in order to get a blind-spot monitoring system with rear cross-traffic alert. Add the option package that installs it, and you're spending at least $37,340.
Does that spell value? That's for you to decide. And it depends entirely on how you measure it.
For example, my Traverse High Country cost more than $53,000. That's steep. But its also just a little more than a basic Tahoe. Given that all the Tahoe can provide in exchange is 3,600 extra pounds of towing capacity, likely some additional payload capacity, and perhaps a little more off-roading capability, I don't think the "full-size" Chevy SUV is a good deal, and that makes the Traverse appear to be a better bargain, even in High Country trim.
Whatever you decide, you should you put the redesigned 2018 Chevy Traverse on your shopping list. It is, for the most part, exactly what midsize, 3-row crossover SUV buyers want and need. Good looking, roomy, and available with a wide range of features that many people seek, it is also, in many respects, the best choice in the segment.
Updated
Christian Wardlaw has 25 years of experience reviewing cars and has served in editorial leadership roles with Edmunds, J.D. Power, the New York Daily News, Autobytel, and Vehix. Chris prefers to focus on the cars people actually buy rather than the cars about which people dream, and emphasizes the importance of fuel economy and safety as much as how much fun a car is to drive. Chris is married to an automotive journalist, is the father of four daughters, and lives in Southern California.
What's your take on the 2018 Chevrolet Traverse?
2018 Chevrolet Traverse Top Comparisons
Users ranked 2018 Chevrolet Traverse against other cars which they drove/owned. Each ranking was based on 9 categories. Here is the summary of top rankings.
Have you driven a 2018 Chevrolet Traverse?
Cars compared to 2018 Chevrolet Traverse
Looking for a Used Traverse in your area?
CarGurus has 18,887 nationwide Traverse listings starting at $2,495.
Chevrolet Traverse Questions
Trims
High Country AWD

Avg. Price: $39,505
L FWD

Avg. Price: $27,781
LS AWD

Avg. Price: $28,290
LS Fleet AWD

Avg. Price: $28,279
LS Fleet FWD

Avg. Price: $23,259
LS FWD

Avg. Price: $27,777
LT Cloth AWD

Avg. Price: $31,640
LT Cloth FWD

Avg. Price: $30,755
LT Fleet AWD
LT Fleet FWD
LT Leather AWD

Avg. Price: $35,833
Show 4 more trims
Quick Links