Looking for a Used Mustang in your area?
CarGurus has 17,079 nationwide Mustang listings starting at $2,795.
2017 Ford Mustang
Test Drive Review
The 2017 Ford Mustang GT Convertible is like a therapy dog. Except it's a horse. With four wheels.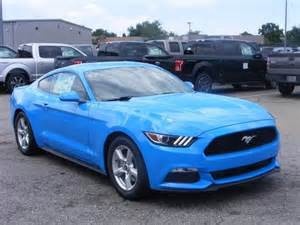 Don't try to rationalize the purchase of a 2017 Ford Mustang. Choosing this iconic American pony car is a purely emotional decision, one fueled by memories of times gone by, achievement of lifetime goals, or simply a need for speed. A Mustang delivers on all counts, especially when the GT's engine revs and the convertible's top is dropped.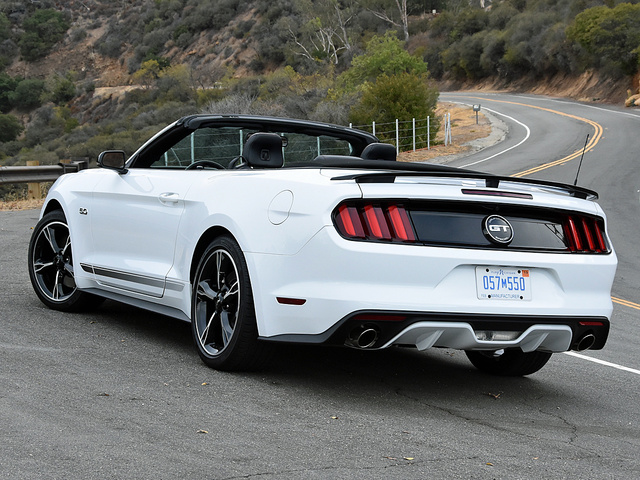 Many of us have fond memories of old Mustangs, and many of us have fond memories of old convertibles. Here, in the 2017 Mustang, Ford brings them together in a sweetly nostalgic and sensationally seductive way.
With no more than a glance, you can tell my test car has the California Special option package. It comes with an exclusive 19-inch wheel design, black hood-vent trim, black mirror caps, a black rear spoiler, paint stripes, a fake gas-cap cover between the taillights, and a larger front air dam splitter. Interior changes are largely limited to leather and simulated suede seats, red contrast stitching, and aluminum dashboard trim.
Another California Special cue is the offset-mounted, tri-bar logo on the grille. Especially applied to the convertible, the galloping Mustang badge is perfectly emblematic of the wild and free feeling you get by firing up this car's powerful V8 engine, lowering the fabric top, and twisting the steering wheel in whatever direction you wish to go.
When I'm behind the wheel of a Mustang GT convertible, every single one of my senses is heightened, better attuned to the world surrounding me. And yet, despite this added awareness, I'm at peace, even when hustling the car down a treacherously tricky road. In many ways, for me, this Mustang is like a therapy dog. Except it's a horse. With four wheels. And a much bigger price tag.
You can get a 2017 Mustang convertible for as little as $31,315. Upgrade to the GT and you'll spend $43,320. In addition to the California Special package, my test car had an automatic transmission, a navigation system, and an equipment group containing a blind-spot warning system with rear cross-traffic alert, a premium 12-speaker sound system, and memory for the driver's preferred settings. The price came to $49,100.
Between the Mustang's two body styles, I prefer the convertible. You do lose the dramatically rakish and downright sensual fastback roofline of the coupe, but the sense of freedom supplied by open-top motoring, accompanied by the alternately rumbling and thundering exhaust note, represents an acceptable trade-off.
Classic Mustang fans love the brightly trimmed, retro-style dashboard design theme. It hearkens back to the 1960s, and it constantly reminds the driver that he or she is driving something special. Something different. The downside to all of the shiny trim, however, is sun glare. It is distracting. And it sometimes makes it hard to use the form-over-function controls.
Still, in a car like the Mustang, it is better to emphasize design, character, and heritage than to optimize surface finishes and render controls and displays in an ergonomically correct fashion. After all, style and image are what sell the car in the first place. And the 2017 Mustang has plenty of both.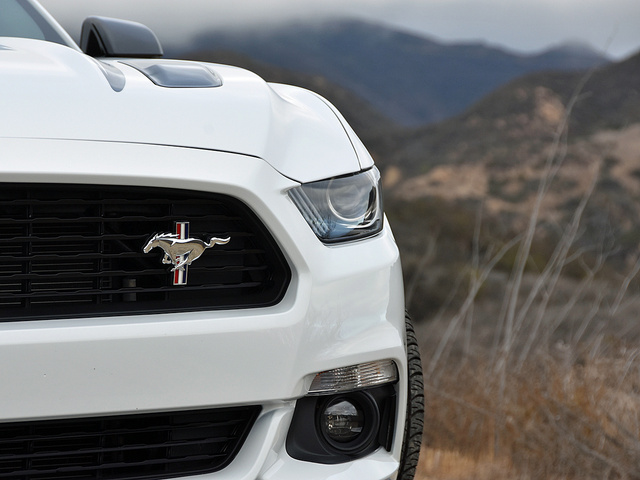 If you're buying a Ford Mustang, do yourself a big favor and get the GT model for its spectacular 435-horsepower, 5.0-liter V8 engine. It doesn't come cheap, but it transforms the car's personality and driving dynamics, making a desirable automobile an irresistible one.
Stick with the standard V6, and this car will remind you of the Mustang you rented on that vacation you took before you had kids. The optional turbocharged 4-cylinder engine offers good power, but it whooshes and hisses and snaps and crackles like a teenager's car. By contrast, the menacing V8 generates a rumble, roar, and rush worthy of the extra expense.
I'd also recommend the 6-speed automatic transmission. A Mustang GT is enough work to keep on the pavement without worrying about a clutch pedal. Besides, the automatic includes a Sport mode and paddle shifters with downshift rev matching. It genuinely makes the Mustang more enjoyable to drive.
As you might guess, acceleration is impressive, but fuel economy is not. I averaged 16.6 mpg on my test loop, falling short of the EPA's estimate of 18 mpg in combined driving. However, to be fair, the engine was idling during photography and all highway miles were covered with the top down, which negatively impacts aerodynamics.
More than any previous Mustang, this latest version steers, responds, grips, and brakes with genuine talent. Although the standard suspension setup remains a little soft, and while the car still feels a little loose compared to a genuine sports car, such traits are a part of the Mustang's charm.
Various driving modes and steering-effort levels give the Mustang a variety of personalities. Choose the Sport transmission mode, the Sport driving mode, and the Sport steering mode, and it's easy to ascertain that the Mustang is engineered to accelerate and handle better than previous generations of the pony car.
Rev-matched downshifts accompany every flick of a paddle shifter, the exhaust bellows with authority, the GT screams to speed, and the brakes effectively haul it down from extra-legal velocity. The steering could be a little sharper and more communicative when bending the car into a corner, but the 20-inch, 255/40 Pirelli PZero Nero all-season performance tires do great job of masking the weight of the V8 over the front wheels.
Suspension tuning is on the soft side, but it won't beat you up much. On a nostalgic ride with my father, the man who hooked me on convertibles when I was a kid, he remarked about how comfortable the Mustang was, how kind it was to his aging body.
Any time you shave the roof off a vehicle, structural rigidity is compromised to some degree, becoming evident in something known as cowl shake. Typically displayed when driving over rough pavement, cowl shake refers to how the windshield visibly shudders a little bit as the car's structure flexes. The Mustang convertible demonstrates some of this, but the improvement compared to the previous-generation model is dramatic.
The main reason I prefer driving the convertible instead of the coupe is because with the top down, the confinement and restricted visibility inherent to the coupe evaporates. The convertible's openness makes the Mustang feel smaller and more nimble, easier to hustle with confidence, and in turn more enjoyable to drive.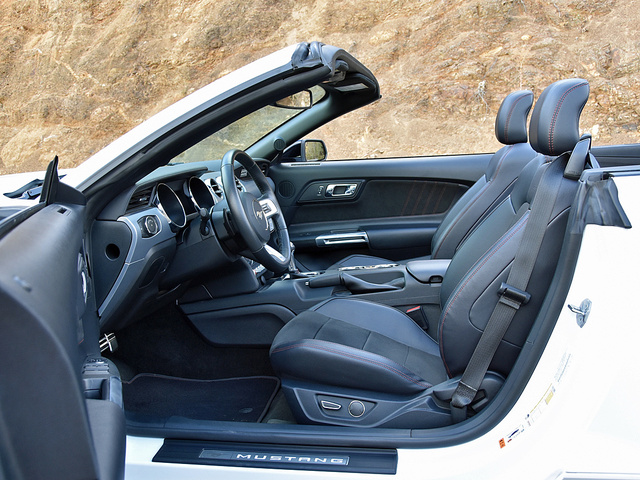 When you spend close to $50,000 on a car, you expect quality interior materials. With the Mustang GT convertible, Ford struggles to deliver on such expectations.
While this car is designed to a price point (base Mustang coupes start at less than $26,000), and while the California Special package does add real aluminum trim, leather seats with simulated suede inserts, and lots of fancy red stitching throughout the interior, there's no hiding the inexpensive plastics liberally covering much of the cabin.
As previously discussed, the Mustang's dashboard is about form over function. It is styled to spark memories of past Mustangs, and is decorated for visual excitement. This approach makes it harder to reference and use, but owners no doubt prefer this more nostalgic approach than the plain simplicity that Chevrolet employs for the Camaro's interior.
Unfortunately, Ford doesn't offer optional Recaro performance seats for the convertible – those are exclusives to the coupe. This is unfortunate, because even with their faux suede inserts, the GT California Special edition's seats didn't hold me in place as securely as I would have liked. Ford does offer a GT Performance package for the Mustang convertible, one that significantly improves handling. I can't imagine that a driver would be able to explore those additional talents for fear of getting flung out of the car.
Slow things down and the standard seats are just fine. Plus, all GT Convertibles include heated and ventilated front seats, which help to keep occupants comfortable when driving with the top down on hot or chilly days.
There is a rear seat, but it's not particularly useful. I packed my family into this car, my 5-year-old sitting criss-cross-apple-sauce behind me, my wife moved up toward the dashboard to make room for my tall 8-year-old's legs. Even with the windows up, turbulence made the kids unhappy.
Trunk space measures 11.4 cubic feet. That's actually pretty good for a convertible. And Ford, mindful of the Mustang Convertible's popularity as a rental car in sunny and warm locations, has sized it to hold two full-size suitcases, plus a couple of smaller bags, even when the top is down. This thoughtfulness makes a Mustang convertible a perfectly functional road trip car for a couple. Literally, though, you'll want to pack light, because the liftover height into the trunk remains high.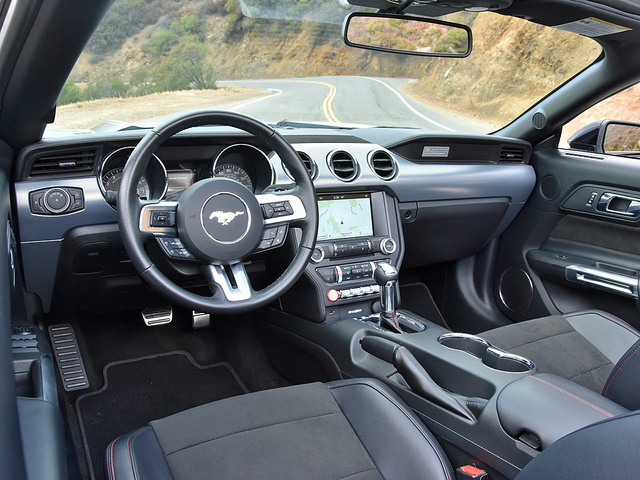 Another of my favorite things about the Ford Mustang is that it is a simple car, primarily equipped with only the technologies that you've come to expect in a modern automobile.
As of 2016, most of those features are bundled into Ford's newest infotainment system, which is called Sync 3. It represents a huge improvement over the old MyFord Touch system, equipped with a capacitive touch display, proving both easier to use and faster to respond, and supplying more modern and pleasing graphics.
For 2017, Sync 3 gains smartphone projection technology in the form of Apple CarPlay and Android Auto. Sync 3 is also Siri compatible, provides audible text messaging capability, and offers Sync AppLink access to popular apps such as Pandora and Spotify.
Even on sunny days with the top down, the Sync 3 display screen remains legible to a driver wearing polarized sunglasses. My test car also had the available Shaker Pro Audio system with 12 speakers and a big subwoofer in the trunk. You can hear your favorite music with the top down, no problem, and even on the freeway.
Track Apps is something unexpected. Available through the driver information display nestled between the Mustang's gauges, Track Apps allows the driver to review performance metrics and, for GT models, provides access to something called Electronic Line-Lock. The official line from Ford is that this feature, which locks the front brakes while allowing the rear wheels to freely spin themselves into a cloud of acrid smoke, is designed to warm the tires, ostensibly prior to driving the car on a closed track or drag strip.
Uh huh. Right.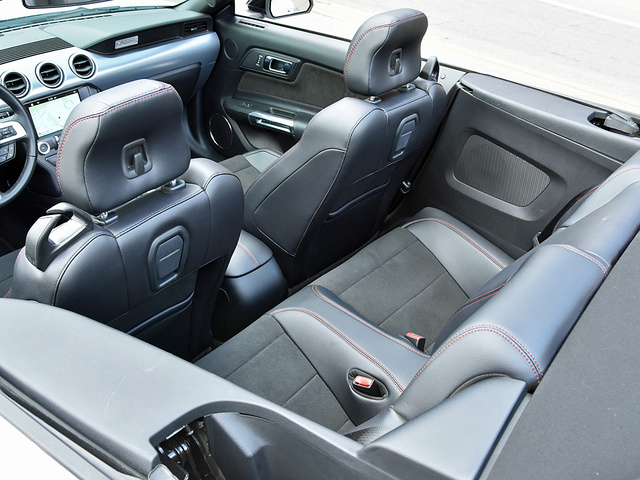 Crash-test ratings for the Mustang coupe do not translate to the Mustang convertible*. That's because the removal of the roof and associated vehicle architecture, combined with changes to structural bracing, alter the way the car is likely to protect its occupants. The National Highway Traffic Safety Administration (NHTSA) does assign a 5-star rollover resistance rating to the convertible, courtesy of the car's low center of gravity.
Ford does not offer a long list of driver-assistance and collision-avoidance technologies for the Mustang. A reversing camera is standard equipment, with a blind-spot warning system, a rear cross-traffic alert system, and rear parking-assist sensors available as options. All four of these systems are extremely helpful when driving the Mustang convertible with the top up.
Ford also provides a forward-collision warning system, bundled together with an optional adaptive cruise control system. It warns the driver when a collision might be imminent and prepares the braking system to deliver full braking power the moment the driver steps on the pedal. It does not include an automatic emergency braking system, perhaps the most egregious omission of potentially useful equipment.
Ford's Sync technology supplies the Mustang with a 911 Assist automatic collision-notification system. It also includes MyKey programmable features designed to keep younger drivers safe when they're behind the wheel. They include stereo-volume and vehicle-speed limits, and owners can also make the stereo inoperable unless all occupants are properly buckled up.
Scoring for this section is based solely on standard and available safety-related features.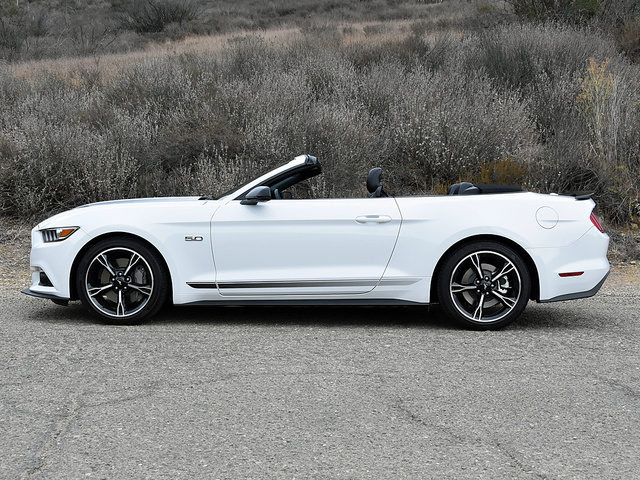 At the risk of stating the obvious, buying a Ford Mustang GT is not about cost-effectiveness. Especially in convertible format, the car is expensive to buy and to own. You'll pay a higher insurance premium, you'll pump plenty of gas, and when the time comes to get a new set of tires, that cost might shock you, too.
Rather, the value of a Mustang is measured by how the car makes its owner feel. Based on my experience with this GT California Special, it makes you feel pretty damn good.
Measured against other 4-seat convertibles, the Ford Mustang costs far less than the luxury brands, and it offers far more performance and personalization than, say, a Buick Cascada. Ford regularly offers discounts and deals on the Mustang, too, along with long-term financing extending as far out as 84 months (not that any financial advisor would recommend that).
Purely in terms of driving dynamics, I prefer the Chevy Camaro, the Mustang's most direct competitor. But the Chevy has an even more useless rear seat, trunk space is almost half the size, and the interior is comparatively plain.
The Camaro is a tool for driving. The Mustang, at least in California Special trim, is a tool for cruising, for being seen, and for panoramically experiencing the great outdoors in its grand splendor. If you're on the fence about getting one, don't look to me to talk you out of it. I'll just push you over into the greener grass that you suspect is waiting for you on the other side.
Updated
Christian Wardlaw has 25 years of experience reviewing cars and has served in editorial leadership roles with Edmunds, J.D. Power, the New York Daily News, Autobytel, and Vehix. Chris prefers to focus on the cars people actually buy rather than the cars about which people dream, and emphasizes the importance of fuel economy and safety as much as how much fun a car is to drive. Chris is married to an automotive journalist, is the father of four daughters, and lives in Southern California.
What's your take on the 2017 Ford Mustang?
2017 Ford Mustang Top Comparisons
Users ranked 2017 Ford Mustang against other cars which they drove/owned. Each ranking was based on 9 categories. Here is the summary of top rankings.
Have you driven a 2017 Ford Mustang?
Cars compared to 2017 Ford Mustang
Looking for a Used Mustang in your area?
CarGurus has 17,079 nationwide Mustang listings starting at $2,795.
Trims
EcoBoost Coupe RWD

Avg. Price: $24,811
EcoBoost Premium Convertible RWD

Avg. Price: $26,231
EcoBoost Premium Coupe RWD

Avg. Price: $25,712
GT Coupe RWD

Avg. Price: $35,165
GT Premium Convertible RWD

Avg. Price: $38,202
GT Premium Coupe RWD

Avg. Price: $37,727
V6 Convertible RWD

Avg. Price: $24,957
V6 Coupe RWD

Avg. Price: $23,882
Quick Links