Looking for a Used Viper in your area?
CarGurus has 186 nationwide Viper listings starting at $39,800.
2016 Dodge Viper
Overview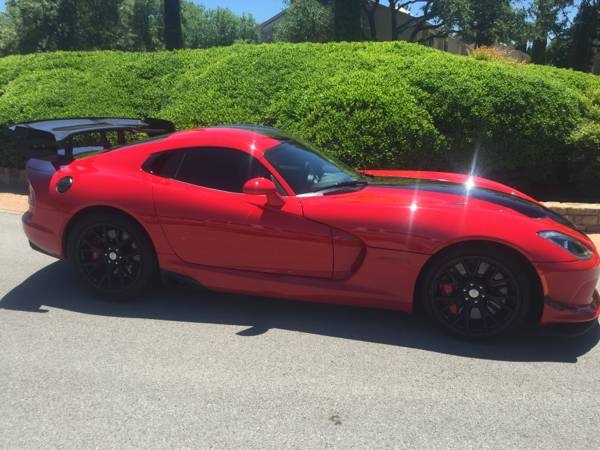 The Dodge Viper has always been an extreme car, but for 2016 Dodge amps up the car beyond past states of tune. In its first hint as to what was to come in 2016, Dodge said its ACR Viper would be the "fastest street-legal Viper track car ever." Considering the capabilities of past Vipers, that is quite a statement.
The 2016 Dodge Viper is the fourth year of the current Viper generation. After skipping the 2011 model year, Dodge launched the completely redesigned (but very familiar looking) 2012 with the aim of making the car more real-life drivable. The consensus is that Dodge succeeded. From there, Dodge went on tweak and tune various trims of the Viper for ever-smaller niches, mostly focused on racing. The new ACR represents the pinnacle of that refinement process. There have been rumors of a roadster Viper returning to the line in mid-2016, but we have no official word from FCA U.S. on that. Given the amazing variety of Viper combinations, it would not be much of a surprise.
Like all Vipers, the 2016 is a mid-front engine design with rear-wheel drive and a humongous, normally aspirated (non-turbo) V10 engine displacing 8.4 liters. For those that prefer to think in terms of cubic inches of displacement, that would be 512. See if you can find a larger engine in a production vehicle. We looked and could not. The 645 hp the engine produces is impressive, but the 600 lb-ft of torque is what most drivers feel as they launch this beast. The only transmission available is a manual 6-speed. This is a throwback welcomed by many enthusiasts looking for a car they can shift themselves. Every automaker from Ferrari to Porsche is moving away from manuals in their top supercars.
With a very low curb weight of just over 3,300 pounds and a center of gravity at about butt height off the ground, the Viper is a rocket off the line, and in skilled hands it carves up a racetrack as well as any supercar on the market. The Viper offers a driver a perfect 50-50 weight balance, all the power needed to set track records, and a manual gearbox. Vipers have always been the opposite of cars like the Nissan GT-R in this respect. Resulting track times are up to the driver, rather than a computer program shifting and adjusting the car's suspension.
For 2016 Dodge follows on some minor 2015.5 model-year adjustments. New this year will be matte exterior color finishes. Dodge says this doubles the possible combinations to a total of 16,000 colors customers can choose from. There are also 48,000 stripe combinations. That huge variety is part of why the Viper offers 50 million possible build combinations. The newest extreme paint offered is Stryker Purple, available on the GTC trim, which Dodge says is show-car quality. Stryker Orange is new to the ACR trim. Yorange continues to be available.
The 2016 Viper will be offered in three trim categories augmented by two "Time Attack" packages. First up is the base SRT Viper, which is expected to start at around $85,000. Everything a customer planning to use the Viper on-road will need is included in this car. Air conditioning, Dodge Uconnect, a premium audio package, and navigation are all standard for every model. The SRT Viper is no less powerful than any other and features Brembo brakes and ballistic nylon racing-style seats. Even in base form the Viper is an extreme sports car.
The GT, GTC, and GTS trims layer on more expensive and more luxurious trim, inside and out, on the 2016 Viper. For example, Nappa or Sabelt high-grip leather seats with Alcantara microfiber suede trim are available. The Time Attack 1.0 and 2.0 packages change some of the suspension components. The general theme is track-day capabilities. Spring rates, shocks, alignment, and brake rotors are all different on the different packages and trims. Dodge even has a page-long list of wheel options for customers to choose from that range from basic to bling to track-duty.
The 2016 Viper ACR comes with most of the extreme options included. For example, the radio is still premium but weighs less and has only 3 speakers. The brakes on the ACR are Brembo carbon-ceramic matrix with 6-piston front calipers and 4-piston rear calipers squeezing the largest available rotors. The ACR comes from the factory with Kumho Ecsta V720 ultra-high performance summer-only tires. In case the Viper ACR's mission is not crystal clear, Tim Kuniskis, President and Chief Executive Officer, Dodge Brand and SRT Brand, FCA, North America, says of the car, "Our goal is to arm our enthusiasts with the ultimate Viper track car to dominate road courses around the world." Prices of the ACR are expected to approach $120,000.
The 2016 Dodge Viper is one of the most extreme supercars available. Like the Chevrolet Corvette, it manages to match or beat the best the competition can offer at an amazing price point. Look for the 2016 Viper to go on sale in late summer 2015.
Updated
John Goreham is a life-long car nut and recovering engineer. In the early 1990s, he was part of a team that built a solar-electric race car from scratch. In addition to his work at CarGurus, John covers automotive news at Torque News and GM-trucks.com and is a contributor to CarTalk and BestRide. Aside from all things automotive, John loves fishing and hockey, preferably in the company of his two boys.
What's your take on the 2016 Dodge Viper?
Have you driven a 2016 Dodge Viper?
Cars compared to 2016 Dodge Viper
Looking for a Used Viper in your area?
CarGurus has 186 nationwide Viper listings starting at $39,800.
Trims
ACR RWD

Avg. Price: $223,179
GT RWD
GTC RWD
GTS RWD
SRT RWD
Quick Links