Looking for a Used ATS-V Coupe in your area?
CarGurus has 69 nationwide ATS-V Coupe listings starting at $32,998.
2016 Cadillac ATS-V Coupe
Overview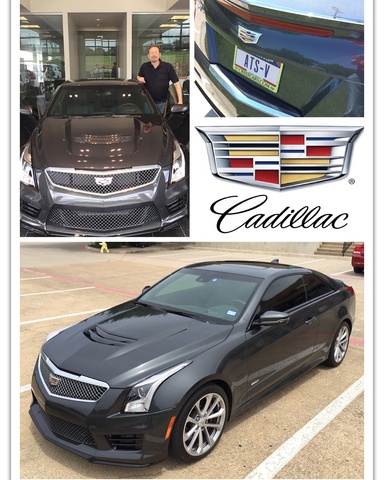 Suddenly, every automaker wants a compact sport coupe with near-supercar performance. Cadillac brings its new 2016 ATS-V Coupe to that party, and more than a few other premium automakers wish it had stayed home. The Cadillac isn't a half-baked effort, either. It brings the highest-output V6 in the group, third-generation magnetic ride control, and the choice of either a slick manual stick shift or 8-speed paddle-shift automatic.
The ATS itself is new, and the coupe version even newer. The 2016 model year will be the first in which the coupe has an ATS-V version, and GM brings exciting technology to the new Cadillac compact coupe. The engine is a 3.6-liter, twin-turbocharged V6 pumping out 455 hp and 445 lb-ft of torque. The BMW M4's twin-turbo inline 6-cylinder by comparison has 425 hp and "only" 406 lb-ft of torque. What's notable here is that the torque this BMW produces is almost uncontrollable by semi-skilled drivers on a track. The car has so much power that it takes an expert to put it to full use. The Cadillac comes with 10% more than that.
Cadillac also offers both a 6-speed manual and an 8-speed automatic transmission. Both are pretty special and will need to be in this segment. The manual offers rev-matching, pioneered by the Nissan 370Z, and first shown by GM on the new Corvette Stingray about 18 months ago. Rev-matching allows drivers to either heel-toe their downshifts to let the engine's revs match the lower gear ratio or let the car do it for them. Having the choice takes away any argument as to how a performance coupe should be manually shifted. The ATS-V also has a no-lift up-shift feature that makes it shift faster up the gears.
Those that choose the 8-speed automatic will get some goodies as well. The automatic comes with launch control, enabling a 0-60 sprint in under 4 seconds. Lexus' new RC F coupe with its V8 and sophisticated automatic transmission takes 4.4 seconds by comparison. The ATS-V's automatic has Performance Algorithm Shifting. Like the Lexus, this technology makes the car super-aggressive on a track and will allow it to downshift heading into corners and whenever appropriate. This technology makes track days fantastic fun, since it makes the most of the engine's power and torque. Since the Caddy comes with paddle-shifters, if one prefers to shift the car oneself, one can. What's not to like about choices?
Cadillac's drivetrain isn't even the most impressive technology in the 2016 ATS-V. That might be the third-generation Magnetic Ride Control. Used almost exclusively on Corvettes, the Camaro ZL-1, and big brother CTS-V, this damper technology allows the Cadillac's shocks to respond 40 percent faster than the prior generation. That makes them about a thousand times faster to respond than old-school dampers. Having just written some previews for the Ferrari line, it's interesting to this writer that Cadillac's ATS-V gets this technology at the same point in time as cars costing five times what the ATS-V does.
Since we mentioned cost, the 2016 Cadillac ATS-V will come to market with a price that will put it the mix as well. Starting prices are around $62K, but most buyers will want to add at least $4K in options to get things like sport seats and navigation. Many will also want to add another $6K to get the track package. Go a little crazy with the options sheet and a Sharpie and the ATS-V will top out near $80K, right where loaded BMW M4s and Lexus RC F cars end up. A few notable packages are the $425 Head-up Display, $1,300 Performance Data and Video Recorder, and $5K Carbon Fiber Package. Check these off and you will be buying items that are also Corvette Stingray options.
Indeed, the 2016 ATS-V, like the CTS-V and Camaro ZL-1 and Z/28, shares a lot of things with the Corvette Stingray. At this point, what separates the 'Vette is its basic construction, which remains a frame with a plastic body. Much of the equipment bolted to that is now available in other cars within the GM family, but it is a very small fraternity.
Inside the 2016 ATS-V, the theme will be familiar to anyone that has ever been in the larger CTS-V. The Cue infotainment system is available, Recaro seats are optional, and one will find microfiber suede covering various parts of the trim. Audio is supplied by an optional Bose system with 12 speakers (two more than in the ATS-V sedan). In addition to being a fine track-day car, the ATS-V coupe is also a premium luxury car inside.
The V-line at Cadillac offers cars with near-supercar performance, track-day competence rivaling anything made in Germany (or by Lexus), and superior on-road comfort. The new 2016 ATS-V is the smallest of the GM rockets, but it fits in very nicely.
Updated
John Goreham is a life-long car nut and recovering engineer. In the early 1990s, he was part of a team that built a solar-electric race car from scratch. In addition to his work at CarGurus, John covers automotive news at Torque News and GM-trucks.com and is a contributor to CarTalk and BestRide. Aside from all things automotive, John loves fishing and hockey, preferably in the company of his two boys.
What's your take on the 2016 Cadillac ATS-V Coupe?
Have you driven a 2016 Cadillac ATS-V Coupe?
Cars compared to 2016 Cadillac ATS-V Coupe
Looking for a Used ATS-V Coupe in your area?
CarGurus has 69 nationwide ATS-V Coupe listings starting at $32,998.
Cadillac ATS-V Coupe Questions
2. Hello! Does anyone have advice for this situation please? I have a car CADILLAC. Yesterday I opened the hood and found traces of engine oil, so something is apparently leaking. I did not see the ...
Trims
RWD

Avg. Price: $44,042
Quick Links