Looking for a Used M3 in your area?
CarGurus has 1,171 nationwide M3 listings starting at $8,005.
2015 BMW M3
Overview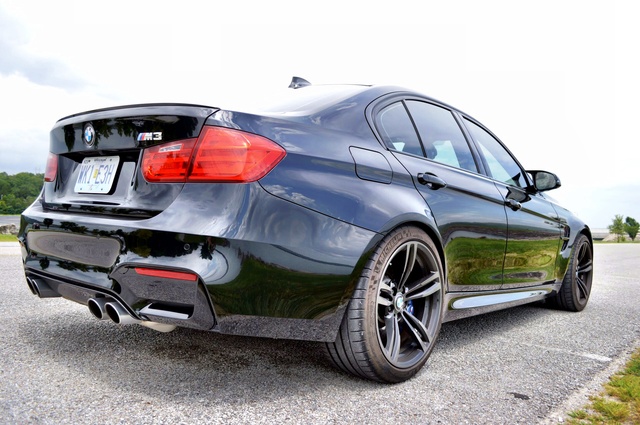 The return of the M is a plate full of compromises. It's larger, but lighter. It's got M-specific steering, but it uses electric assist. It's called the M3, but it's got 4 doors. And it's fitted with the most classic of BMW mills—the 3.0-liter inline 6, albeit turbocharged rather than naturally aspirated.
To be fair, I was never a fan of a V8-powered M. Sure, it's hard to argue with that sound or the gobs of torque that come with it, but an inline 6 just feels more appropriate in an M car (even if the original made do with just 4 cylinders). Here, the twin turbochargers are a concession we'll all have to live with, at least until the power/efficiency war manages to meet horsepower and fuel-economy expectations through natural aspiration, a feat I'm sure isn't far off.
Until then, we'll just have to be satisfied with 425 hp and 406 lb-ft of torque delivered at 5,000 and 2,000 rpm, respectively, in an engine that still manages to wind up fully to 7,600 rpm. I'm guessing we can all live with that. It's enough to propel the 3,400-pound M4 to 60 mph in just 3.9 seconds if you choose the dual-clutch, 7-speed autobox. If you go with the 6-speed manual—the gentleman's choice—it'll take a bit longer at 4.1 seconds. Both options come with throttle-blipping/rev-matching tech, something that would've been best left off the manual, but more importantly the new 6-speed drops 26 pounds versus the unit it replaces.
In fact, the M has gone through a pretty serious weight-reduction regimen, making this the first in the vehicle's storied history to be delivered lighter than its predecessor. Outfitted correctly, it's even lighter than the final year of the E46. In total, this generation has dropped 164 pounds thanks to the 20-pound-lighter engine, lightweight seats, 11 pounds saved with a carbon fiber roof and heavy use of aluminum and carbon fiber in the suspension structure.
That means aluminum subframe and control arms up front with a carbon strut brace, while the solid rear subframe utilizes forged-aluminum control arms. They match nicely with the forged aluminum wheels, which come standard in 18-inch flavor, but if you fall in the "bigger is better" camp, 19 inches is an option. Staggered sizes mean 255/35 ZR front and 275/35 ZR rear tires.
For further weight savings, upgrade the already upgraded compound disc brakes to carbon-ceramic units, a first in an M. The standard setup comes with 4 pistons in front and 2 in the rear, but the carbons add 2 on each end for even more clamping power.
Another first is an electronically controlled rear differential that, like the optional adjustable adaptive suspension and the electronic steering assist, comes with selectable modes to complement your driving preferences. While the steering and suspension offer Comfort, Sport and Sport+, the rear diff also offers M Dynamic, a unique setting that allows wheel slip for "active burnouts." That's the polite way to say, "Sure, go ahead and do some drifting" without sounding like you're courting the Fast 'n' Furious crowd. For the truly brave, the stability control system can be deactivated entirely.
The embarrassment of engine audio amplification through the car's stereo continues here, further isolating the driver from the actual experience of driving. I wonder how difficult it'd be to disable that system, although knowing BMW's history, even thinking about it would likely void your warranty. Things inside look much like the standard 3 Series, with its 6.5-inch display upgradeable to an 8.8-inch unit when you tick off the optional Navigation. You'll also get a special M cluster, the aforementioned lighter carbon-backed sport seats, a three-spoke steering wheel with all the redundant controls and carbon-fiber trim nearly everywhere.
A Driver Assistance Plus package will get you blind-spot monitoring, lane-departure warning, autonomous braking and even a side-view camera, but if that's not enough tech for your tickle, an Executive Package will pile on a backup camera, parking sensors, head-up display and some comfort options like a heated steering wheel, keyless entry, satellite radio and even headlamp washers—the cream of the performance-vehicle crop.
It's nice to see the M get closer to its roots with a smaller engine and a lighter profile, but the added electronic complications are getting a bit much. Let's not forget that the original M3 was a sharply focused driver-centric version of the normal 3 Series, not just a 3 Series with all the bells and whistles. We've come to a time when technology can satisfy the performance camp and the luxury camp in one package with little ground given in either direction. An impressive feat to be sure, but will people still be talking about it 30 years later?
Updated
A CarGurus contributor since 2008, Michael started his career writing about cars with the SCCA - winning awards during his time as editor of Top End magazine. Since then, his journalistic travels have taken him from NY to Boston to CA, completing a cross-country tour on a restored vintage Suzuki. While his preference is for fine German automobiles - and the extra leg room they so often afford - his first automobile memories center around impromptu Mustang vs. Corvette races down the local highway, in the backseat of his father's latest acquisition.
What's your take on the 2015 BMW M3?
Have you driven a 2015 BMW M3?
Cars compared to 2015 BMW M3
Looking for a Used M3 in your area?
CarGurus has 1,171 nationwide M3 listings starting at $8,005.
Trims
Sedan RWD

Avg. Price: $46,720
Quick Links