Looking for a Used Odyssey in your area?
CarGurus has 18,009 nationwide Odyssey listings starting at $873.
2014 Honda Odyssey
Test Drive Review
The fact that the 2014 Honda Odyssey is utterly capable in the city, in the suburbs, on the highway and when taken to its limits underscores the sheer competence that is baked into every part of this vehicle.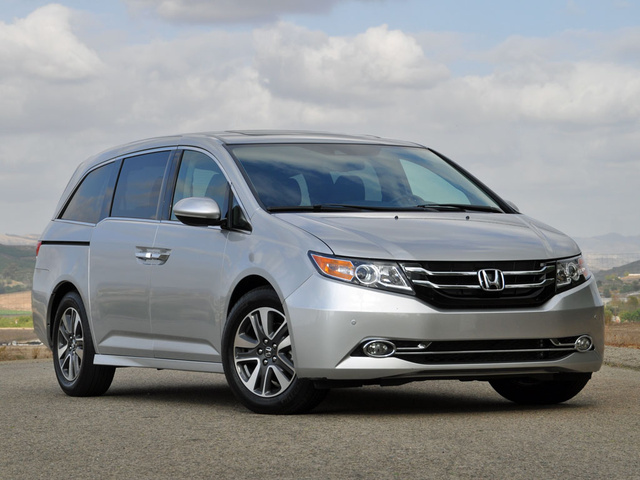 Honda has perfected the minivan recipe. From safety and technology to performance and comfort, the 2014 Odyssey represents the ultimate in family haulers for the majority of Americans. Unless you need to tow something heavy or drive somewhere few people travel, there's no good reason to choose another vehicle for shuttling your kids.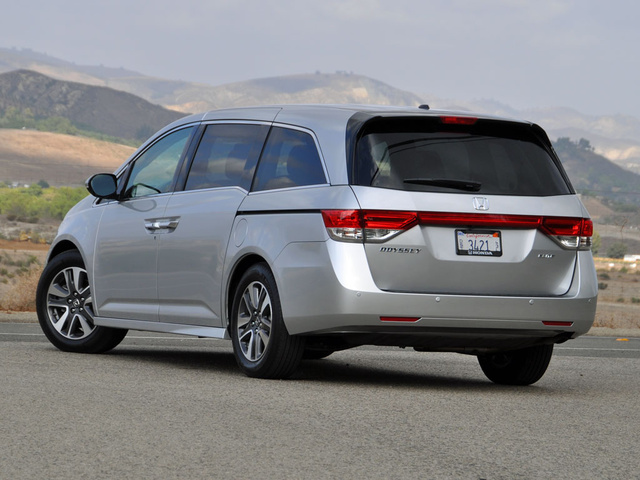 Yeah, we know—minivans have a serious image problem. Moms and dads who value practicality more than style, the kinds of people who crunch numbers more often than they crunch abs, tend to drive minivans. These are the rule followers, not the rule breakers, the people who studied hard and earned degrees instead of cutting class and goofing off. Minivan drivers don't care much about being cool, whatever that is, so there's absolutely nothing sexy about a minivan. Or is there?
Think about this for just a second. What's sexier than self-confidence? And what's required to drive around in a minivan, more than anything except a need to haul a bunch of children or a bunch of stuff? That's right: Self-confidence. If you care so much about the conclusions bystanders might draw based on your choice of wheels, you actually can't bring yourself to drive a minivan. That means minivan ownership is for the select, self-confident few. That's sorta sexy, isn't it?
In the interest of full disclosure, I don't own a minivan. My wife won't let me. Believe me, with four kids ranging in age from three to 16, I want one. And I want a 2014 Honda Odyssey. But she won't have it. So I live with a crossover SUV instead, a vehicle that is smaller inside and less fuel-efficient. At least it doesn't tell the world we're parents living in the suburbs, though. I mean, who would want people to think that?
Oh, you're right. People think that about crossover SUV drivers, too.
If you're still with me, let's talk about the 2014 Honda Odyssey. Five different trims are available, each equipped in a way that makes you think: "What else could they add to this thing?" The Odyssey LX is the most affordable trim at $29,655, including the $830 destination charge.
Lots of people choose the Odyssey EX ($32,995), with the primary differences amounting to triple-zone automatic climate control, a 10-way power driver's seat, power sliding side doors, keyless access with push-button start, a touchscreen audio system with HondaLink technology, Honda LaneWatch technology, a universal garage door opener, second-row window sunshades and more.
The Odyssey EX-L ($36,455) has leather upholstery, heated front seats, a power sunroof, a power tailgate, a Forward Collision Warning system and a Lane Departure Warning system. Buyers can choose to upgrade this model with a navigation system or a rear-seat entertainment system, but these are mutually exclusive upgrades for this model.
To get both navigation and rear-seat entertainment, choose the Odyssey Touring ($42,710). This model also gets bigger wheels, fog lights, front and rear parking sensors, memory for the driver's settings and sunshades for the third-row windows.
At the top of the trim tree, the Touring Elite costs $45,280. It comes with an ultrawide rear entertainment screen, a premium Surround Sound audio system, HD Radio, HID headlights, a Blind Spot Information System and a HondaVAC, an onboard vacuum system with a hose that stretches all the way to the front seat.
Visually, there are few differences between the base LX and the pricey Touring Elite. Aside from aluminum wheels, fog lights and minor exterior trim upgrades as you move up the trim level ladder, all versions look pretty much the same. No minivan is good looking in a traditional sense, but the Odyssey is at least stylish in some respects. Honda does need to work harder on hiding the exposed sliding side door tracks, though.
Inside, the Odyssey is rendered in a simple, no-nonsense design that emphasizes function without forgetting about form. The Odyssey's cabin also exudes a general sense of refinement thanks to its symmetrical design elements, 2-tone color scheme and quality materials.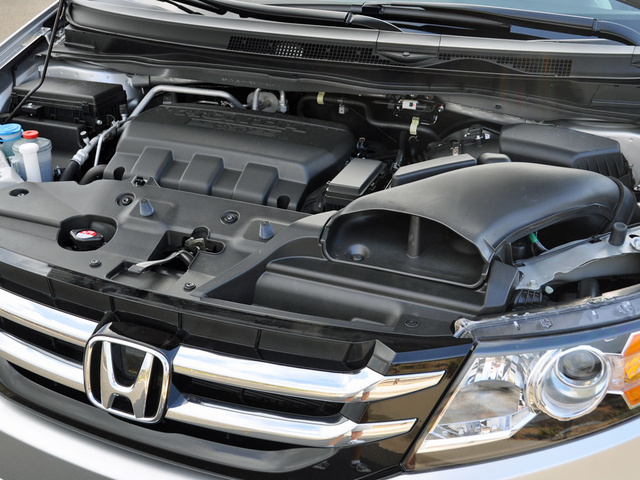 For 2014, Honda makes a 6-speed automatic transmission standard equipment for all Odyssey trims. Last year, this transmission was offered only for the most expensive Touring and Touring Elite versions of the van. The benefit is increased fuel economy ratings for the LX, EX and EX-L variants this year, which means that all 2014 Odysseys are expected to get 19 mpg in the city and 28 on the highway.
Assisting the minivan in meeting those numbers is a 248-hp, 3.5-liter V6 engine equipped with Variable Cylinder Management (VCM) technology. With VCM, the van's engine runs on fewer cylinders when cruising and coasting, in turn burning less fuel. During my week driving the 2014 Odyssey, I averaged 19.8 mpg in combined driving, missing the EPA's combined estimate of 22 mpg by a 10% margin.
Maybe I drove the Odyssey with too much enthusiasm. Don't laugh—that's not a joke. Among minivans, the Odyssey feels light and athletic, quick and maneuverable, hallmarks that apply to almost every model in Honda's lineup. I'll stop short of calling the Odyssey fun to drive, but I will say its more fun to drive than any other minivan and surprisingly capable near its unexpectedly high limits.
At all times, the V6 engine proves responsive and energetic, revving smoothly as power builds, making it easy to stay ahead of traffic or to merge into fast-flowing freeway traffic. When cruising, the VCM operates without drawing the driver's attention, automatically cycling the Odyssey into and out of its fuel-saving Eco driving mode. While the 6-speed automatic transmission sometimes requires prodding to coax a downshift, it is equipped with Grade Logic Control that holds a gear for hill climbing. Consequently, I ascended the steep Camarillo Grade in California's Ventura County at 80 mph without trouble.
The Odyssey's ride quality and handling capabilities are outstanding, especially for this type of vehicle. On undulating stretches of road, or when crossing dips at an angle, the Odyssey wallows a little bit, but otherwise the suspension maintains remarkable composure. The steering is light and accurate, and the brake pedal is responsive and quick to bite. On the freeway, the Honda proves remarkably quiet in terms of engine, wind and tire noise.
As is customary when I test any new vehicle, I flung the Odyssey down Mulholland Highway, a long, downhill section of twisty 2-lane road near Malibu, California. I wasn't expecting much, because every other minivan I've recently tested on this stretch of road has gone limp within the first few miles. In stark contrast, the Odyssey proved astonishingly good.
Yep, understeer is a constant companion when taking corners near the limit of adhesion, but the suspension does a superb job of managing squat, dive and especially body roll. On a hot testing day, the brakes shuddered a bit after repeated use, but did not fade. The steering isn't particularly quick, nor should it be, but demonstrates exceptional accuracy to allow for mid-corner fine-tuning. The tires rarely squealed despite significant abuse.
Not that anyone is ever going to drive a minivan like this, but the fact that the Odyssey is utterly capable in the city, in the suburbs, on the highway and when taken to its limits underscores the sheer competence that is baked into every part of this vehicle.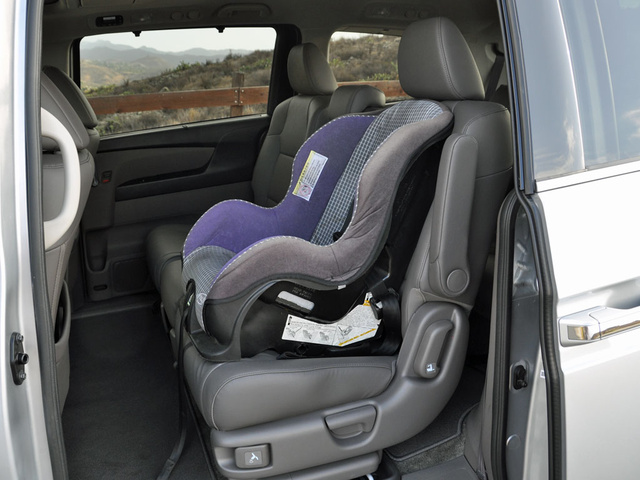 Minivans take a beating, and so most of them have interiors rendered in cheap-looking plastic that's easy to clean and inspires owner indifference when it is damaged. Typically, the further back you go in a minivan's cabin, the more inexpensive the trimmings.
That's not the case with the 2014 Odyssey. My Touring Elite trim contained leather upholstery that looked expensive and felt supple. While there is plenty of hard plastic in the Honda's interior, the center portion of the dashboard and the upper front door panels are soft, almost plush to the touch. Graining and gloss levels are tastefully done, buttons and knobs impart a sense of refinement and quality, and the interior doesn't look or feel flimsier the further back you go. Even the cargo area shows attention to detail.
Most controls are straightforward and simple to use, equipped with large markings that are easy to read and understand. I'm not a big fan of substituting touchscreens for buttons and knobs, though. While Honda's new radio display offers large touch-sensitive virtual buttons and clear graphics, I sure wish it had a tuning knob to go along with its volume and power knob. The Odyssey's upper display screen is not touch sensitive, requiring a control knob and surrounding menu selections to operate, similar to Audi and BMW infotainment systems.
Adults will be comfortable in the Odyssey, no matter which outboard seating location is selected. The front seats feature adjustable height inboard armrests, and because the upper door panels are trimmed in softly padded material, they prove to be a great place for crooking an elbow. I didn't have trouble dialing in a comfortable position behind the steering wheel, but I think taller people might appreciate additional seat track travel.
The Odyssey Touring Elite's second-row seats offer excellent legroom and foot room, as well as outboard armrests and a center fold-down console with cupholders and a storage tray. For adults, the setup provides cross-your-legs levels of comfort, so for kids this thing is like a limousine. Most trim levels also include manual side window shades for the second row, a critical feature for parents of newborns riding in reverse-facing car seats. Even with dark tinted privacy glass, it's important to keep sunlight out of a baby's eyes.
Most Odyssey trims also have a removable second-row center-position seat. With child safety seats installed in the outboard locations, I was able to squeeze in between them and ride in relative comfort, and I am not a small individual.
Access space to the third-row seat is generous, and once seated, an adult can ride back there for hours in decent comfort. Video-game jacks, a 2-prong power outlet, headphone inputs and an HDMI port help ensure that nobody need be bored while riding in an Odyssey Touring Elite.
In addition to excelling at carrying people, the Honda Odyssey can handle an amazing 38.4 cubic feet of cargo behind its third-row seat. That's more than a Jeep Grand Cherokee can handle behind its second-row seat. Fold the Odyssey's third-row seats into the well in the floor, and the van swallows 93.1 cubic feet of cargo. That's almost as much as the redesigned 2015 Chevy Tahoe holds with both of its rear rows of seats folded down.
Maximum cargo capacity for the Odyssey is 148.5 cubic feet, but to get that number you've got to unlatch and remove the second-row seats, and store 'em someplace where they won't get damaged. Comparatively speaking, the Odyssey holds just as much of your stuff as the all-new, long-wheelbase version of the 2015 Cadillac Escalade, plus a couple of 2014 Cadillac CTS Sedan trunks.
Clearly, a Honda Odyssey is a minivan in name only.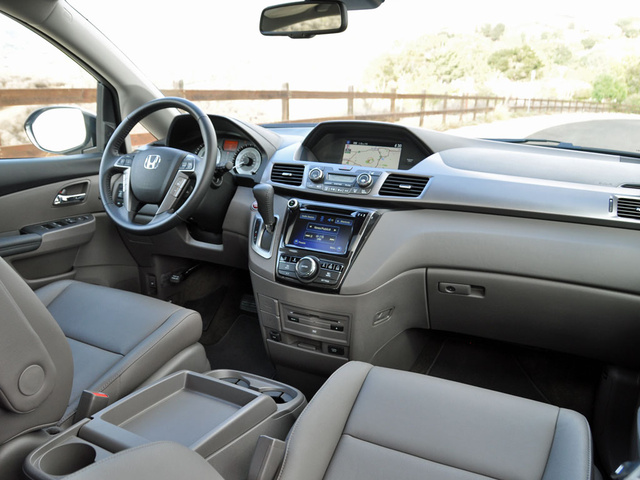 Honda doesn't offer options or packages like most car companies. Instead, it groups additional equipment into multiple trim levels, and buyers pick the version of the vehicle that has the stuff they really want.
When it comes to the 2014 Odyssey, the LX trim is equipped with standard Bluetooth calling and music streaming, hands-free text messaging, Pandora Internet radio and a USB port. Upgrading to the popular EX model adds triple-zone automatic climate control, push-button start, HondaLink connectivity and services, a universal garage door opener and a touchscreen audio system.
The Odyssey EX-L is where Honda breaks with tradition. Buyers can choose either a rear-seat DVD entertainment system or a navigation system with a hard-drive music server. Beyond that, the Touring includes both the navigation and entertainment systems, while the Touring Elite model adds an Ultrawide rear-seat entertainment screen with HDMI technology, HD Radio, a premium Surround Sound audio system and a new-for-2014 HondaVAC.
Designed for neat freaks, the HondaVAC is an onboard vacuum equipped with a hose that extends all the way from its cargo-area storage panel to the front seats. It works just like the hose on your home vacuum, sucking up crushed Goldfish remnants from the Odyssey's carpeting without any trouble at all.
As for pairing a smartphone to the Odyssey's connectivity and communications system, it's a breeze. The rear-seat entertainment system also works intuitively, and Honda's navigation system is easy to program. Unfortunately, many of the features contained within the infotainment system are inaccessible if the van is moving, a move to discourage distracted driving. While that's fine, I can't help but think that if a seat sensor detects that someone weighing 75 pounds or more is sitting in the front passenger's seat, this stuff should be accessible while the Odyssey is under way.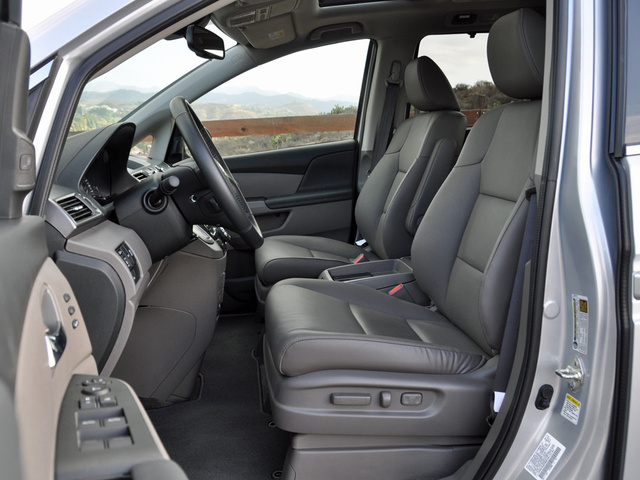 Honda doesn't mess around when it comes to safety. As soon as the Insurance Institute for Highway Safety (IIHS) announced that it would be introducing a small overlap frontal-impact crash test designed to assess how well new cars, trucks, SUVs and minivans protect occupants in collisions with trees, utility poles or oncoming traffic at the left front corner of the tested vehicle, Honda engineers got to work on the Odyssey.
The result is that for 2014, the Odyssey is equipped with Honda's Advanced Compatibility Engineering II body structure, which is designed to deflect crash energy away from the passenger compartment in order to reduce injury and improve collision survivability. For good measure, Honda also added SmartVent side-impact airbags for the driver and front-seat passengers, made a reversing camera and expanded-view driver's side mirror standard equipment, and debuted new features such as LaneWatch, Forward Collision Warning and Lane Departure Warning systems. The Touring Elite trim's Blind Spot Information System carries over for 2014.
Then, so confident were engineers that their changes would prove beneficial to minivan buyers, Honda got on the phone with the IIHS, and instead of waiting for them to buy an Odyssey or two and conduct crash tests, Honda reimbursed the IIHS for the vans in order to have testing done sooner rather than later.
The IIHS recently completed testing on the Odyssey, and the minivan is the first to earn a Top Safety Pick + rating, reflecting the top rating of Good in every assessment, including the tough new small overlap frontal-impact test.
The National Highway Traffic Safety Administration (NHTSA) hasn't tested the 2014 Odyssey as this review is written. Last year, the minivan earned the highest rating of 5 stars, and that was before the structural changes accompanying the ACE II upgrade.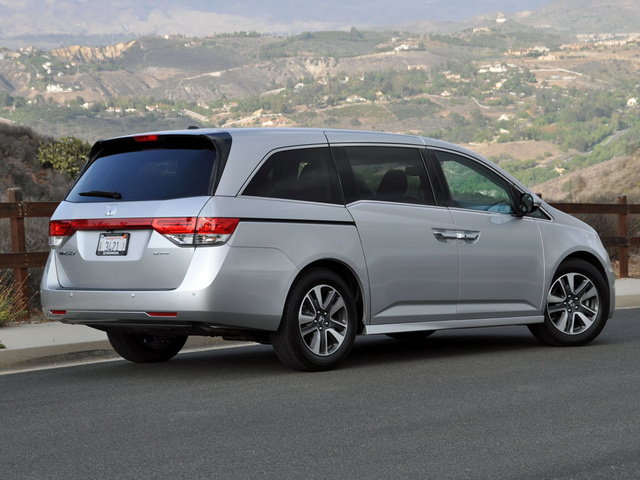 Like many Honda models, the Odyssey is a relatively cost-effective choice. While my observed average of 19.8 mpg fell short of the EPA's 22-mpg combined-driving estimate, the Odyssey is among the most fuel-efficient minivans on sale today. Plus, it gets a 4-star rating from ALG for holding its value, and AOL Autos gives the Odyssey a 4-star rating for its better-than-average long-term cost of ownership.
Where the Odyssey falls a bit short is with regard to reliability and dependability, receiving average predictions from both Consumer Reports and J.D. Power. Perhaps lease deals and low-rate, short-term financing will help buyers turn the other cheek and hope for the best.
Updated
Christian Wardlaw has 25 years of experience reviewing cars and has served in editorial leadership roles with Edmunds, J.D. Power, the New York Daily News, Autobytel, and Vehix. Chris prefers to focus on the cars people actually buy rather than the cars about which people dream, and emphasizes the importance of fuel economy and safety as much as how much fun a car is to drive. Chris is married to an automotive journalist, is the father of four daughters, and lives in Southern California.
What's your take on the 2014 Honda Odyssey?
Have you driven a 2014 Honda Odyssey?
Cars compared to 2014 Honda Odyssey
Looking for a Used Odyssey in your area?
CarGurus has 18,009 nationwide Odyssey listings starting at $873.
Trims
EX FWD

Avg. Price: $14,159
EX-L FWD

Avg. Price: $16,046
EX-L FWD with DVD

Avg. Price: $13,740
EX-L FWD with Navigation

Avg. Price: $14,710
LX FWD

Avg. Price: $13,682
Touring Elite FWD

Avg. Price: $18,755
Touring FWD

Avg. Price: $17,226
Quick Links