Looking for a Used R8 in your area?
CarGurus has 470 nationwide R8 listings starting at $66,567.
2014 Audi R8
Overview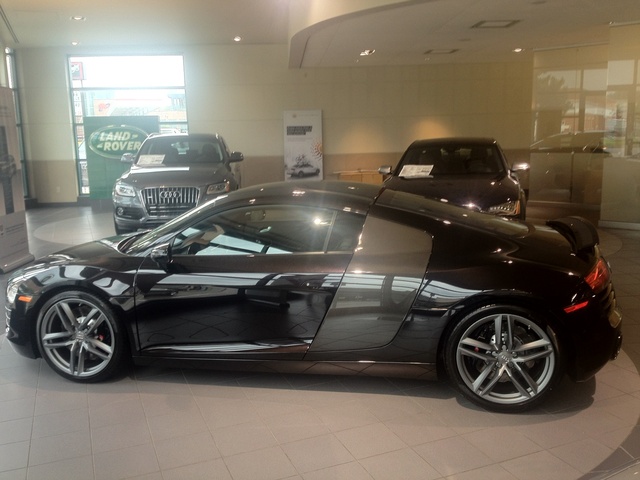 After taking a year off, my favorite supercar for the Bay area has returned with a second clutch and a new trim. With Quattro all-wheel drive and a suspension that can actually be driven on real roads, the R8 has always been a sort of subtle supercar—the kind of opulence you can take to the track or use to cruise the coast. Another rainy day in the Bay? Quattro won't let you down. Cracked pavement and curbed parking? The adaptive suspension will actually leave your spine intact. Because of this, some have even criticized the R8 for being too soft, too forgiving.
Enter the R8 V10 Plus. Power seats? Nope. Adaptive suspension? Nope. You're not getting a reworked GT trim, but rather a compromise that also offers carbon-ceramic brakes, a lot of carbon-fiber trim, 25 extra hp and a second clutch for the transmission.
In fact, all R8s get the new 7-speed, dual-clutch S-tronic automated tranny—unless you man up and go for the surprisingly still-standard 6-speed manual transmission. Usually that's a throwaway clause, as so few actually ask for the privilege of shifting, but it may not be the case here. Whereas Porsche has received criticism after asking $3K for its vaunted dual-clutch automated offering, Audi demands $9K for those paddle shifters behind the steering wheel. It's a stunning transmission to be sure, able to chop 0.3 seconds off the sprint to 60 versus the old unit, but at $9K just to get in the door, I'm guessing a few people will be exercising long-atrophied clutch feet.
And the manual is approachable enough to be manipulated even in Bay traffic, as many may come to realize. Drawn in by the Audi's new front and rear bumpers as well as revised lighting, it may just be here that the manual makes a comeback. With LED front lamps and dynamic rears, we're looking to Audi to light the way.
Some changes made their way inside as well, with a thicker, aerated steering wheel, new gloss black and aluminum trim, some extra leather throughout and optional diamond-pattern stitching for the Napa leather seats. All welcome, but every improvement and adjustment has the added effect of highlighting just how abysmal the navigation system still is. Time for another upgrade, pleaseandthankyou.
But why bother with navigation in the first place? With either engine at your disposal, you'll have plenty to keep you occupied no matter the road you choose. Starting with a 4.2-liter V8, the R8 presents 430 hp and 317 lb-ft of torque and still manages 14 mpg city/24 highway with the S-tronic. The standard 6-speed will drop you down to 11/20 mpg and offers the slowest R8 60 sprint of 4.5 seconds.
Bumping up to the R8 V10, the extra cylinders will get you 525 hp and 391 lb-ft of torque. Even if you opt for the heavier Spyder model, you'll still crack 60 in less than 4 seconds and get a return of 13/22 mpg. But if that's not enough, the Plus will tack on that extra 25 horses, and a small torque bump to boot, with no penalty at the pump. All that, and you even get to 60 in less than 3.5 seconds.
The biggest downside to the R8—other than that navigation system and its stratospheric price—is the lack of storage. Never the strong suit of the supercar, the fore and aft compartments on the R8 leave you wanting. Up front you get just 3.5 cubic feet of space, as a rather painful example. Perfect for that light sweater we carry everywhere in the Bay, but not much else.
So the improvements are an improvement, the navigation is still anachronistic, and the price is still out of reach. It all adds up to the perfect car for the Bay area—the very place where the right eyes might get on that antiquated navigation system and dream up something better. The R8 deserves it.
Updated
A CarGurus contributor since 2008, Michael started his career writing about cars with the SCCA - winning awards during his time as editor of Top End magazine. Since then, his journalistic travels have taken him from NY to Boston to CA, completing a cross-country tour on a restored vintage Suzuki. While his preference is for fine German automobiles - and the extra leg room they so often afford - his first automobile memories center around impromptu Mustang vs. Corvette races down the local highway, in the backseat of his father's latest acquisition.
What's your take on the 2014 Audi R8?
Have you driven a 2014 Audi R8?
Cars compared to 2014 Audi R8
Looking for a Used R8 in your area?
CarGurus has 470 nationwide R8 listings starting at $66,567.
Trims
quattro V10 Coupe AWD

Avg. Price: $113,884
quattro V10 Plus Coupe AWD

Avg. Price: $123,999
quattro V10 Spyder AWD

Avg. Price: $114,959
quattro V8 Coupe AWD

Avg. Price: $94,616
quattro V8 Spyder AWD

Avg. Price: $97,242
Quick Links