Looking for a Used SLS-Class in your area?
CarGurus has 47 nationwide SLS-Class listings starting at $130,000.
2013 Mercedes-Benz SLS-Class
Overview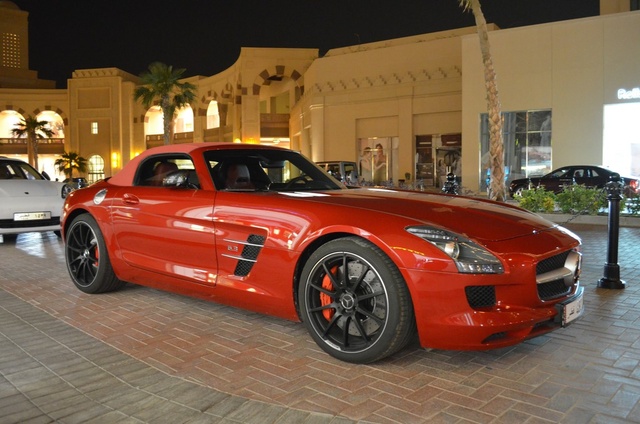 Mercedes-Benz's SLS definitely needed more power. Even in a world of excess, we need our idols, and AMG continually steps up to the plate to remind us that while more isn't always needed, it's always necessary.
For 2013, that means the company's SLS-Class monster will get another 20 hp, thanks to a pressure increase and a larger intake manifold on the giant 6.2-liter V8, bumping the total to 583. Torque stays the same at 479 lb-ft, but only a masochist would want more. In addition, there's a firmer suspension and some new wheels to roll on as part of a GT package. It's optional elsewhere, but in the States it's the only flavor of SLS AMG we're getting. Unfortunately, the extra power won't make much of a difference, as the SLS AMG was unable to put all of its power on the ground before the power increase. No car is so willing or able to ruin its tires quicker.
If you utilize all the electronic wizardry that AMG could provide, you'll still be able to hit 60 in just 3.7 seconds, and the suspension tweaks do actually improve handling, as the SLS consistently breaks 1g in lateral acceleration during figure-8 runs. There's no other way to say it—the SLS is a brutal machine.
Getting the SLS through a slalom is no small feat. After all, this is a car that'll bring its rear around faster than a dog in heat. The biggest problem is actually those suspension settings, however. The default Comfort setting is gone, and the new default Sport setting is stiff. Perhaps too stiff. Certainly too stiff for everyday enjoyment. And it gets worse from there. Sport+ might as well be named SansShocks, since you're going to feel every pebble and imperfection you roll over. In this way, the SLS is a lot like cars used to be, in that you couldn't just open the door, sit in the seat, turn the key and go. You had to know what you were doing to drive them, and really know what you're doing in order to drive them well. Here, if you don't know what you're doing, you might just end up dead.
So take it easy. Further changes include smoked glass on the head- and taillights, some GT badging and a ton of red thrown around. Brake calipers, seatbelts and stitching are all in glorious crimson, in case you thought the car didn't stand out enough before.
But the biggest change comes in software, rather than hardware. And what's better, it's possible that previous owners may benefit as well. The 7-speed transmission has been treated to a tweaking that drops cog swaps down to 60 milliseconds—a claimed 50% improvement. This is the biggest change in the SLS, and the one most needed as well. The fact that Mercedes just might offer it to owners already out tearing up tires is something to be applauded. Let's hope it follows through. Even with the improvements it still can't touch the twin-clutch offerings from some of its competitors, but I doubt that'll make potential buyers change their minds.
Here you'll have to choose between Roadster and Coupe, the latter with its iconic gullwing doors. Impractical in parking lots, but necessary in fantasy. Sure, you can hear the engine much better with no roof, but somehow that doesn't outweigh the cool factor of those giant wings.
An extra 20 horses won't convince anyone to buy this beast, and the same can be said of red accents. It's a shame that Comfort mode was dropped from the suspension settings, especially with the stiffer springs and dampers now making the ride even less forgiving, but forgiveness was never what the SLS AMG was about. From inspiration to execution, this is nothing more than unapologetic fantasy, and it comes with a price tag to match.
Updated
A CarGurus contributor since 2008, Michael started his career writing about cars with the SCCA - winning awards during his time as editor of Top End magazine. Since then, his journalistic travels have taken him from NY to Boston to CA, completing a cross-country tour on a restored vintage Suzuki. While his preference is for fine German automobiles - and the extra leg room they so often afford - his first automobile memories center around impromptu Mustang vs. Corvette races down the local highway, in the backseat of his father's latest acquisition.
What's your take on the 2013 Mercedes-Benz SLS-Class?
Have you driven a 2013 Mercedes-Benz SLS-Class?
Cars compared to 2013 Mercedes-Benz SLS-Class
Looking for a Used SLS-Class in your area?
CarGurus has 47 nationwide SLS-Class listings starting at $130,000.
Mercedes-Benz SLS-Class Questions
Trims
AMG GT

Avg. Price: $217,446
AMG GT Roadster

Avg. Price: $159,364
Quick Links