Looking for a Used G37 in your area?
CarGurus has 1,444 nationwide G37 listings starting at $3,977.
Review
The Good
The 2012 Infiniti G37 offers a more affordable alternative to German luxury with competent handling and the most accessible interior in the class.
The Bad
A rough-and-gruff V6 and a too-firm performance suspension setup spoil some of the fun in the 2012 G37.
The CarGurus View
Subtle but pronounced, the differences between the Infiniti and its Euro counterparts do seem to make the difference. A too harsh performance suspension setup coupled with a too-gruff V6 is a recipe for disappointment you won't find in rivals. However, if you never plan on pushing things into too-fast territory, Infinti's G37 is a more affordable option in the class.
At a Glance
Wedging itself firmly in the scant space left between BMW's 3 Series and Mercedes' C-Class is the G37 – an enthusiast's vehicle that can be had in coupe, sedan and convertible body styles with buyer's choice of rear- or all-wheel drive. A carryover from last year, the G37 enters its fourth year since a displacement increase forced a rename from the G35. A 3.7-liter V6 means plenty of power for Nissan's glamour marque, but sadly the G37 fails to match either the performance of the BMW or the luxury comfort of the Merc.
Drivetrain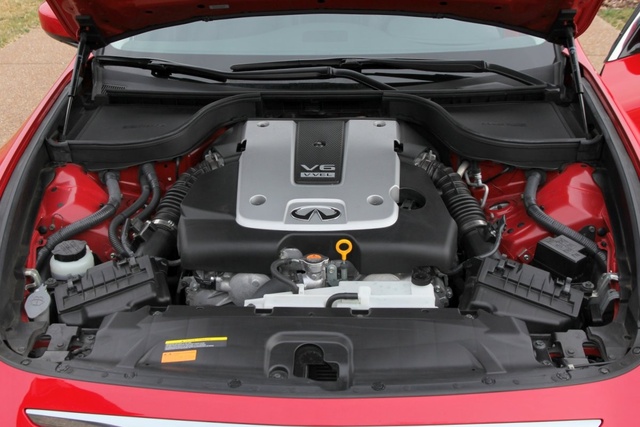 The 3.7-liter V6 in the G37 is a formidable mill, powerful enough to send a RWD coupe to 60 mph in just 5.4 seconds. With 330 hp and 270 lb-ft of torque, that's no surprise. However, with peak torque not showing up until 5,200 rpm and horsepower following at an atmospheric 7,000, you're going to have to push hard to enjoy, and this is the real problem. The 3.7 is nowhere near as refined as rival offerings, and presents a rough, unbalanced profile as the revs climb. Noise and vibrations increase to aggravating levels – especially considering the class and competition – and are at their worst right in the meatiest part of the power curve. The G37 Coupe comes in an IPL version, which stands for Infiniti Performance Line, and upgrades its 3.7-liter engine to 348 hp and 276 lb-ft of torque. Unfortunately that peak hp comes another 400 rpm down the line and only makes things worse yet with regard to noise and vibrations.
Efficiency isn't terrible – especially with the 7-speed shiftable automatic as opposed to the 6-speed, 3-pedal manual – but as it tops out at 19 city mpg/27 highway, it's not going to impress, either. Both transmissions are capable and easy to use, with slick shifts coming from either, although the 7-speed exhibits some reluctance to upshift, which only exacerbates the engine issues previously mentioned. The 6-speed is truly a joy to use, with a close shift pattern and a shift linkage that has been described as having a "pleasing bolt-action feel."
Ride & Handling
Any entrant in this class is going to offer some of the best handling in the automotive industry. The goal here is to blend performance with comfort with the minimal sacrifice of either. Sure, that's always the goal, but here it seems to be the central preoccupation, and moreover this class actually achieves its aims, rather than just aiming for achievements.
That said, the G37 doesn't manage the kind of performance perfection of the BMW or the comfortable compliance of the Merc. Thankfully, the differences are slight. Expect a firmer ride than any of its Euro rivals, with an unpleasant harshness that increases as you move from sedan to coupe to convertible. On perfect pavement there's little to complain about, but as the rips and ripples increase, the reverberations follow suit and announce themselves through chassis, steering wheel and cowl. As wheel size increases this only gets worse, enough that the largest 19-inch options should simply be avoided.
Steering at least is a pleasure, with a weighty, responsive feel that progresses nicely as speed increases. BMW has lost some ground here especially, and the Infiniti is poised to take up the slack.
Cabin & Comfort
If there's one area in which the G37 shines, it's in the features department. Comfort, convenience and tech are all well in hand here, with even the base trims offering an impressive list of standard features. Automatic xenon headlights, heated power leather front bucket seats, a tilt and telescoping steering wheel with mounted gauges, heated mirrors, satellite radio, dual-zone automatic climate controls, keyless ignition and entry, Bluetooth and a rear-view camera are all standard with the G37 Journey. The Sport offers a sunroof, memory system, a power steering wheel, navigation with real-time traffic and weather, a Bose stereo, rear parking sensors, adaptive cruise control and an upgraded climate control system. The above options are also available as optional packages for the Journey, but the Sport also enjoys 18-inch alloys with performance tires, sport steering and suspension with a limited-slip differential, sport seats with side bolstering, the 6-speed manual and upgraded brakes.
If you decide to go for the Limited Edition, you'll get all of the above plus unique black paint and graphite leather interior – neither of which are available on the lower trims.
The 7-inch dashboard screen displays an interface that is one of the most pleasing to use in the industry, with or without navigation, in tune with the rest of the controls of the G37. Interior materials fall just short of German rivals, but they're class-appropriate with real wood and aluminum trim. Comfort is high as well, with most preferring the sport seats with their additional bolstering, although larger owners and testers found them a bit too snug.
Noise is the big problem here, and it permeates from engine and tires alike. This is made worse with the performance tires that come mounted on the Sport's 18-inch alloys and comes close to ruining an otherwise sublime interior experience.
Safety
While test results are not yet available from the National Highway Traffic Safety Administration, the Insurance Institute for Highway Safety has awarded the 2012 G37 its top rating of Good in front and side impact tests. The roof strength test only managed an Acceptable rating, however.
Still, the G37 comes standard with traction and stability control, 6 airbags, 4-wheel antilock disc brakes with assist, front-seat active head restraints and fog lights. The Sport trims additionally are fitted with a limited-slip differential, upgraded brakes and a rear-obstacle detection system.
What Owners Think
Owners are most pleased with the interior of the G37, as well as its perceived value when compared with German rivals. Some complain about interior material quality that doesn't match BMW or especially Mercedes, but these voices are few. While the ride is a pleasant blend of performance and comfort, it can get overly harsh with the larger wheels, performance tires and suspension. Most vocal are those who complain about the unrefined character of the V6, especially when the revs climb.
Updated
A CarGurus contributor since 2008, Michael started his career writing about cars with the SCCA - winning awards during his time as editor of Top End magazine. Since then, his journalistic travels have taken him from NY to Boston to CA, completing a cross-country tour on a restored vintage Suzuki. While his preference is for fine German automobiles - and the extra leg room they so often afford - his first automobile memories center around impromptu Mustang vs. Corvette races down the local highway, in the backseat of his father's latest acquisition.
What's your take on the 2012 INFINITI G37?
Have you driven a 2012 INFINITI G37?
Cars compared to 2012 INFINITI G37
Looking for a Used G37 in your area?
CarGurus has 1,444 nationwide G37 listings starting at $3,977.
Trims
Convertible RWD

Avg. Price: $19,554
Coupe RWD
IPL Coupe RWD

Avg. Price: $16,000
Journey Coupe RWD

Avg. Price: $16,709
Journey Sedan RWD

Avg. Price: $14,063
Limited Edition Sedan RWD

Avg. Price: $18,995
Sport Appearance Edition Sedan RWD

Avg. Price: $16,995
Sport Convertible RWD

Avg. Price: $17,460
Sport Coupe RWD

Avg. Price: $18,314
Sport Sedan RWD

Avg. Price: $13,948
x Coupe AWD

Avg. Price: $15,764
Show 4 more trims
Quick Links