Looking for a Used Impreza WRX STI in your area?
CarGurus has 252 nationwide Impreza WRX STI listings starting at $13,995.
Review
The Good
Ever-improving class-leading handling, a blissfully competent powertrain and the return of the sedan mean 2011 is a very good year for Subaru's WRX STi.
The Bad
As the WRX STi continues to improve, cheap interior materials stand out more and more, marring an otherwise triumphant sedan return for 2011.
The CarGurus View
Subaru's WRX STi has always been a crowd pleaser, whether on the rally circuit, in the showroom or on the road. The sedan, especially with a giant rear wing and gold BBS wheels, is the most iconic version of this venerable vehicle, and its return is welcomed with short-game nostalgia as well as practical appreciation. Don't discount the additional storage and utility of the wagon version either, but if the ultimate racing experience is not something you're willing to pay a premium for, perhaps the regular WRX is good enough.
At a Glance
Gentlemen, we have wing. Three years is a long time to live without the familiar 4-door version of everyone's favorite rally rocket, and it ends here. For 2011, Subaru has made several changes to the WRX STi, but most notable will be the return of the 4-door sedan, complete with notorious 14-inch wing.
Styling gets a tweak regardless of body style, but more importantly the suspension has seen some major adjustments this year, with a resultant improvement in overall handling and lap times. Outside you'll notice some tweaks to front and rear fascias and bumpers, with a new grille and insert blacked out for effect, a lip spoiler to match the backdoor behemoth, sharper corners on front and rear bumpers to exaggerate width and some black-trimmed foglamps as well.
Sure, the powertrain remains unchanged, but did you have any complaints?
Drivetrain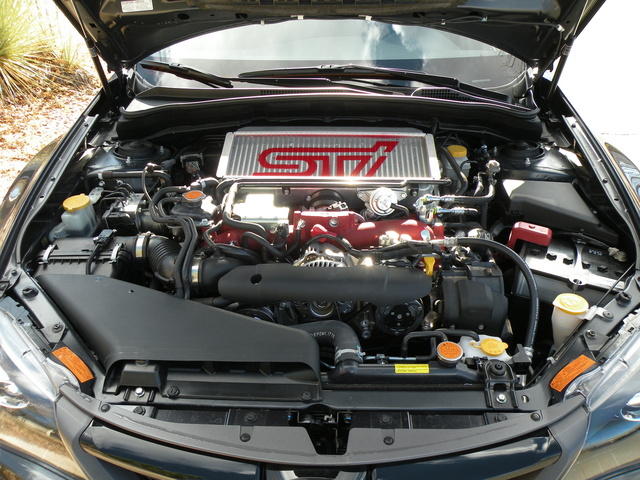 DOHC design, 16 valves, 2.5 liters, 4 cylinders and forced induction thanks to a competent turbo setup. All this adds up to 305 hp and 290 lb-ft of torque. There are plenty of more-powerful powertrains out there, but there's nothing lazy about his lump. The STi comes with a 6-speed manual transmission that benefits greatly from an optional short-throw shifter that really should be a standard feature by now.
As peak horsepower arrives around 6,000 rpm, the STi really takes off but is still plenty powerful anywhere over 3,500 rpm, ready for the torque to really hit at its 4,000-rpm peak. An EPA-estimated 17/23 mpg feels a bit low in 2011 – especially with a 4-cylinder – but if you're springing for the STi, fuel economy is probably not high on your list of "must-haves." Dropping 40 hp and 45 lb-ft of torque by going for the stock WRX will net you only 2 mpg on either end anyway, so you might as well go for the extra oomph.
Ride & Handling
Not content to keep its changes wholly aesthetic for 2011, Subaru incorporated some significant improvements into the suspension setup of the STi this year. Immediately noticeable from the outside is a 5mm drop overall of the ride height. Front and rear spring rates have been ratcheted up by 16 and 53 percent, and the anti-roll bars from the 2010 Special Edition of the WRX STi have been used here as well - 21mm front and 19mm rear units, both 1mm larger than the standard STi of 2010. The rear subframe also got some stiffer bushings to prevent those pesky unwanted camber changes, but the real news Subaru is pushing is the introduction of what they're calling "pillow ball bushings" for the front lower control arm rear joints. It's nothing more than a steel ball joint with a rubber bushing around it to isolate for more steering precision and less toe and camber changes.
But calling it a "pillow ball bushing" makes it sound a hell of a lot sexier.
There are also hints of structural bracing and increased rigidity, but don't forget a reduction of 17.6 pounds of unsprung weight thanks to new Einke wheels that are 4.4 pounds lighter at each corner. BBS wheels aren't gold like you remember, but they are optional on the sedan and standard on the wagon.
Cabin & Comfort
While design leaves no room for complaint, the high asking price of the STi leaves the buyer wondering why he's surrounded by so much hard, cheap plastic while occupying the driver's seat. Please don't misunderstand, I'm aware of where all that money goes in the STi, and the technological achievements of the car mean you're not getting short-changed in even the slightest sense. However, for the scratch you're going to throw down for this rally-ready grocery getter, some additional attention to the interior would be very welcome. After all, when you're actually inside the car, it's most of what you're seeing. The rear wing is little more than a visibility obstacle when you're driving around town.
That said, the controls are well-placed and intuitive for the most part. Utilize the steering wheel audio controls as opposed to operating the stereo through the navigation system and you should be fine. Seats are very supportive and plenty comfortable for short trips, but long bouts on the superslab will have you hoping for additional lower back support. The hatchback is noticeably noisier than the sedan, which manages to isolate road, wind and tire noise to a larger degree.
Safety
While the National Highway Traffic Safety Adminstration (NHTSA) has yet to release crash-test results for the 2011 WRX STi, the Insurance Institute for Highway Safety has named the Impreza – of which the WRX STi is a sub-model – one of its Top Safety Picks.
This was due in part to Subaru's offering traction and stability control as standard features, along with six airbags and 4-wheel antilock assisted disc brakes.
What Owners Think
Making a WRX STi handle better is no easy task, but one sure to garner positive results from owners. While some have complained about the absence of upgrades for the powertrain, there aren't many weaknesses to address. Making the optional short-throw shifter a standard feature here would be welcome, and extra horsepower is always a bonus, but this is a given. The WRX STi does what it was designed to do very well, and anyone buying one recognizes this. With a slight upgrade to interior materials, there would be very little to complain about indeed.
Updated
A CarGurus contributor since 2008, Michael started his career writing about cars with the SCCA - winning awards during his time as editor of Top End magazine. Since then, his journalistic travels have taken him from NY to Boston to CA, completing a cross-country tour on a restored vintage Suzuki. While his preference is for fine German automobiles - and the extra leg room they so often afford - his first automobile memories center around impromptu Mustang vs. Corvette races down the local highway, in the backseat of his father's latest acquisition.
What's your take on the 2011 Subaru Impreza WRX STI?
Have you driven a 2011 Subaru Impreza WRX STI?
Cars compared to 2011 Subaru Impreza WRX STI
Looking for a Used Impreza WRX STI in your area?
CarGurus has 252 nationwide Impreza WRX STI listings starting at $13,995.
Subaru Impreza WRX STI Questions
Trims
Hatchback AWD

Avg. Price: $23,155
Limited Sedan AWD

Avg. Price: $22,334
Sedan AWD

Avg. Price: $22,301
Quick Links