Looking for a Used Murcielago in your area?
CarGurus has 22 nationwide Murcielago listings and the tools to find you a great deal.
2010 Lamborghini Murcielago
Overview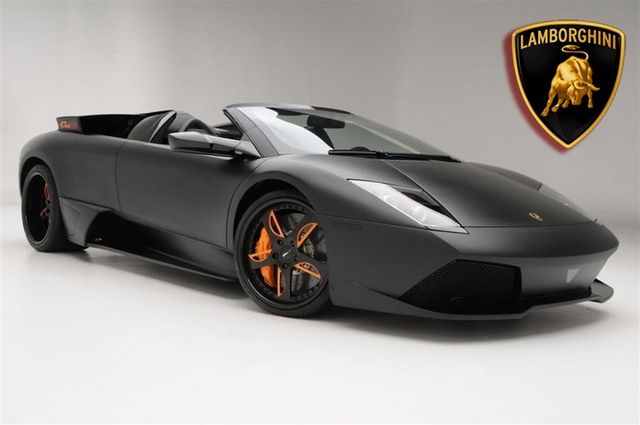 Those of us who grew up seeing wild, violent Lamborghinis plastering our friends' bedroom walls are used to saying goodbye every ten years. We know we have only a short decade with these modern myths and so prepare ourselves for their eventual departure. A schedule helps, and so does knowing there will be an even better Lambo just waiting around the next figurative corner. More than that, we know the heart of Lamborghini, that historic 60-degree V12 that's powered the fighting bulls in varying forms for damn-near half a century, will still be sitting ominously below the skin.
Lament anew Lamborghini faithful, the Bizzarrini V12 is no more. The Murcielago, itself ending in 2010, is the last application of the venerable powerplant, and Lambo was determined to make sure it was a good one. In that vein, look to two more-powerful Murcielagos for its last year of production – a 641-hp version of the Murcielago Roadster and a truly insane, 661-hp SuperVeloce.
Not that the Murcielago needed any help. Despite its ten-year lifespan, Audi managed to keep its first Lamborghini fresh with the occasional update and upgrade, moving from a 580-hp, 6.2-liter V12 upon its introduction through to the 661-hp, 6.5-liter version that will end its cycle. However, the base Coupe and Roadster have to make due with a paltry 631-hp version, propelling the midengine two-seater to 60 mph in just 3.3 seconds with its 6-speed "E-gear" automated manual transmission. Choosing the Roadster or a manual transmission will add one-tenth of a second to the jaunt to 60, although you'll hardly notice.
But just in case, Lambo decided a bit more power will be needed. The 50-unit production run of the LP-650 4 Roadster gets an extra 10 hp plus a gray/orange color treatment inside and out so people will know just how rare this last Lambo is.
Less rare, but even more powerful is the LP-670 4 SuperVeloce. With 350 units in production, the SuperVeloce gets the same SV moniker as the Diablo and Miura SV, which similarly appeared as souped-up versions at the end of their model's production run. The LP-670 gets modifications to the intake and valve timing, along with weight reductions and braking upgrades. Most of the shed weight comes from carbon fiber replacements and a lighter exhaust, along with 6-piston, 15-inch carbon-ceramic brakes. But most important in the hypercar market is power, and the SuperVeloce gets 661 horses to play with – a truly fitting end to the V12's life.
While Audi's ownership of Lambo has led to improved interior quality and comfort, the Murcielago will still provide all the luxury quirkiness you'd expect. Entry and exit, while ultra-cool with the scissor doors, is still ultra-annoying, leading to the usual head bumps and Anglo-Italian cursing. The extra-wide body helps provide the Murcielago with its incredible amounts of grip, but it also makes it a pain to drive anywhere but the track, and seats that have become noticeably more comfortable since Audi's ownership are still stiff enough to warrant a free chiropractic appointment with purchase. However, the coveted "most annoying" award goes to the Rube Goldberg-inspired roof for the roadster, which may just be the most complicated piece of engineering in the entire car.
But that's okay. Despite Audi's efforts, an Italian sports car is not supposed to be practical. It's not supposed to be logical. Nothing that costs a half-million dollars and carries two people could be, even if it carries them to 200 mph+.
The Aventador shows up next year along with its new 6.5-liter V12, F1 suspension and carbon fiber monocoque, ushering both the Murcielago and the Bizzarrini V12 out the door upon its arrival. Audi's first foray into Lambo territory was tough enough, helped significantly by the use of the traditional V12 and the Murcielago's insane performance. The Aventador is lighter and faster with a new engine designed by the Italian-sounding Filippo Perini under the direction of the not-so-Italian-sounding Manfred Fitzgerald, who is no longer with the company. But performance alone isn't enough to paste posters on pre-pubescent walls; some panache is needed as well. The Murcielago's ten years is up. The reign of the Aventador is just beginning.
Start watching those bedroom walls.
Updated
A CarGurus contributor since 2008, Michael started his career writing about cars with the SCCA - winning awards during his time as editor of Top End magazine. Since then, his journalistic travels have taken him from NY to Boston to CA, completing a cross-country tour on a restored vintage Suzuki. While his preference is for fine German automobiles - and the extra leg room they so often afford - his first automobile memories center around impromptu Mustang vs. Corvette races down the local highway, in the backseat of his father's latest acquisition.
What's your take on the 2010 Lamborghini Murcielago?
Have you driven a 2010 Lamborghini Murcielago?
Cars compared to 2010 Lamborghini Murcielago
Looking for a Used Murcielago in your area?
CarGurus has 22 nationwide Murcielago listings and the tools to find you a great deal.
Lamborghini Murcielago Questions
Trims
LP640 Coupe
LP640 Roadster
LP670-4 SuperVeloce
Quick Links