Looking for a Used Yukon XL in your area?
CarGurus has 6,422 nationwide Yukon XL listings starting at $2,995.
Review
The Good
The 2010 GMC Yukon XL holds enough people and gear to power any adventure and offers a comfortable cruiser of a ride, too.
The Bad
As might be expected with a rig this big and powerful, the 2010 GMC Yukon XL laps up fuel at a fairly rapid rate.
The CarGurus View
Pack the 2010 GMC Yukon XL to the gills with friends and family or the bulk of the softball team, settle in for a smooth ride, and let the fun begin. Better find a couple of smaller folks to stick in the back, though. And don't forget your gas card.
At a Glance
The 2010 GMC Yukon XL is one big rig that can carry the entire starting lineup of your favorite baseball or softball team. Yes, this four-door behemoth seats nine. It holds its share of cargo, too, and will even pull along a good-sized boat to add to the post-game entertainment. In short, it's primed and ready for the family, a large family at that, on the go.
The Yukon XL offers plenty of size and space along with a classy style and a nice, generally smooth ride as well. Its SLE and SLT trims feature various setups. They come in half-ton or three-quarter ton trims and with rear-wheel (RWD) or four-wheel drive (4WD). You might need to lengthen your garage a bit to fit it, though: The XL is about 20 inches longer than a regular Yukon at just over 18 and a half feet.
Last redesigned in 2007, the GMC Yukon XL has not seen a lot of changes for 2010. Its 5.3-liter engine is now capable of running on Flex Fuel - gasoline or E85 ethanol can power it.
Drivetrain
A 5.3-liter V8 powers the 2010 GMC Yukon XL SLE and SLT half-ton trims. It's combined with a six-speed automatic transmission to put out 320 hp and 335 lb-ft of torque, and is capable of towing 5,600 pounds with its standard heavy-duty trailering package. Gas mileage for the 5.3-liter is estimated at 15 city/21 highway mpg in RWD vehicles.
The engine for the three-quarter ton trims bumps up to a 6.0-liter V8, and with its six-speed automatic it's up to 352 hp and 382 lb-ft of torque. That setup boasts a towing capacity of 9,600 pounds with RWD.
Ride & Handling
The 2010 GMC Yukon XL generally collects good reviews for its ride and handling. It tends to be smooth around town and can be a fine cruiser on the highway, too, the experts report. But there are those who find it a little loud and bumpy at high speeds.
Its ride is comfortable, most say, with one notable exception: The third seat is no place to put full-size adults, especially for trips of any length. An Autoride system that automatically adjusts the shocks depending on conditions is available in the Yukon XL and helps provide a smoother ride.
Comments are similarly mixed on the Yukon's steering, with some noting that it is quite responsive for a vehicle of its size and others not as impressed. The vehicle draws good reviews for its pedal feel and braking.
The SLE and SLT trim levels both come with 17-inch tires standard. Twenty- and 22-inchers are also available on SLTs.
Cabin & Comfort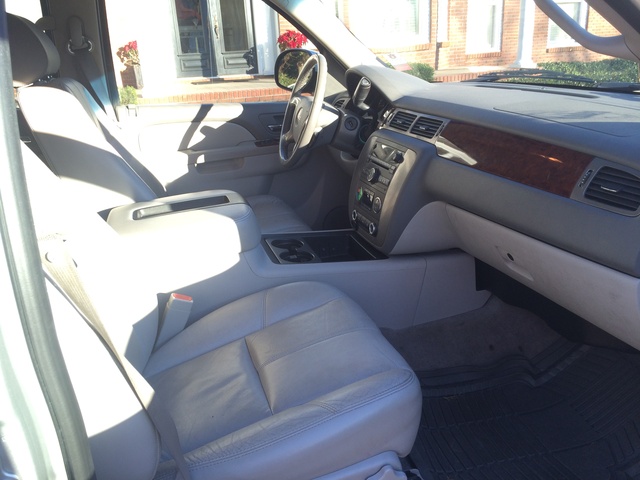 The 2010 GMC Yukon XL features an interior that offers up plenty of space along with a classy style, efficient design, and quality materials, which all add up to positive marks from reviewers.
Most experts find its seating comfortable, except for that tight third row. The front two rows of seats are supportive, reviewers report, and are available in various configurations, which is why the Yukon can seat anywhere from four to nine people. Both the first- and second-row seats are available as a three-seat bench or two captain's chairs.
Besides not being large enough to comfortably handle adults, there's another issue with the third row of seats: It also impacts the cargo area. They neither fold flat to the floor, nor are they particularly easy to remove. The flip side, the experts say, is that with the third row of seats removed, the Yukon XL has all kinds of cargo space.
Safety
Its sheer size is one factor helping the 2010 GMC Yukon XL when it comes to safety. The Yukon scores well in crash tests conducted by the federal government, earning five stars in both front and side impact collisions. It has a three-star rollover rating.
Safety features for the Yukon XL include four-wheel disc antilock brakes, an array of airbags, daytime running lights, and GMC's traction control system, which helps a driver maintain control in the face of abrupt changes in direction or during skids.
The SLT trims come with standard front fog/driving lights and sensors that assist with parking, which are optional on the SLE.
What Owners Think

Owners of the 2010 GMC Yukon XL rave about the ride it offers, in particular how comfortable and quiet it is. Some use the word luxurious to describe the feeling.
They find the Yukon XL fun, surprisingly fun some note, to drive, and most like its power and the way it handles in conditions both good and bad. They appreciate the bucket seats and touches like cooled seats and Bluetooth capability.
It's a great vehicle, they say, for long family vacations. Pack up the gang and all the gang's belongings, and tow along a boat for good measure. That said, a Yukon XL getaway works best if there are a couple of smaller kids in the group who can use the tight third-row seat. Owners join reviewers in noting how little legroom the third seat provides.
And while the 2010 GMC Yukon XL, many feel, has got enough power for most any chore, others note that they would favor boosting its standard engine a bit.
What's your take on the 2010 GMC Yukon XL?
Have you driven a 2010 GMC Yukon XL?
Cars compared to 2010 GMC Yukon XL
Looking for a Used Yukon XL in your area?
CarGurus has 6,422 nationwide Yukon XL listings starting at $2,995.
Trims
1500 SLE

Avg. Price: $13,365
1500 SLE 4WD

Avg. Price: $13,528
1500 SLT

Avg. Price: $13,746
1500 SLT 4WD

Avg. Price: $13,500
2500 SLE
2500 SLE 4WD
2500 SLT
2500 SLT 4WD
Denali

Avg. Price: $16,323
Denali 4WD

Avg. Price: $15,542
Quick Links