Looking for a Used 8C Spider in your area?
CarGurus has thousands of nationwide listings and the tools to find you a great deal.
2009 Alfa Romeo 8C Spider
Overview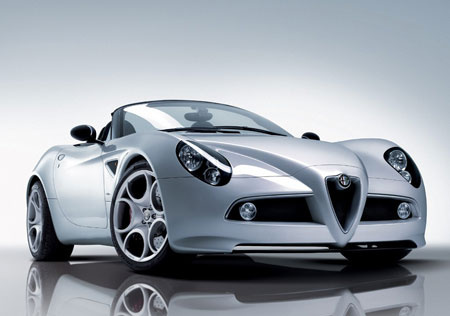 Ever wanted to pay too much for an Italian sports car? Certainly you're spoiled for choice in that particular category, but if you really want to pay too much, there's really only one option: the Alfa Romeo 8C Spider. Alfa has had the dubious honor over its long history of being referred to alternatively as either the poor man's Ferrari or the rich man's Fiat. Now it can be the rich man's Ferrari, as the 8C Spider shows up with a price tag that would put Maranello's own V8 ragtop to shame. That's right, for the price of an 8C Spider, you could have a Ferrari California and still keep nearly $40,000.
Built on the back of the much-loved 8C Competizione, the Spider comes with a 2-piece textile power top, a softer suspension and a $300K price tag. It also comes with an extra 200 pounds over the coupe, so you'll always feel as though you're hauling around one of your big friends.
Not that it would be a problem for the venerable Ferrari/Maserati derived and Ferrari assembled 4.7-liter V8 that sits unassumingly beneath the long hood. With 450 hp and 354 lb-ft of torque, motivation certainly shouldn't be an issue, especially with 80 percent of that torque figure showing up by 2,500 rpm. And considering the engine and transaxle both sit within the confines of the wheelbase, the 8C can turn with a sprightly step as well.
Unfortunately, it's just not as sprightly as the coupe, and it suffers from the same heavy, dull steering. Still, it'll manage a sprint to 60 in just 4.5 seconds, with gear changes from the single-clutch automated manual coming in 175 milliseconds.
So what else do you get with the Spider over the coupe, other than a clear view of the blue skies above? There are the usual stiffening bits like a new front cross brace and some thicker sills and floor beams. That's good, but the chassis of the Spider still sports more wiggle than that of the coupe, so dampers are softer and springs stiffer here to compensate. Sure, it's more, but it's not exactly more where you want it. Better brakes are much more satisfying, so the Spider has been fitted with new carbon-ceramic Brembos. Even at 15 inches in the front and 14 in the rear, they save more than 30 pounds over the coupe's steelies.
Still, impressive as they are, those brakes aren't going to make up for the price jump. Not to worry though, as the 8C Spider is in extremely short supply, so you probably can't even get one. With 500 being produced and only 35 making it to U.S. shores, the full production run sold out quite quickly, with U.S. buyers paying a premium over the already elevated price tag. Too much for an Italian sports car? Is there such a thing?
Apparently, there is.
Updated
A CarGurus contributor since 2008, Michael started his career writing about cars with the SCCA - winning awards during his time as editor of Top End magazine. Since then, his journalistic travels have taken him from NY to Boston to CA, completing a cross-country tour on a restored vintage Suzuki. While his preference is for fine German automobiles - and the extra leg room they so often afford - his first automobile memories center around impromptu Mustang vs. Corvette races down the local highway, in the backseat of his father's latest acquisition.
What's your take on the 2009 Alfa Romeo 8C Spider?
Have you driven a 2009 Alfa Romeo 8C Spider?
Looking for a Used 8C Spider in your area?
CarGurus has thousands of nationwide listings and the tools to find you a great deal.
Alfa Romeo 8C Spider Questions
Can not get a hold of our Account Manager Marc Notarangelo,....we have old reviews/star ratings (under the prior ownership) we have a 1 star rating on there because a customer made a low offer on a...