Looking for a Used Reventon in your area?
CarGurus has thousands of nationwide listings and the tools to find you a great deal.
Reventon
by Saadii
— guyz this is tha future car. it has a unique style and a shape that will impress you in no time. Its worth £746,200. its key rivals are: Pagani Zonda F, Bugatti Veyron, Learjet, Sunseeker 34M * ...
Read More
My 2008 Lamborghini Revention
by Will
— This car is great. When I first got it it seemed to perfect to drive. I eventually got over this fear but I am very careful with it. It sounds great when it starts up, a lot like a jet actually. I...
Read More
Most Stylish Car On Earth
by Mohammad
— my car is superb cuz its mine its beautiful , strong and most importantly i love ma car. i like i can make more car more gorgeous but rite now it is da best car in town.juz loving it ..mwahhhhhhhhhh.i...
Read More
2008 Lamborghini Reventon
Overview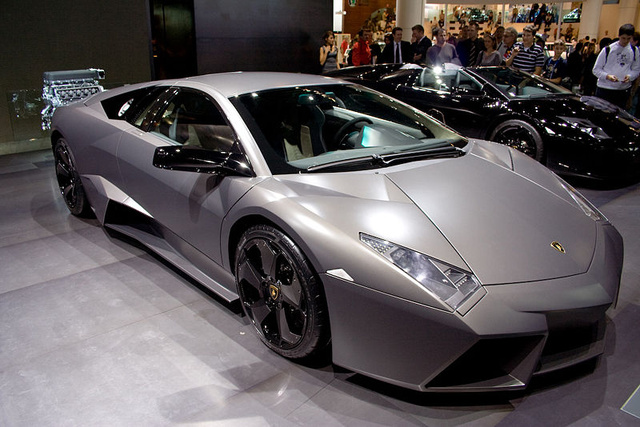 They say the three core tenets of Lamborghini are: to be extreme, to be uncompromising, and to be very Italian. There's little doubt about that last tenet, even if Germans now own the company. In 1974, before the Germans, there was the Countach. But with the unveiling of the Reventon, Lamborghini has revitalized those core tenets by building a "jet fighter for the road."
The story goes that Manfred Fitzgerald, Lamborghini's director of brand and design, camped out on a NATO airbase with his design team. When they returned to Lamborghini's Centro Stile design center deeply impressed by the F-22 Raptor jet fighter, a competition was held to create a proposal for the wickedest, most audacious Lambo ever created.
Named after a ferocious Spanish fighting bull of the 1930s, the Reventon captures the fighter-jet-on-wheels look. Its stealth-like angular, sharp edges and clean surfaces are built from composite carbon-fiber body panels that are set on basically a standard Murcielago LP640 rigid tubular steel frame. The viscous-traction four-wheel-drive system and double wishbone independent suspension, with adjustable hydraulic shocks, provide the same tenuous grip as those in the LP640. And the 6.5-liter, variable-valve-timing V12 adds 10 more hp for 650 hp at 8,000 rpm and a blistering 0-60 time of 3.4 seconds - four-tenths of a second faster than the heavier Murcielago - and a top speed of 211 mph.
The exterior flows through air like a jet fighter. The huge nostril-like front intakes suck air to cool the massive six-piston carbon-disk brakes. Flat panels over the undercarriage with a rear diffuser keep the Reventon stable at over 200 mph. Opaque carbon fins are screwed into the aluminum wheel spokes to create a turbine effect, pulling air through the ceramic brake disks. Beneath the doors are large air intakes. The one on the driver's side directs air to the engine oil cooler. The mid-engine hood is glass laminate with open ventilation slots, and the rear LEDs are special heatproof units so engine heat won't melt them - and after 4,500 rpm, you know that's one large, angry bull bellowing back there.
Flicking through the paddle-shifted E-gear transmission presses you back into the seat all the way through the power range. High speed is met with high stability as the suspension keeps you well informed as to every road imperfection, and the grip is tremendous - much like that of the Murcielago.
The interior, however, is pure Reventon. A bright and shiny new world of automotive technology awaits all who enter here, and that won't be too many, since Lamborghini has built only twenty of these four-wheeled fighter jets. A hiss and the scissor doors rise up, revealing carbon-fiber seats set in a carbon-fiber tub. Sleek carbon, Alcantara leather, and aluminum trim greet occupants, but the most futuristic touch comes in the form of the instrument panel. Instrumentation is comprised of three TFT liquid crystal displays - the same used in aircraft. A touch of a button switches between two graphical schemes (digital or analog). A G-Force-Meter that displays the car's dynamic drive forces is also included. Since only twenty Reventons were built, and they're all already sold, you won't have to figure out how to amass the $1.4 million it takes to own one of these extreme, uncompromising, Italian automobiles.
Updated
What's your take on the 2008 Lamborghini Reventon?
Have you driven a
2008 Lamborghini Reventon
?
Looking for a Used Reventon in your area?
CarGurus has thousands of nationwide listings and the tools to find you a great deal.
Have questions?
Ask a question
Lamborghini Reventon Questions
How Many
how many lamborghini reventon are being made?
How Expensive Is A Lamborghini Reventon?
Any Body Knows About Its Engine!
Engine? Liters? Displacement? Speed in 1 second after start? Please do write but if you are sure!! Thanks!
Weight
how much does a lamborghini reventon weigh?
Find great deals from top-rated dealersTM
Search
Quick Links