Looking for a Used Charger in your area?
CarGurus has 16,908 nationwide Charger listings starting at $1,500.
1987 Dodge Charger
Overview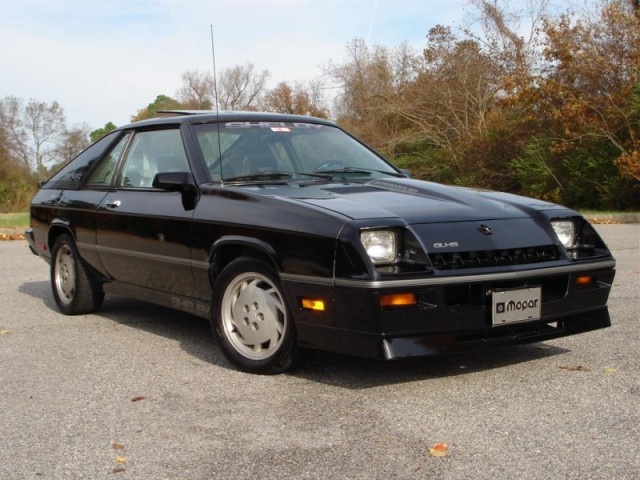 1987 was the last year for the fourth generation Dodge Charger, a 3-door hatchback that evolved from a disappointingly slow subcompact car to a sporty little Shelby racer. In addition to the 1.6-liter, 62-hp engine in the base model and the 2.2-liter, 96-hp hatchback (with optional upgraded 110-hp), the 146-hp Shelby Charger Turbo remained the options for 1987. But a newcomer would make its indelible mark for this final year.
Knowing it was the last year for the Charger, Chrysler sold its last 1000 Shelby Chargers to Carroll Shelby, who in turn created the rare Shelby Charger GLHS. The 1987 Shelby Charger GLHS dispensed with the Dodge name altogether to distinguish itself from the other Chargers. It was also distinguished by its turbo engine that took Chrysler's intercooled Turbo II engine as a starting point to create a 175-hp stomping output. The bigger turbocharger, along with larger fuel injectors and a larger radiator added extra snarl to this sneaky beast. Additionally, some extras became standard in 1987, including a sunroof and a cassette player.
Owners love their Shelby Chargers, most notably for the sports handling and steering, tight cornering, and great speed. The 1987 Charger is also easy on the gas, highly reliable, and generally durable both inside and out. Some negative comments focused on a cramped backseat and the labored auto tran. 1987 was the last year for the Dodge Charger and its Shelby version, and seemingly the end of the Charger persona forever, relegating it to the stuff of legends. It wasn't until a whole new retro redesign in 2006 that the Charger would live again.
What's your take on the 1987 Dodge Charger?
Have you driven a 1987 Dodge Charger?
Cars compared to 1987 Dodge Charger
Looking for a Used Charger in your area?
CarGurus has 16,908 nationwide Charger listings starting at $1,500.
Ok so husband was driving the truck and it quit on him.. We had it towed back home. Had someone look at it and they said we needed a new carb so we did get a new one. It was installed running grea...
Any suggestions, this car has been completely tuned up plugs, cap, rotor, wires, and all filters. New gas tank & straps, fuel lines. We ave fuel pressure car starts and runs for 20 seconds and boggs o...
Trims
FWD
Shelby Turbo FWD
Quick Links