Looking for a Used F-150 in your area?
CarGurus has 112,158 nationwide F-150 listings starting at $1,200.
1986 Ford F-150
Test Drive Review
The last of the seventh-generation Ford F-Series pickups brings further refinement to a rugged truck.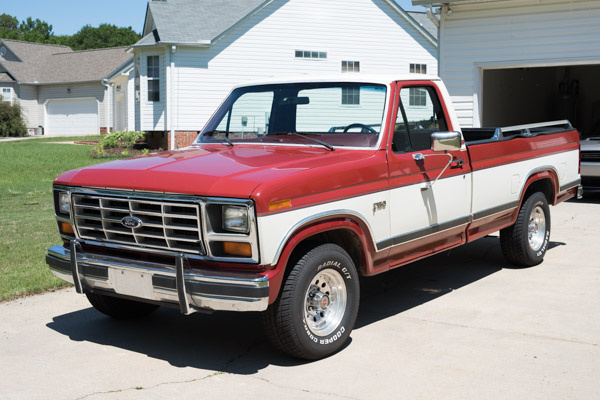 The 1986 Ford F-150 represents the final hurrah for the seventh generation of the F-Series light-duty pickup trucks. Available with 4.9-liter inline-six, 5.0-liter V8, or 5.8-liter V8 power and rear-wheel drive (RWD) or four-wheel drive (4WD), the popular F-150 is the best-selling vehicle in America. With three cab sizes (Regular Cab, SuperCab, and Crew Cab), and short bed or long bed configurations, the sturdy F-150 can be set up for work, play, or just plain transportation.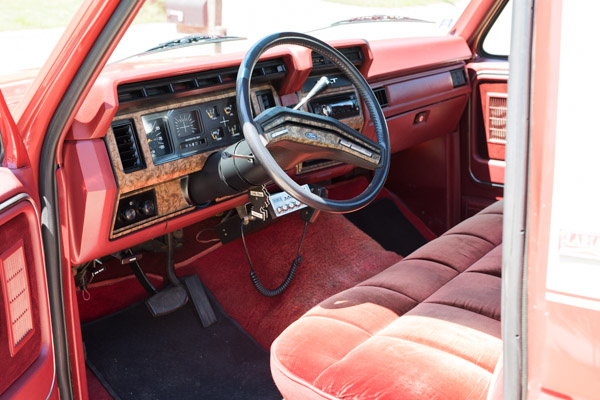 Continuing the "macho" styling theme of the seventh-generation F-150 (1980 – 1986), the 1986 F-150 is a boxy collection of straight lines and right angles. There's no mistaking its heritage, as a big blue Ford oval is mounted at the center of the truck's rectangular grid grille. A simple groove runs down the side of the truck to add some interest, and to reinforce the strong, linear look. The wheel arches curve above the standard 15-inch wheels, but only slightly.
You can get an F-150 in Regular Cab, SuperCab, or Crew Cab layout. There's a 6.5-foot Flareside bed available to fit with the Regular Cab; all other beds are Styleside. A 6.5-foot or 8-foot bed can be matched with a Regular Cab or SuperCab; Crew Cab comes with an 8-foot bed only. Wheelbases range from 116.8 inches to 168.4 inches, depending on the cab/bed configuration. This is possible because of F-150's body-on-frame construction, which allows for easy frame extension and drive-component swaps. F-150 is as close to a modular truck as they come.
The F-150 can be ordered in Dark Grey Metallic, Medium Silver Metallic, Dark Spruce Metallic, Dark Shadow Blue Metallic, and Colonial White (new colors for 1986), as well as carryover colors Raven Black, Bright Canyon Red, Light Regatta Blue, Dark Canyon Red, Light Desert Tan, and Desert Tan Metallic. Interior colors are Regatta Blue, Canyon Red, Medium Grey, and Chestnut. To protect paint life, Ford is now using a cathodic electrocoat primer under the top coats of color. Regular Tu-Tone paint is no longer available, only Combination Tu-Tone and Victoria Tu-Tone. Tape stripes and lower body protective molding, along with the popular Explorer package of options, can be added to all trim levels.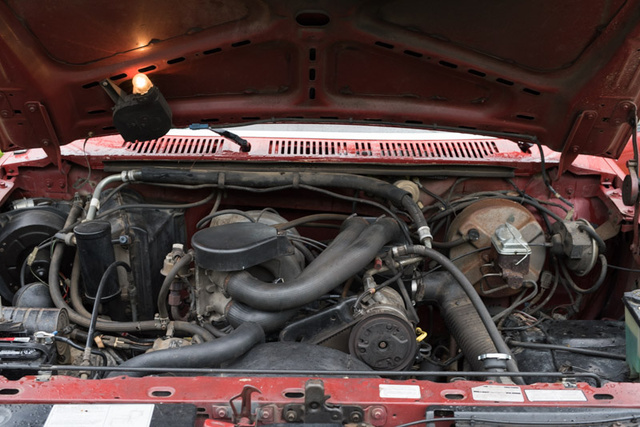 Powertrain options for the 1986 F-150 carry over from 1985. There are three engine choices available: a carbureted 4.9-liter inline six-cylinder producing 122 horsepower and 255 pound-feet of torque; a carbureted 5.0-liter V8 engine putting out 185 hp and 270 lb-ft of torque; and a combination carbureted/fuel-injected 5.8-liter V8 tuned to put out 210 hp and 305 lb-ft of torque. RWD is standard, and 4WD is available at extra cost. Automatic locking hubs are optional as well. RWD models come with a three-speed manual transmission, while 4WD models get a four-speed manual. A SelectShift automatic transmission is available as an option on all models, with a further upgrade to automatic overdrive also available.
The F-150 has an independent front suspension, a solid rear axle with leaf springs, and power drum brakes all around. Maximum payload ranges from 1,355 pounds to 2,470 pounds, depending on setup. Drive around with an empty bed, and expect a lot of bouncing and pogo-ing over rough surfaces. Many owners carry a ballast load rather than driving with an empty bed, just to make sure there's some weight over the rear wheels to maintain traction, especially in the rain or snow. With the right tow package installed, the F-150 can tow up to 7,700 pounds.
A simple upgrade has improved the ride of the F-150. The standard 15-inch wheels are now 6.0 inches wide, as opposed to 5.5 inches last year. The extra half-inch puts more meat on the road, and improves overall handling, especially on cornering maneuvers, and adds confidence and a more stable feel during straight-line acceleration.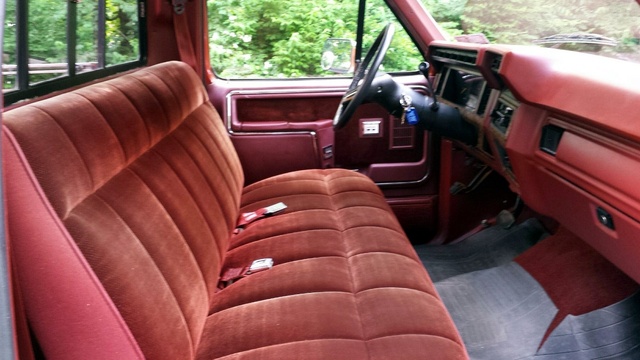 In the cabin, the F-150's straightforward design is a virtue, without distracting adornments or wear points. The Regular Cab is not without its charms but lacks much storage space, beyond a glove box and a bit of hard-to-reach space behind the seat. The SuperCab is great for occasional passenger use but really shines as a secure mobile storage space. The bench second row folds away, leaving a flat load floor that is extremely useful. If you opt for jump seats in lieu of a bench, you get even more space for stuff (but one fewer seating position). Dog owners will appreciate the space behind the first row of the SuperCab as a perfect hideaway for their best friends, avoiding the uncomfortable discussion with a spouse over rightful possession of the front passenger seat. The Crew Cab transforms the F-150 into a useful family vehicle, as three second-row seating positions are actually functional for a short haul, even for adult passengers. The easy rear cabin access lets the space double as a cargo compartment, which is very handy, especially in bad weather.
The F-150 is a simple vehicle, really, with a boxy shape that maximizes its pure utility. The two bed designs, Styleside and Flareside, offer different looks and functionality. The Styleside has a work advantage, with double steel sidewalls that can absorb some minor bumps and dents in the bed without looking any worse for the wear on the outside. Conveniently, you can remove the tailgate from a Styleside pickup without the use of tools. The Flareside, on the other hand, looks great and offers easier access to the inside of the bed with its integrated step. It's all about getting the truck that fits your needs.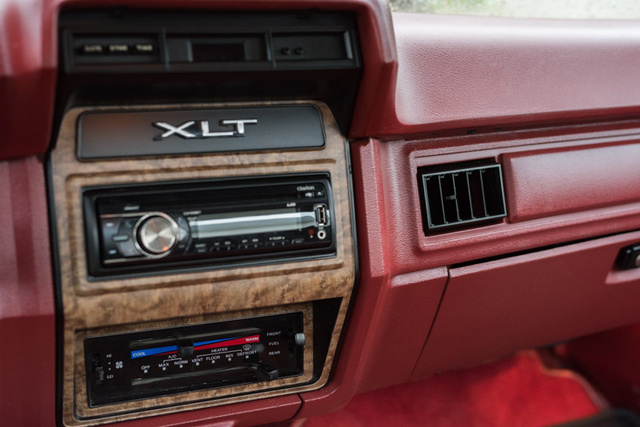 Air conditioning is available on the F-150, but the old standby door vent windows are standard. Power windows, power door locks, power steering, and a tilt steering wheel (manual) are also options, while power brakes are standard. Cruise control is available, a great option for long drives. Halogen headlamps are standard on all F-150 trim levels. An AM radio is standard, with upgrades to AM/FM stereo and even AM/FM stereo with cassette available.
The 1986 Ford F-150 doesn't come with airbags, anti-lock brakes, traction control, or other electronic safety systems. It does come with seatbelts for each seating position, safety glass in all the windows, and standard Halogen headlights.
Carried over from 1984, the F-150 features a clutch interlock, preventing the engine from starting unless the clutch pedal is depressed. The hood latch release remains inside the cabin, improving security. Crash-test ratings from the National Highway Traffic Safety Administration (NHTSA) and Insurance Institute for Highway Safety (IIHS) are not available.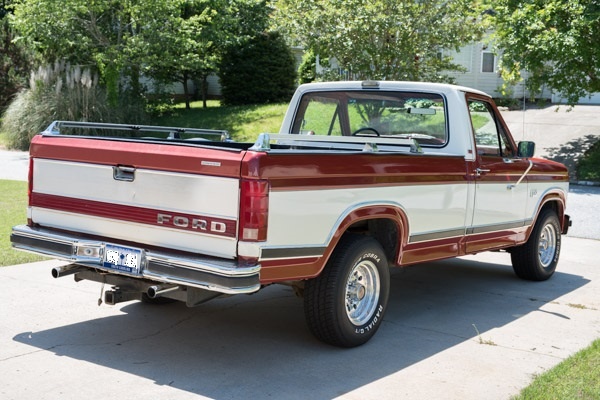 There are three trim levels for the 1986 Ford F-150: STD (base); XL; and XLT Lariat. The F-150 starts at around $8,900 for an STD Regular Cab Short Bed RWD model and goes up to near $13,000 for an XLT Lariat Crew Cab Long Bed 4WD.
Ford, GM, and Dodge dominate the full-size pickup truck market for 1986. Brand loyalty is fierce in the pickup world, and pricing is extremely competitive. Ford is the volume leader, as it has been since 1977, but there are GM (Chevrolet/GMC) folks and Dodge people who will argue that their pickups are better.
Owners of 1986 Ford F-150 pickups won't need to argue. They'll be content to lean against their Victoria Tu-Tone Styleside beds, smile and nod politely, firm in the knowledge that they've chosen a very good truck.
Updated
Jason Fogelson has reviewed hundreds of cars, trucks, SUVs, motorcycles and ATVs for websites, magazines and newspapers. He is based in the Detroit area.
What's your take on the 1986 Ford F-150?
Have you driven a 1986 Ford F-150?
Cars compared to 1986 Ford F-150
Looking for a Used F-150 in your area?
CarGurus has 112,158 nationwide F-150 listings starting at $1,200.