Cheap Ford Mustangs for Sale in Phoenix, AZ
By Car
By Body Style
By Price
Released in 1964, the Ford Mustang was the original pony car: small & nimble with big V8 horsepower. Today, you can find every Mustang variant from turbocharged 4-cylinders, to V8s, and even all-electric versions. With their popularity over the past 55+ years, Ford Mustangs of many varieties can be had at any price point. Shop the cheapest available from the largest selection online on CarGurus.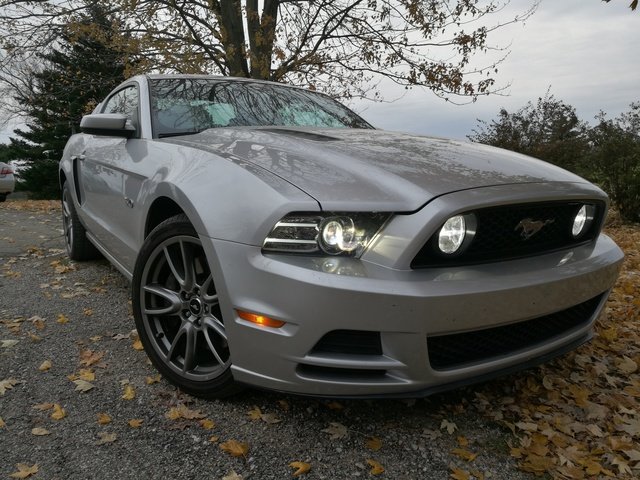 ---
Don't miss out on the car for you.
Save this search to get alerted when cars are added.
2015 Ford Mustang V6 Convertible RWD
---
Year:

2015

Make:

Ford

Model:

Mustang

Body type:

Convertible

Doors:

2 doors

Drivetrain:

Rear-Wheel Drive

Engine:

300 hp 3.7L V6

Exterior color:

Deep Impact Blue Metallic

Combined gas mileage:

23 MPG

Fuel type:

Gasoline

Interior color:

Black (Ebony)

Transmission:

6-Speed Automatic

Mileage:

127,948

NHTSA overall safety rating:

5

Stock number:

X2842

VIN:

1FATP8EM7F5382936
2007 Ford Mustang V6 Deluxe Coupe RWD
Year:

2007

Make:

Ford

Model:

Mustang

Body type:

Coupe

Doors:

2 doors

Drivetrain:

Rear-Wheel Drive

Engine:

210 hp 4L V6

Combined gas mileage:

20 MPG

Fuel type:

Gasoline

Transmission:

Automatic

Mileage:

96,837

NHTSA overall safety rating:

Not Rated

Stock number:

357845

VIN:

1ZVHT80N875357845
2013 Ford Mustang V6 Convertible RWD
Year:

2013

Make:

Ford

Model:

Mustang

Body type:

Convertible

Doors:

2 doors

Drivetrain:

Rear-Wheel Drive

Engine:

305 hp 3.7L V6

Exterior color:

Performance White

Combined gas mileage:

24 MPG

Fuel type:

Gasoline

Interior color:

Charcoal Black

Transmission:

6-Speed Automatic

Mileage:

110,948

NHTSA overall safety rating:

4

Stock number:

MST1189A

VIN:

1ZVBP8EM2D5234385
2008 Ford Mustang GT Deluxe Coupe RWD
Year:

2008

Make:

Ford

Model:

Mustang

Body type:

Coupe

Doors:

2 doors

Drivetrain:

Rear-Wheel Drive

Engine:

300 hp 4.6L V8

Exterior color:

Black

Combined gas mileage:

19 MPG

Fuel type:

Gasoline

Transmission:

5-Speed Manual

Mileage:

171,040

NHTSA overall safety rating:

Not Rated

Stock number:

P34804C

VIN:

1ZVHT82HX85152858
2010 Ford Mustang V6 Premium Convertible RWD
Year:

2010

Make:

Ford

Model:

Mustang

Body type:

Convertible

Doors:

2 doors

Drivetrain:

Rear-Wheel Drive

Engine:

210 hp 4L V6

Exterior color:

Silver

Combined gas mileage:

20 MPG

Fuel type:

Gasoline

Transmission:

5-Speed Automatic

Mileage:

117,547

NHTSA overall safety rating:

Not Rated

Stock number:

MP7454

VIN:

1ZVBP8EN7A5108835
2005 Ford Mustang GT Premium Coupe RWD
Year:

2005

Make:

Ford

Model:

Mustang

Body type:

Coupe

Doors:

2 doors

Drivetrain:

Rear-Wheel Drive

Engine:

300 hp 4.6L V8

Combined gas mileage:

19 MPG

Fuel type:

Gasoline

Transmission:

5-Speed Manual

Mileage:

111,669

NHTSA overall safety rating:

Not Rated

Stock number:

241786

VIN:

1ZVFT82H355241786
2012 Ford Mustang V6 Convertible RWD
Year:

2012

Make:

Ford

Model:

Mustang

Body type:

Convertible

Doors:

2 doors

Drivetrain:

Rear-Wheel Drive

Engine:

305 hp 3.7L V6

Exterior color:

Black

Combined gas mileage:

24 MPG

Fuel type:

Gasoline

Interior color:

Black

Transmission:

6-Speed Automatic

Mileage:

151,000

NHTSA overall safety rating:

4

VIN:

1ZVBP8EM0C5254536
2013 Ford Mustang V6 Convertible RWD
Year:

2013

Make:

Ford

Model:

Mustang

Body type:

Convertible

Doors:

2 doors

Drivetrain:

Rear-Wheel Drive

Engine:

305 hp 3.7L V6

Exterior color:

Red

Combined gas mileage:

24 MPG

Fuel type:

Gasoline

Interior color:

Gray

Transmission:

6-Speed Manual

Mileage:

108,000

NHTSA overall safety rating:

4

Stock number:

FC241546

VIN:

1ZVBP8EM2D5241546
2015 Ford Mustang V6 Convertible RWD
Year:

2015

Make:

Ford

Model:

Mustang

Body type:

Convertible

Doors:

2 doors

Drivetrain:

Rear-Wheel Drive

Engine:

300 hp 3.7L V6

Exterior color:

Black

Combined gas mileage:

23 MPG

Fuel type:

Gasoline

Interior color:

Black

Transmission:

6-Speed Automatic

Mileage:

157,236

NHTSA overall safety rating:

5

VIN:

1FATP8EM2F5371987
2002 Ford Mustang GT Deluxe Convertible
Year:

2002

Make:

Ford

Model:

Mustang

Body type:

Convertible

Doors:

2 doors

Drivetrain:

Rear-Wheel Drive

Engine:

260 hp 4.6L V8

Combined gas mileage:

19 MPG

Fuel type:

Gasoline

Transmission:

5-Speed Manual

Mileage:

145,192

NHTSA overall safety rating:

Not Rated

Stock number:

211113

VIN:

1FAFP45X22F211113
2010 Ford Mustang V6 Convertible RWD
Year:

2010

Make:

Ford

Model:

Mustang

Body type:

Convertible

Doors:

2 doors

Drivetrain:

Rear-Wheel Drive

Engine:

210 hp 4L V6

Exterior color:

Black

Combined gas mileage:

20 MPG

Fuel type:

Gasoline

Interior color:

Black

Transmission:

Automatic

Mileage:

118,666

NHTSA overall safety rating:

Not Rated

Stock number:

11361

VIN:

1ZVBP8EN3A5164948
2010 Ford Mustang V6 Coupe RWD
Year:

2010

Make:

Ford

Model:

Mustang

Body type:

Coupe

Doors:

2 doors

Drivetrain:

Rear-Wheel Drive

Engine:

210 hp 4L V6

Exterior color:

Silver

Combined gas mileage:

20 MPG

Fuel type:

Gasoline

Interior color:

Stone

Transmission:

5-Speed Automatic

Mileage:

76,898

NHTSA overall safety rating:

Not Rated

Stock number:

MP7875

VIN:

1ZVBP8AN1A5169121
1998 Ford Mustang GT Convertible RWD
Year:

1998

Make:

Ford

Model:

Mustang

Body type:

Convertible

Doors:

2 doors

Drivetrain:

Rear-Wheel Drive

Engine:

225 hp 4.6L V8

Exterior color:

White

Combined gas mileage:

19 MPG

Fuel type:

Gasoline

Transmission:

5-Speed Manual

Mileage:

110,262

NHTSA overall safety rating:

Not Rated

Stock number:

MP7768

VIN:

1FAFP45X4WF203231
2009 Ford Mustang V6 Coupe RWD
Year:

2009

Make:

Ford

Model:

Mustang

Body type:

Coupe

Doors:

2 doors

Drivetrain:

Rear-Wheel Drive

Engine:

210 hp 4L V6

Combined gas mileage:

20 MPG

Fuel type:

Gasoline

Interior color:

White (Medium Parchment)

Transmission:

Automatic

Mileage:

102,691

NHTSA overall safety rating:

Not Rated

Stock number:

P05534A

VIN:

1ZVHT80N595115310
2007 Ford Mustang GT Premium Coupe RWD
Year:

2007

Make:

Ford

Model:

Mustang

Body type:

Coupe

Doors:

2 doors

Drivetrain:

Rear-Wheel Drive

Engine:

300 hp 4.6L V8

Combined gas mileage:

18 MPG

Fuel type:

Gasoline

Transmission:

Automatic

Mileage:

117,541

NHTSA overall safety rating:

Not Rated

Stock number:

204896

VIN:

1ZVHT82H775204896