American Made Trucks for Sale in Saint George, UT
By Car
By Body Style
By Price
Looking for a new truck? A full size like the Ford F-150, Ram 1500, Chevrolet Silverado 1500, or GMC Sierra 1500 can tackle nearly any job. Smaller trucks like the Ford Ranger, Chevy Colorado, or GMC Canyon haul work materials with ease and maneuver around parking lots. From the farm to the construction site to the suburb, these legendary trucks get the job done.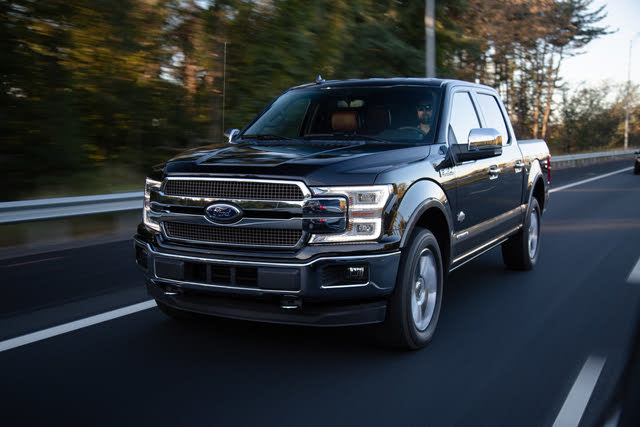 ---
Don't miss out on the car for you.
Save this search to get alerted when cars are added.
2022 Ford F-150 Lariat SuperCrew 4WD
---
Year:

2022

Make:

Ford

Model:

F-150

Body type:

Pickup Truck

Doors:

4 doors

Drivetrain:

Four-Wheel Drive

Engine:

400 hp 3.5L V6

Exterior color:

Gray

Combined gas mileage:

20 MPG

Fuel type:

Gasoline

Transmission:

Automatic

Mileage:

8,620

NHTSA overall safety rating:

Not Rated

Stock number:

1230100

VIN:

1FTFW1E80NKE16235
2021 GMC Sierra 1500 SLT Crew Cab 4WD
---
Year:

2021

Make:

GMC

Model:

Sierra 1500

Body type:

Pickup Truck

Doors:

4 doors

Drivetrain:

Four-Wheel Drive

Engine:

355 hp 5.3L V8

Exterior color:

Summit White

Fuel type:

Gasoline

Interior color:

Jet Black

Transmission:

Automatic

Mileage:

21,401

NHTSA overall safety rating:

4

Stock number:

N02361A

VIN:

3GTU9DED4MG302662
2023 Ford Ranger XLT SuperCrew 4WD
Year:

2023

Make:

Ford

Model:

Ranger

Body type:

Pickup Truck

Doors:

4 doors

Drivetrain:

Four-Wheel Drive

Engine:

2.3L I4

Exterior color:

Cactus

Combined gas mileage:

21 MPG

Fuel type:

Gasoline

Interior color:

Black (Ebony)

Transmission:

Automatic

Mileage:

9,263

NHTSA overall safety rating:

Not Rated

Stock number:

N02057B

VIN:

1FTER4FH8PLE03118
2015 Ford F-150 Lariat SuperCrew 4WD
Year:

2015

Make:

Ford

Model:

F-150

Body type:

Pickup Truck

Doors:

4 doors

Drivetrain:

Four-Wheel Drive

Engine:

3.5L V6

Exterior color:

White

Combined gas mileage:

20 MPG

Fuel type:

Gasoline

Transmission:

Automatic

Mileage:

145,946

NHTSA overall safety rating:

Not Rated

Stock number:

12414

VIN:

1FTEW1EG7FKD10613
2015 GMC Sierra 1500 SLT Crew Cab 4WD
---
Year:

2015

Make:

GMC

Model:

Sierra 1500

Body type:

Pickup Truck

Doors:

4 doors

Drivetrain:

Four-Wheel Drive

Engine:

355 hp 5.3L V8

Exterior color:

Sonoma Red Metallic

Combined gas mileage:

19 MPG

Fuel type:

Gasoline

Interior color:

Cocoa/Dune

Transmission:

6-Speed Automatic Overdrive

Mileage:

127,501

NHTSA overall safety rating:

5

Stock number:

N02305D

VIN:

3GTU2VEC3FG105146
2017 GMC Sierra 1500 SLT Crew Cab 4WD
---
Year:

2017

Make:

GMC

Model:

Sierra 1500

Body type:

Pickup Truck

Doors:

4 doors

Drivetrain:

Four-Wheel Drive

Engine:

6.2L V8

Exterior color:

Onyx Black

Fuel type:

Gasoline

Interior color:

Dark Ash Seats With Jet Black Interior Accents

Transmission:

8-Speed Automatic Overdrive

Mileage:

91,331

NHTSA overall safety rating:

5

Stock number:

N02164B

VIN:

3GTU2NEJ1HG198587
2015 Ford F-150 Lariat SuperCrew 4WD
Year:

2015

Make:

Ford

Model:

F-150

Body type:

Pickup Truck

Doors:

4 doors

Drivetrain:

Four-Wheel Drive

Engine:

5L V8 Flex Fuel Vehicle

Exterior color:

Gray

Combined gas mileage:

18 MPG

Fuel type:

Flex Fuel Vehicle

Transmission:

Automatic

Mileage:

103,928

NHTSA overall safety rating:

Not Rated

Stock number:

12382

VIN:

1FTEW1EFXFKD81540
2018 Ford F-150 Raptor SuperCrew 4WD
Year:

2018

Make:

Ford

Model:

F-150

Body type:

Pickup Truck

Doors:

4 doors

Drivetrain:

Four-Wheel Drive

Engine:

3.5L V6

Exterior color:

White

Combined gas mileage:

16 MPG

Fuel type:

Gasoline

Transmission:

Automatic

Mileage:

100,557

NHTSA overall safety rating:

Not Rated

Stock number:

12362

VIN:

1FTFW1RG6JFC88877
2018 Ford F-150 Raptor SuperCrew 4WD
Year:

2018

Make:

Ford

Model:

F-150

Body type:

Pickup Truck

Doors:

4 doors

Drivetrain:

Four-Wheel Drive

Engine:

3.5L V6

Exterior color:

Gray

Combined gas mileage:

16 MPG

Fuel type:

Gasoline

Transmission:

Automatic

Mileage:

95,212

NHTSA overall safety rating:

Not Rated

Stock number:

12332

VIN:

1FTFW1RGXJFC02499
2018 GMC Sierra 1500 SLT Crew Cab 4WD
Year:

2018

Make:

GMC

Model:

Sierra 1500

Body type:

Pickup Truck

Doors:

4 doors

Drivetrain:

Four-Wheel Drive

Engine:

355 hp 5.3L V8

Exterior color:

Summit White

Combined gas mileage:

19 MPG

Fuel type:

Gasoline

Interior color:

Dark Ash Seats With Jet Black Interior Accents

Transmission:

6-Speed Automatic Overdrive

Mileage:

115,894

NHTSA overall safety rating:

5

Stock number:

9651A

VIN:

3GTU2NEC8JG550152
2020 GMC Sierra 1500 SLT Crew Cab 4WD
Year:

2020

Make:

GMC

Model:

Sierra 1500

Body type:

Pickup Truck

Doors:

4 doors

Drivetrain:

Four-Wheel Drive

Engine:

355 hp 5.3L V8

Exterior color:

Summit White

Combined gas mileage:

19 MPG

Fuel type:

Gasoline

Interior color:

Jet Black

Transmission:

Automatic

Mileage:

63,422

NHTSA overall safety rating:

4

Stock number:

70862

VIN:

3GTU9DEDXLG340881
2020 Ford F-150 XLT SuperCrew 4WD
Year:

2020

Make:

Ford

Model:

F-150

Body type:

Pickup Truck

Doors:

4 doors

Drivetrain:

Four-Wheel Drive

Engine:

375 hp 3.5L V6

Exterior color:

Oxford White

Combined gas mileage:

19 MPG

Fuel type:

Gasoline

Interior color:

Medium Earth Gray

Transmission:

Automatic

Mileage:

47,010

NHTSA overall safety rating:

Not Rated

Stock number:

70911

VIN:

1FTEW1E49LKD53786
2007 Ford F-150 XLT SuperCrew 4WD
Year:

2007

Make:

Ford

Model:

F-150

Body type:

Pickup Truck

Doors:

4 doors

Drivetrain:

Four-Wheel Drive

Engine:

300 hp 5.4L V8 Flex Fuel Vehicle

Exterior color:

White

Combined gas mileage:

14 MPG

Fuel type:

Flex Fuel Vehicle

Interior color:

Medium Flint

Transmission:

Automatic

Mileage:

111,647

NHTSA overall safety rating:

Not Rated

Stock number:

0594872

VIN:

1FTPW14V57KB32243
2017 Ford F-150 XL SuperCab 4WD
Year:

2017

Make:

Ford

Model:

F-150

Body type:

Pickup Truck

Doors:

4 doors

Drivetrain:

Four-Wheel Drive

Engine:

325 hp 2.7L V6

Exterior color:

Oxford White

Combined gas mileage:

20 MPG

Fuel type:

Gasoline

Interior color:

Medium Earth Gray

Transmission:

6-Speed Automatic

Mileage:

146,368

NHTSA overall safety rating:

Not Rated

Stock number:

N02416C

VIN:

1FTEX1EP5HKD25594
2023 Ford F-150 XL SuperCab 4WD
Year:

2023

Make:

Ford

Model:

F-150

Body type:

Pickup Truck

Doors:

4 doors

Drivetrain:

Four-Wheel Drive

Engine:

325 hp 2.7L V6

Exterior color:

Avalanche

Combined gas mileage:

20 MPG

Fuel type:

Gasoline

Interior color:

Black

Transmission:

Automatic

Mileage:

1,159

NHTSA overall safety rating:

Not Rated

Stock number:

N02152A

VIN:

1FTEX1EP0PKE62635