Tesla Model 3
Model Overview
New Tesla Model 3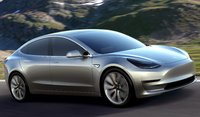 The 2018 Tesla Model 3 has been announced, but it is not yet available for purchase.
CarGuru's preview of the 2018 Tesla Model 3
Tesla Model 3 Questions
Tesla Saves The Environment?
Hi guys, My wife and I are all agree to buy an environment-friendly car, so we think of Tesla Model 3. However, I did some research and I was told that Tesla isn't actually environment-friendly at ...
Older Tesla Model 3