New Ram 2500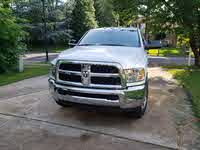 Used Ram 2500
Ram 2500 Questions
2001 Ram 2500 8.0L V10 Knock
Hello so my 2001 ram 2500 v10 2wd auto with less than 70k miles decided to knock really bad after a 10 hour trip. About 8hrs into trip i saw the oil pressure dropped and heard knocking at about pa...
2014 Ram 2500 5.7 Ac Condensor Fan Stopped
Can anyone tell me why my ac condensor fan quit. The fan spins freely but doesn't come on.I had a facility hook up a machine to it and they said the motor is froze up but if that's true why does it...
2012 Cummins Air Conditioner
Air has been getting warmer and velocity of fans much less than normal, will cool driving down road, but not idling. And not very good going down road. First noticed low air volume, then warmer ai...
2012 Ram 2500 Door Not Recognized When Open
I have a 2012 Ram 2500, I have amp power steps installed that come out when you open a door. Recently intermittently they are either delayed like 5-10 seconds or won't come out at all when i op...
2011 Ram 2500hd Issues
I have a 2011 ram 2500hd 6.7 turbo diesel. I maintain this truck like no other, my mechanic even has told me that I do to much to keep it up. Anyway every once and a while i go to start the truck ...