Porsche Panamera
Model Overview
New Porsche Panamera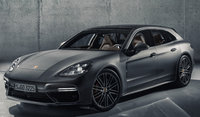 Used Porsche Panamera
Porsche Panamera Questions
Overpriced
Hello, I must not be able to input my car features correctly because other 2018 cars like mine with similar or less features are priced near or above me. Any suggestions?
Prior Ad Listed
How can I access an ad I placed that expired? I need the information from that ad to place a new ad
Problems With Panamera Gearbox
My 2016 Panamera has a major fault. Undemanded power surges and kangaroo slowdowns and ups when in automatic. Its very dangerous as the car decides what gear and speed to drive at. Its going back as '...
Anyone Having Issues With Transmission On Porsche Panamera GTS
A quick search online makes me think that i'm not the only one that has a transmission issue with the Porsche Panamera GTS 2013 model. We just purchased in March with ~18K miles...after a couple of...
Porsche Panamera
Overview
An automaker that prides itself on its successful racing history and legendary sports coupes will enter a new competitive arena next year when Porsche introduces its highly anticipated four-door sedan for the 2010 model year: the Panamera. The company has produced four-door concepts and prototypes in the past, but the new sedan will be Porsche's first-ever full-fledged production sedan. Originally scheduled for the Geneva Auto Show in March, Porsche pushed back the Panamera's debut one month and moved it to Shanghai in recognition of the increasing size and importance of the Chinese auto market.
Porsche plans to offer the Panamera with three engines: a 3.6-liter, 300-hp V6 currently used in the Cayenne; a 4.8-liter, 405-hp V8; and a turbocharged version of the V8 producing 500 hp. The V8s will be the first eight-cylinder engines offered in a production Porsche since 1995, and many expect the Carrera GT's V10 and a diesel V12 will eventually be offered in the sedan. All versions will include Porsche's new PDK dual-clutch transmission.
Spy photos and videos first appeared in early 2007, but official images and details for the Panamera are now available on a Porsche microsite. Reactions to the design have been very mixed, and while many expect the car will be a huge hit as soon as it's available, many longtime Porsche fans and critics have said they strongly dislike its looks.