Porsche Panamera
Model Overview
New Porsche Panamera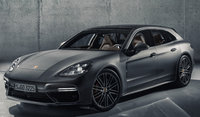 Used Porsche Panamera
Porsche Panamera Questions
What Do You Think Of The 2010 Porsche Panamera?
What is so great about this car? Have you ever driven one?
Can We Sell Our Porsche Panarama On This Site?
Our car is financed. We believe we can get a better price if we can payoff our car, sell and use the profit to buy another car. Car we use this site to sell our Panamara? 38k miles
Do Not Know Why My Listening Is Not Showing Up?
My car is know longer listed
I Need To Do A Bad Review For A Dealer, How Can I Accomplish That? Looks Li...
How can I do a bad review for a bad car I bought here?
How To Place A Car For Sale
Porsche Panamera
Overview
An automaker that prides itself on its successful racing history and legendary sports coupes will enter a new competitive arena next year when Porsche introduces its highly anticipated four-door sedan for the 2010 model year: the Panamera. The company has produced four-door concepts and prototypes in the past, but the new sedan will be Porsche's first-ever full-fledged production sedan. Originally scheduled for the Geneva Auto Show in March, Porsche pushed back the Panamera's debut one month and moved it to Shanghai in recognition of the increasing size and importance of the Chinese auto market.
Porsche plans to offer the Panamera with three engines: a 3.6-liter, 300-hp V6 currently used in the Cayenne; a 4.8-liter, 405-hp V8; and a turbocharged version of the V8 producing 500 hp. The V8s will be the first eight-cylinder engines offered in a production Porsche since 1995, and many expect the Carrera GT's V10 and a diesel V12 will eventually be offered in the sedan. All versions will include Porsche's new PDK dual-clutch transmission.
Spy photos and videos first appeared in early 2007, but official images and details for the Panamera are now available on a Porsche microsite. Reactions to the design have been very mixed, and while many expect the car will be a huge hit as soon as it's available, many longtime Porsche fans and critics have said they strongly dislike its looks.