Lincoln MKX
Model Overview
New Lincoln MKX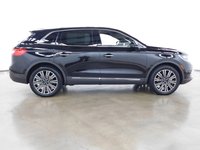 Used Lincoln MKX
Lincoln MKX Questions
I Listed Two Cars The Other Day And When I Go To Your Website I Can Not Fin...
can not find my listings when I go to your website, but I find them in my garage.
Can Putting A Car In Learning Mode Make A Car Not Start
I just got a flat tire today and had Costco fix it. When I picked up the car the automatic seat adjuster wouldn't work and the lights, etc were glitchey but it started and I went home. Later when ...
2008 Mkx Vista Roof Will Open But Not Close
Pressing the open button will open the Vista Roof panoramic sunroof to all preset positions, but it will not close. You can see the guides on each side push the roof back but then they don't pull t...
How To Change Air Filters Under Seats In A 2011 Lincoln Mkx
still looking to replace air filters under seats in a lincoln mkx
Hi, In My Lincoln Mkx The Odometer And Temperature Unit Returns To English ...
Lincoln MKX
Overview
The 265-horsepower Lincoln MKX is making its debut for the 2007 model year, becoming the manufacturer's first crossover vehicle. It blends luxury and looks with utility and safety.
The safety factor is even bigger on the AWD trim, which adds Lincoln's Intelligent All-Wheel Drive technology, which constantly monitors each wheel and adjusts torque distribution accordingly and instantly. All MKXs come with front air bags with driver-seat position sensors and crash-severity sensors, side-curtain air bags, and ABS; roll stability control is available.
The smooth-riding MKX prides itself on providing a comfortable experience for all occupants. The leather seats are a pleasure to sit in, especially when they have the optional coolers and heaters, and equipment both standard and available work together to make long drives seem too short. Innovative options on the crossover include the Vista Roof, a huge sliding moonroof with a fixed panel behind it, and adaptive headlights, which pivot to shine around curves in the road.
Some see the MKX as simply a version of the Ford Edge with a plusher interior, a few more available options, and a higher price tag. That's up to individual opinion, but most sets of eyes will give it the edge over the Edge, and really all sets of ears will - the MKX offers a quieter ride for sure.