Looking for a Used Range Rover Sport in your area?
CarGurus has 5,208 nationwide Range Rover Sport listings starting at $4,211.
2014 Land Rover Range Rover Sport
Overview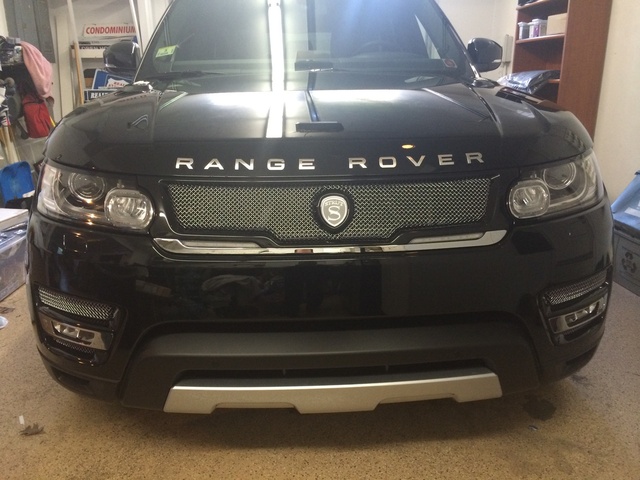 Land Rover rolls every boulder over in the wake of its 2013 Rover-remake to debut the second-generation Range Rover Sport in absolutely prime form for 2014. Where the last generation, built on the old LR3 platform, lacked winter chops and overall road manners—not to mention interior luxuries to match its asking price—this generation sees the Range Rover Sport rebuilt after the current Rover lineup from rubber to roofline to a level of ride refinement rarely seen today. In the end the Sport keeps roughly only 25% of the flagship Rover's total construction, speaking to this generation's total dedication to predictable performance in unpredictable situations.
More than a few early drivers left their jaws on the testing tarmac once they pressed a V8 version of this Range Rover Sport to its limits. Intelligent torque vectoring pushes its full-time 4-wheel drive (4WD) to nose into corners like never before, while Active Roll Control pushes down on that drivetrain to keep passengers very confidently poised.
Although you can expect as much in just about every sporting luxury SUV made today, even Land Rover's engineers were surprised by just how much they could push this new aluminum unibody's rigidity. Not even a hairpin 180 intimidates this drivetrain barreling down the road at a mere 15 mph shy of its 155-mph governor.
That said, Land Rover didn't forget Sport buyers demand sporting performance for rare moments of need—like those heart-skipping instances everyone seems to live out in slow motion. Otherwise, drivers desire a pleasant experience for the remaining 99% of drive time, and certainly 100% of ride time for about 5 passengers. Land Rover aimed to do just that in the 2014 Range Rover Sport, but with the new option of a 5+2 seating setup. So-called for being admittedly cramped for anyone larger than a teen, the third row folds flat with the push of a button if you don't need either half of it (2 buttons if you need those 30-odd cubic feet, as it's expected to be abridged by the new Evoque-ative styling).
To that comfortable ride-for-5's end, Land Rover meticulously tuned the Sport's optional dampers (standard with the V8) to work in concert with the 4WD system's wholly independent double-wishbone adjustable air suspension, bringing that touch of strings necessary in every refined symphony for a truly touring ride feel no Sport possessed before. This is a real feat when you consider this Sport's growth in every dimension, despite a loss of more than 700 pounds from its curb weight.
Of course the added space means the interior is also entirely revamped to match both its new appreciation for insulation from the road and already high pricetag with materials that are—to judge by the photos—still easy to clean but much easier on the eyes with a modernized style. Details are as Spartan as this new interior, but the familiar Autobiography and HSE trims should unsurprisingly include leather and wood touches sourced with the utmost discretion.
Given class-leading wheel articulation as well as angles of approach and departure improved to 33 and 31 degrees, respectively, and a wading depth of up to 33.5 inches, athletic prowess is not left curbside in this rendition, either. Just how off-road-ready it is is still a bit of a question, given the limited amount of testing done so far, and the same holds true of its snow-going, but directly comparing the mechanicals of this Range Rover Sport with the likes of a modern Jeep Patriot or Toyota FJ Cruiser easily nets a win for the Sport in all categories but fuel economy. For now, only the Wrangler (and perhaps the renewed Cherokee) can foreseeably do better on the rocks and rivers of the unpaved world with anywhere near the Rover Sport's agility on pavement.
As compared to the current BMW X5 and Porsche Cayenne, the 2014 Range Rover Sport stands as an equal, but it's much more prepared to dig in and get dirty, which is a big leap over its previous years. The X5 may well offer a bit more room in its optional third row, since exact stats aren't available on the Sport's 5+2 just yet, but it's safe to expect very similar proportions and limitations in the Range Rover Sport and something much closer to the Cayenne's 7,700 pounds when it comes to towing capacity.
In truth this Range Rover Sport out-powers the X5 in every form, and its supercharged V8 even bests the Cayenne's (considering weight), even though on paper the new supercharged V6 nets 60 mph in 6.9 seconds with the V8 reportedly good for 5 seconds flat to the same, in an apparent match of power. But if past CarGurus driver reviews are any indication, expect the Rover's smooth real-world performance to more accurately reflect the horse-and-torque differential between these heavyweight contenders, even before considering the Range Rover Sport's near-welterweight status at 5,093 pounds.
All that power comes at a cost, though. Fuel economy estimates for the Range Rover Sport top out at 20 highway mpg for its new 340-hp and 332-lb-ft/torque 3-liter V6 in the SE, or about 19 highway mpg with the 510-hp and 461-lb-ft/torque 5-liter V8 in the SC, HSE and Autobiography. Premium fuel is obligatory with this entirely supercharged lineup, of course.
Both powertrains use a new 8-speed automatic, but serious off-roaders should upgrade to the V8, which uses a 2-speed transfer case capable of redirecting 100% power anywhere it's needed. The significantly lighter single-speed in the V6 is probably the prime choice for wintry climates with its 60/40 redirecting capacity through the electronic rear differential, but again the V8 models also fetch improved road manners for the other 3 seasons with their included Adaptive Dynamics systems, such as the damper and torque vectoring tech mentioned previously.
Updated
Your prototypical "Tom Girl" Patricia got her start digging into Ford engines before she aged into double digits. Gifted with a mechanical mind, her favorite pass-time in the summer is picking up a fixer-up'r at the local public auction and massaging its every ailment until it's primed for a new lover. From dirt bikes to land yachts, every partner offers something truly special in her love affair with the road - just don't tell her husband.
What's your take on the 2014 Land Rover Range Rover Sport?
Have you driven a 2014 Land Rover Range Rover Sport?
Cars compared to 2014 Land Rover Range Rover Sport
Looking for a Used Range Rover Sport in your area?
CarGurus has 5,208 nationwide Range Rover Sport listings starting at $4,211.
Land Rover Range Rover Sport Questions
Trims
Autobiography 4WD

Avg. Price: $38,994
HSE 4WD

Avg. Price: $29,236
SE 4WD

Avg. Price: $29,160
Supercharged 4WD

Avg. Price: $32,350
Land Rover Range Rover Sport Experts
View All
Quick Links