Looking for a Used Charger in your area?
CarGurus has 24,774 nationwide Charger listings starting at $999.
Great Daily Driver And Highway Cruiser
by magnumforc
— The 2014 Charger R/T was the last generation of this vehicle with the massive front end. Combined with the "Blacktop Package" which blacks out the entire trim to a monochrome body and trim color gives...
Read More
The Heart And Soul Of What American Muscle Should Be.
by r33inpa
— Dodge went all out with the new styling of the 2014 Dodge Charger R/T. Big V8 that has plenty of room for the family and ample storing in the trunk. I'm 6''1 and 240 lbs and can sit comfortable in the...
Read More
Its One Sexy Biotch
by kebcrouch
— I absolutely love everything about this car, no complaints at all. Comfortable, spacious, great gas milage, good sound system, lots of nice perks being a 100th anniversay edition Charger....and make m...
Read More
2014 Dodge Charger
Test Drive Review
The 3.6-liter Pentastar V6 under the hood is an award-winning powerplant that's able to get all 3,964 pounds of the Charger moving quite quickly. In fact, the V6 charger gets from 0-60 in just 6.5 seconds.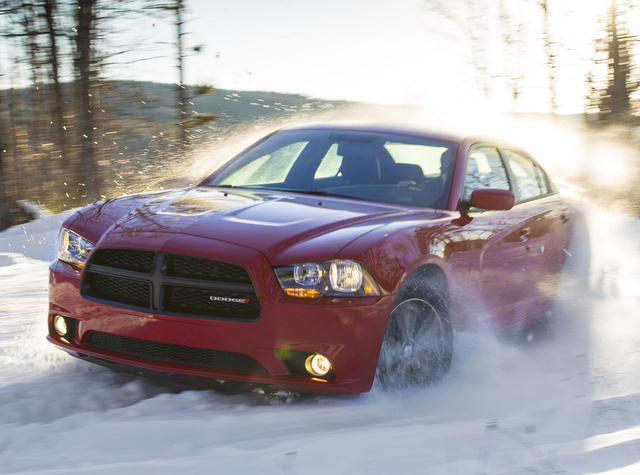 Oh, to be the King of Hazzard County. I'd say Duke, but driving around in a 2014 Dodge Charger SXT feels that much better. Though not quite as powerful as the V8-powered R/T and SRT variants, this big, red hulking mass makes a first impression of mobile machismo. But that outward appearance does not always do the Charger justice, and it is a far more sophisticated machine than its retro shell may convey.
The Charger was first re-introduced to the Dodge lineup in 2006 and was almost a half-measure in doing the retro muscle-car thing. It had the name and silhouette of the classic, but 4 doors, which confused more than a couple of folks.
The Charger oozes style. From the scalloped hood to the strong character lines to the scowling front end—the Charger is a vehicular caricature of motoring confidence. Many automakers have bold, wild styling that feels disjointed, like the Hyundai Sonata or Toyota Camry. When the bold strokes do not connect well, the car feels anonymous—which those cars are compared to the Charger in a parking lot. The "Santa-Approved" red hue of my test car would help anyone find it in the largest of airport parking lots.
Perhaps my favorite feature is the one you'll never see while behind the wheel—the 164 LED taillights. Though other Dodge vehicles have begun to employ variations of this lighting scheme, the Charger was the first, and as it passes you on the highway, it makes a striking impression. From every angle, the Charger exudes attitude, and the SXT trim pushes that notion further.
The base price for the 2014 Dodge Charger SE is $26,995, which includes the 164 standard LED taillights, power 6-way driver's seat, remote keyless entry, 3 power accessory outlets and a USB audio auxiliary jack. Our SXT test trim started at $29,295 and came to about $32,380 with some added features. A V8-powered R/T starts at $30,495, while the range-topping SRT, with its 392-cubic-inch V8, starts at $47,385.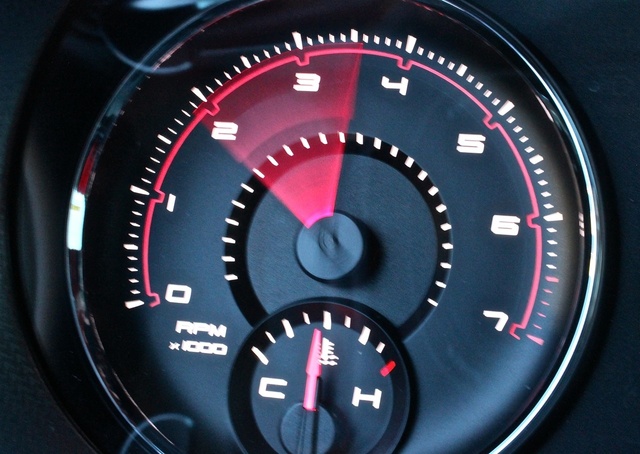 The aggressive look of the SXT might lead you to believe that it's a V8-powered R/T trim. That expectation might lead you to be disappointed when you find out that the SXT is powered by the base V6, but fret not, as this V6 and 8-speed automatic transmission pairing is surprisingly quick.
The 3.6-liter Pentastar V6 under the hood is an award-winning powerplant that's able to get all 3,964 pounds of the Charger moving quite quickly. In fact, the V6 Charger gets from 0-60 in just 6.5 seconds. To manage that power and acceleration, Dodge provides you a couple options. First, there are the steering-wheel-mounted paddle shifters, if you want to work your way through the cogs yourself, but then if you want to just put your foot down and let fly, there's the Sport mode shifter. Once in Drive, pull back once on the shifter to engage Sport mode, and it completely changes the driving feel of the Charger.
The rear-wheel-drive Charger is available with either a 5-speed automatic or 8-speed auto. Our all-wheel-drive SXT came with an advanced 8-speed automatic transmission. In Sport mode this raises the shift points and quickens the throttle response. It turns the sedate big sedan into a 4-door sports car.
But if the V6 Charger just doesn't seem like enough power for you, there is always the 370 hp from the 5.7-liter V8 in the R/T trim, or the SRT Charger, with a 470-horsepower 6.4-liter V8. Both have immense power, but you'll feel a penalty at the pump.
The base rear-wheel-drive V6 comes standard with the 5-speed automatic, which returns 18 mpg city/27 highway. V6 models equipped with the 8-speed automatic will achieve improved economy of 19/31. Our all-wheel-drive SXT with the 8-speed auto gets an estimated 18/27– though we returned combined economy in the high teens with Sport mode engaged.
The V8-powered R/T achieves 15/25, and an AWD R/T gets the same city mileage but only 23 mpg on the highway. If you want the full power of the SRT Charger, expect to get 17 mpg city and 23 highway.
The gear selector in the center console may look like a more traditional control unit, but it's a bit more complicated than that. Provided by ZF, the gear selector does not slide between P, R, N and D positions, but "clicks" down or up to gear. It takes some getting used to, and you can actually quickly select the wrong gear when backing up or pulling away.
The handling feel of the SXT Charger is a strange blend of old and new. Drive over a pothole, and you can tell this thing has a stiff ride, but there is also an element of body roll—it's almost unavoidable in a car this large. This suspension feel is combined with a very responsive steering unit, and the result is a car that can turn any curvy back road or off ramp into a very rewarding experience.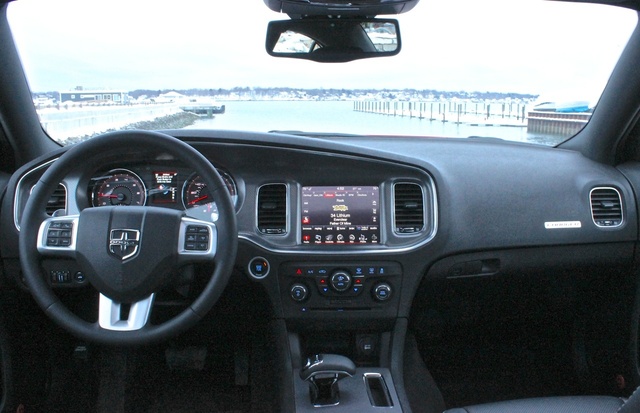 The Charger's strong suit is its simplicity. That is not to say the interior is spartan—on the contrary, my SXT was loaded up. But Dodge puts many features into the large touchscreen, while essential controls—such as climate controls and basic audio controls—are actual tactile buttons and (gasp) actual knobs and dials!
One feature I wish was not hidden within the digital menus: the control for the available heated and cooled seats. It's a menu within the climate controls, and while I love how the remote start automatically turns on the heated seats and steering wheel, turning them off requires a little attention to find the menu. I understand that working this feature digitally keeps production costs down for Dodge, but some extra buttons on the center console would have been nice. Otherwise, the Charger's controls are refreshingly simple and could put on a clinic for brands like Honda on how to make many controls simple and accessible.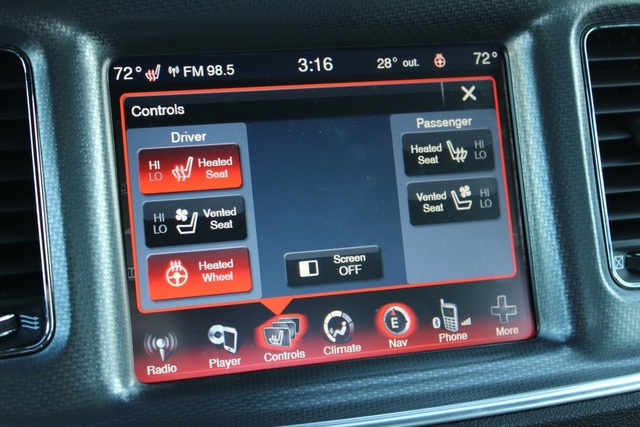 Despite its retro muscle-car styling, the Charger is one of the most modern vehicles on the market. The last decade was defined by drivetrain refinement and finding new tech gear to cram into cars. This decade will be defined by the employment of far more elegant ways of presenting that technology.
The available Uconnect system in the Charger is one such example of complex tech presented in a simple, easy-to-use manner.
It should be noted that not all satellite radios are created equal, and the satellite receiver in my Charger was definitely not top notch. It actually sounded like the radio was under water. More upscale vehicles out there have much crisper and clearer receivers, and it's disappointing that the available Beats By Dre stereo system is brought down by the shoddy satellite receiver. Thankfully the Dre-licensed stereo blasts when connected to a smartphone's music library via Bluetooth.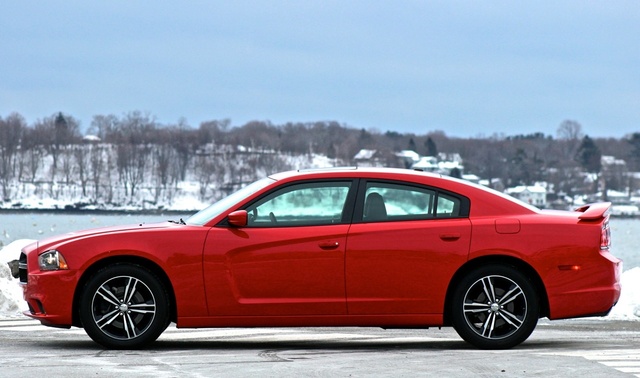 The Charger delivers all the standard airbags and traction control you would expect in a modern car, but also adds the element of size. The Charger is a large car, and that girth provides a certain peace of mind, knowing the big Dodge sits like a tank.
The Charger is also available with the latest high-tech safety features, such as a lane-departure warning system, blind-spot monitoring system and forward-collision avoidance. The forward warning is meant to alert the driver to the car in front of you, but it can be a little oversensitive. We were on a back road with snow banks, and as we approached a bend in the road, it thought the snowbank in the impending turn was another vehicle with its brakes on, and the warning lights came up. So, unfortunately you'll have to learn to tune out some of the warnings the Charger throws at you.
One of the most impressive elements of the Charger's suite of safety gear is the backup camera. It has a large screen, and the definition is incredible. Some backup cameras from other brands are either too low-definition or too pixelated to work in some lighting conditions, but the Charger's backup camera will always provide an incredibly crisp readout. The backup system is also available with a rear cross-path warning system that alerts the driver if a vehicle is in your vicinity when you are backing out. This is effective when backing out of a parking lot or driveway onto a busy street.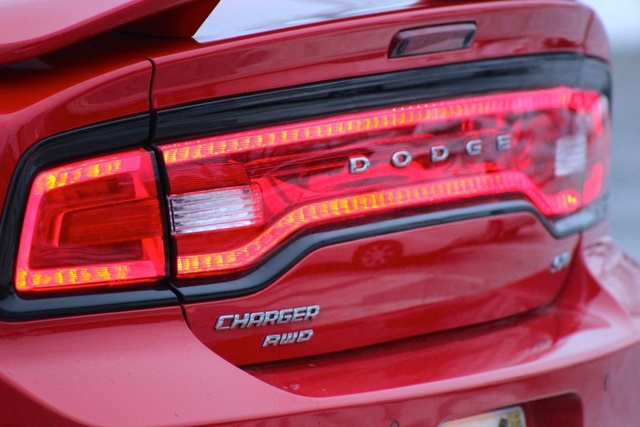 A Charger like this is a lifestyle choice. You are almost asking for the same kind of attention as a Corvette or Challenger, but want the practicality of a V6 and functional back seats. Technically, there are some competitors out there, such as the Ford Taurus and Chevrolet Impala, but those cars don't even come close to the Charger in the style department. The fact that the Charger is based on a rear-wheel-drive platform and can be had with a V8 makes it more of a throwback car—perfect for the buyer who wants a daily driver with a pulse.
I'm curious about the longevity of the 164 LED taillights. I imagine it will be expensive to replace 5-10 at a time, but LEDs kind of do last forever, so it might not be an issue for a very long time.
Personally, I think this car is going to be a future classic. Gas will become so expensive that the V8 variants of the Charger actually may not be practical classics in the future. The style of a vehicle like this is unquestioned.
CarGurus
https://www.cargurus.com
Updated
From open-wheel racecars to specialty off-road vehicles, George Kennedy has driven it all. A career automotive journalist, George has been a contributor, editor, and/or producer at some of the most respected publications and outlets, including Consumer Reports, the Boston Globe, Boston Magazine, Autoblog.com, Hemmings Classic Wheels, BoldRide.com, the Providence Journal, and WheelsTV.
What's your take on the 2014 Dodge Charger?
2014 Dodge Charger Top Comparisons
Users ranked 2014 Dodge Charger against other cars which they drove/owned. Each ranking was based on 9 categories. Here is the summary of top rankings.
Have you driven a
2014 Dodge Charger
?
Cars compared to 2014 Dodge Charger
Looking for a Used Charger in your area?
CarGurus has 24,774 nationwide Charger listings starting at $999.
Have questions?
Ask a question
Dodge Charger Questions
2014 Dodge Charger Will Not Start
My car will not start and the batttery is fully charged
Speakers
I have no sound in my 2014 Dodge Charger. The stock radio (beats by dre). The radio and touch screen works but no sound
Check Engine Light Came On
Ok so I wake up to turn on the car so I auto start it but notice it turn back off so I knew that was oddd and I get in the car turn it back on shows that it has a check engine light and the day bef...
2014 Charger AWD With 95k Miles For 15k Wroth It
I was looking for an AWD Charger RT for 15k and found one loaded with options but the only problem is that it has 95k miles on it. grant it did only have 1 owner and use to be a personal lease.
Cooling Fan Sensor Location
checked relays, replaced radiator fan, where is the radiator fan sensor located
Trims
Police AWD

Avg. Price: $13,286
Police RWD

Avg. Price: $11,285
R/T 100th Anniversary RWD

Avg. Price: $19,419
R/T AWD

Avg. Price: $19,191
R/T Max AWD

Avg. Price: $20,312
R/T Max RWD

Avg. Price: $18,829
R/T Plus AWD

Avg. Price: $19,388
R/T Plus RWD

Avg. Price: $17,883
R/T Road & Track RWD

Avg. Price: $18,777
R/T RWD

Avg. Price: $17,833
SE RWD

Avg. Price: $12,674
Show 8 more trims
Find great deals from top-rated dealersTM
Search
Quick Links