Looking for a Used Pickup in your area?
CarGurus has 48 nationwide Pickup listings starting at $15,900.
1995 Toyota Pickup
Test Drive Review
The last year of the Toyota Pickup caps a great run.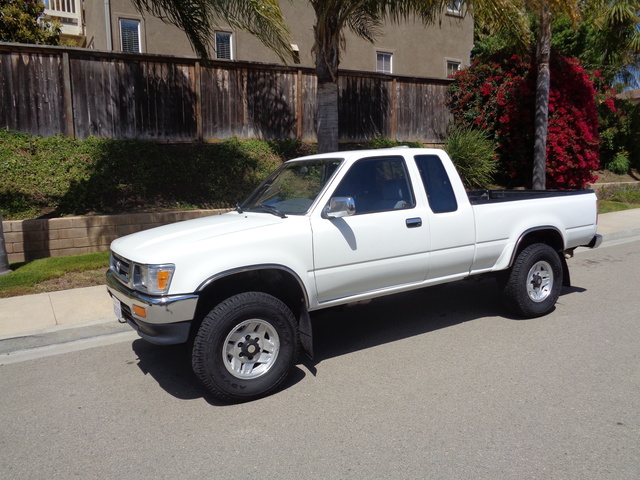 The 1995 Toyota Pickup represents the end of a very successful generation of compact pickup trucks. With a choice of 4x2 rear-wheel drive (RWD) or 4x4 four-wheel drive (4WD), regular cab or Xtracab (extended cab), and four-cylinder or V6 power, the versatile Pickup has carved a niche that the new Toyota Tacoma will have to work hard to fill.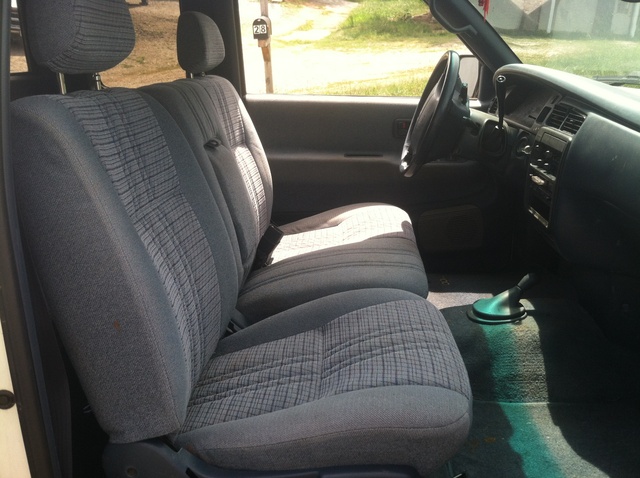 Before the 1964 Toyota Stout pickup was introduced to the United States, the idea of a compact pickup truck from Japan succeeding here was almost unthinkable. Three decades later, and the Toyota Pickup has been through six generations of production, the most recent beginning in 1989. The 1995 Pickup will be the last of its generation, as the replacement truck, named "Tacoma," arrives at dealerships as a 1995 model alongside the Pickup. Both the Pickup and Tacoma are assembled in California—the compact truck capital.
The Pickup has nice, clean lines and great proportions (shared with the 4Runner SUV). It makes no attempt to look tougher (or cuter) than it is, and can be quite a chameleon with small, subtle changes and enhancements. It is all business in regular cab/standard bed RWD and Xtracab/standard bed RWD configurations. The 4WD Pickup gets modest fender flairs front and rear, along with impressive ground clearance (9.1 inches to 10.8 inches, depending on configuration and wheel/tire choice).
Inside, the Pickup has a functional, almost elemental dashboard with a driver-oriented, cockpit-style layout. Toyota describes it as "classical," and they're right. DX models get a bench seat, while SR5 models come with a pair of buckets, upgradable to a seven-way adjustable driver's seat. Vinyl is standard, with cloth seats on upper trim levels. Xtracab models are available with a pair of jump seats with a fold-down back.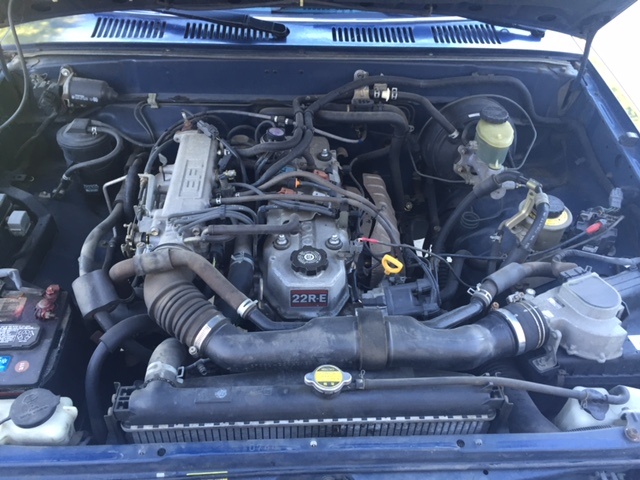 The Pickup comes with a choice of two gasoline engines: A 2.4-liter single overhead cam (SOHC) four-cylinder engine tuned to produce 116 horsepower and 140 pound-feet of torque, or a 3.0-liter V6 double overhead cam (DOHC) rated at 150 hp and 180 lb-ft of torque.
A five-speed manual transmission is standard, while a four-speed automatic transmission is optional on all but the base Standard RWD model. RWD is standard, while 4WD with manual locking front hubs is optional on most trim levels, and standard on the top-of-the-line Xtracab SR5, adding some off-road capability. Power steering is available on all trim levels.
The range of performance and driving experiences in the Pickup lineup is notable. The calm, sedate regular cab RWD four-cylinder Pickup is a solid, capable everyday workhorse. The wild, assertive Xtracab 4WD V6 Pickup is a fun-loving, athletic weekend stallion. Choose the version that suits your needs and personality.
Fuel economy for RWD models ranges from 16 mpg city/21 mpg highway for the V6 engine and manual transmission, up to 23 mpg city/27 highway for the four-cylinder manual. The 4WD models range from 13 mpg city/17 mpg highway for the V6 automatic up to 19 mpg city/22 mpg highway for the four-cylinder manual.
The Pickup gets independent front suspension with torsion bars, a stabilizer bar, and hydraulic shock absorbers, while the rear uses a solid axle with leaf springs and staggered hydraulic shock absorbers. You'll have to choose a new Tacoma pickup to get a more sophisticated double-wishbone front suspension and a smoother ride. The Pickup won't let you forget you're driving a truck, but it won't punish you for it, either: 4WD models can get a little tippy in high-speed corners, so don't overachieve.
While compact pickup trucks have gained popularity as everyday transportation, they still must be judged on their capability. The Toyota Pickup is a great choice for those light-duty jobs, with a payload of up to 2,055 pounds and a towing capacity of up to 3,500 pounds. The Pickup bed is the same on all models, with an inside length of 75 inches, maximum width of 59.7 inches, and 40.9 inches between the wheel wells. That means you can carry a 4x8 sheet of plywood on the wheel wells with the tailgate down, and you can haul even the biggest motorcycle upright in your bed. A factory bed liner is standard in the SR5, optional on other trim levels.
Inside the cabin, there's smart storage, especially in the Xtracab models where you can use the concealed storage beneath the second-row seat, as well as using the cabin space for storage and hauling.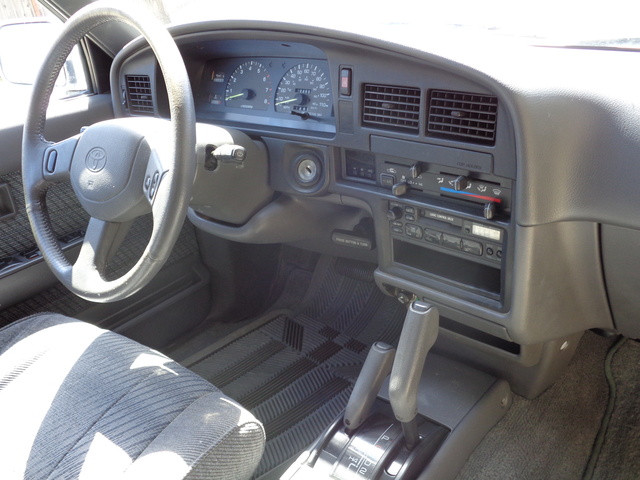 The Pickup is a straightforward, classic truck, but there are still a few technological features of note available and standard. Like every other new 1995 model-year passenger vehicle sold in the United States, it has fuel injection—no carburetors in sight. Some extras like power windows and door locks are available, as is air conditioning, a digital quartz clock, a vehicle security system, and a fixed and/or portable cellular phone.
A two-speaker stereo radio is standard on SR5 V6 models, optional on all others. Available upgrades to the sound system include a cassette deck, a cassette deck with an equalizer, an auto-reverse cassette deck with Dolby, a CD player, a six-disc CD changer, and an acoustic resonance woofer.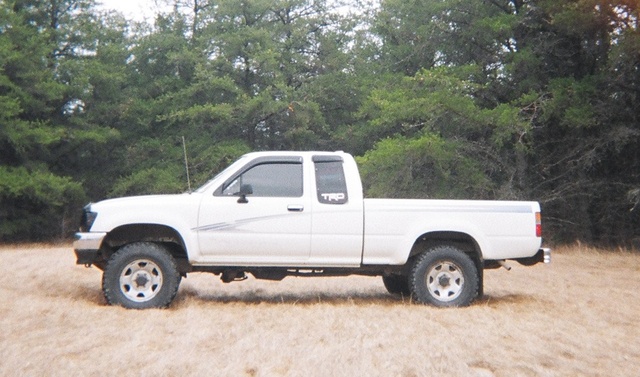 Three-point seatbelts are provided for the outboard front seating positions, and for outboard rear jump seats (on extended-cab models). Airbags are not fitted in the Pickup and are not available as a factory option. A rear-wheel anti-lock braking system is standard on 4WD Xtracab SR5 models, available on 4WD DX models, but not available on RWD models.
The Insurance Institute for Highway Safety (IIHS) has not rated the 1995 Toyota Pickup. The National Highway Traffic Safety Administration gave the 1995 Toyota Pickup three stars (out of five) in front driver-side crash testing, and four stars for front passenger crash safety.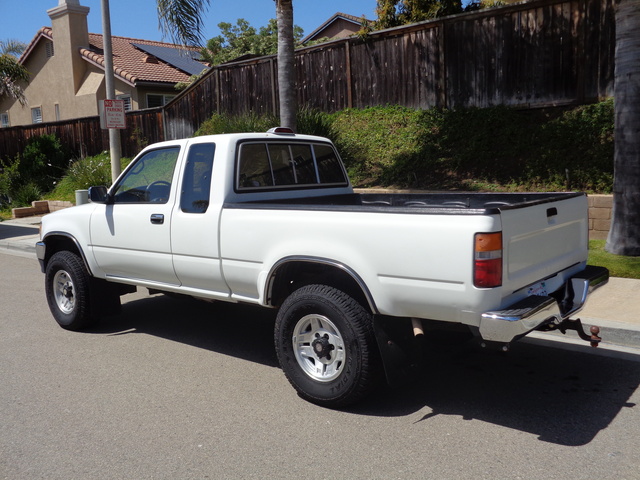 The 1995 Toyota Pickup starts at $9,499 for a RWD regular cab inline-four manual-transmission base trim and goes all the way up to $21,218 for a 4WD Xtracab V6 SR5 automatic. RWD regular-cab trucks come in three trim levels—Standard (base); DX; and SR5—while RWD Xtracab trucks come in DX or SR5 trim levels. You can only get 4WD on the DX and SR5 trims, with either the regular cab or Xtracab.
The sweet spot for efficiency for a work truck version of the Pickup is the base truck with the four-cylinder powertrain and manual transmission, starting at $9,499. This truck is not only the least expensive configuration of Pickup but also the most fuel-efficient at 23 mpg city/27 mpg highway.
The competition in the compact pickup truck field for 1995 is thick, with perhaps the most significant coming from Toyota itself with the new Tacoma. The Nissan Truck, Chevrolet S10, Dodge Dakota, Ford Ranger, Mitsubishi Mighty Max, Mazda B-Series, and a few others are worth considering. Toyota's full-size truck, the T100 also has its fans if you're looking for a little more capability but want to stay in the Toyota family.
If you decide on a 1995 Toyota Pickup, it's likely the truck will be with you a long time. Toyota proudly reports about owners who have clocked 100,000, 200,000, even 300,000 miles in their Toyota trucks. So evaluate carefully, and make sure the 1995 Toyota Pickup is for you.
Updated
Jason Fogelson has reviewed hundreds of cars, trucks, SUVs, motorcycles and ATVs for websites, magazines and newspapers. He is based in the Detroit area.
What's your take on the 1995 Toyota Pickup?
Have you driven a 1995 Toyota Pickup?
Cars compared to 1995 Toyota Pickup
Looking for a Used Pickup in your area?
CarGurus has 48 nationwide Pickup listings starting at $15,900.
Trims
2 Dr DX 4WD Extended Cab SB
2 Dr DX 4WD Standard Cab SB
2 Dr DX Extended Cab SB
2 Dr DX Standard Cab SB
2 Dr DX V6 4WD Extended Cab SB
2 Dr DX V6 4WD Standard Cab SB
2 Dr DX V6 Extended Cab SB
2 Dr SR5 4WD Extended Cab SB
2 Dr SR5 Extended Cab SB
2 Dr STD Standard Cab SB
Quick Links