Ford Expedition
Model Overview
New Ford Expedition

The 2017 Ford Expedition has been announced, but it is not yet available for purchase.
CarGuru's preview of the 2017 Ford Expedition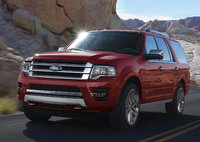 Used Ford Expedition
Ford Expedition Questions
About the Ford Expedition
Ford's full-size SUV was originally presented as a replacement to the more rugged, off-road Bronco intended to compete with the likes of the Chevrolet Suburban and GMC Yukon. Despite very poor gas mileage, the Expedition remains a popular vehicle with seating for nine.