Chevrolet C/K 1500
Model Overview
Used Chevrolet C/K 1500
Chevrolet C/K 1500 Questions
Older Chevrolet C/K 1500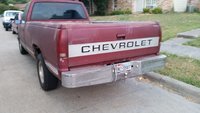 1988 Chevrolet C/K 1500 reviews:





About the Chevrolet C/K 1500
The C/K 1500 Series was the name for Chevrolet's full-size pickup-truck line from 1962 until 1998 (and GMC's full-size pickup line from 1962 to 1988). The first Chevrolet pickup truck appeared in 1924, though in-house designs did not appear until 1930.

The "C" trucks had two-wheel drive, while the "K" models had four-wheel drive. The C/K light-duty pickup was replaced by the Chevrolet Silverado in 1999; the Chevrolet Silverado HD heavy-duty pickups followed in 2001.