Lifted trucks for sale in Stamford, CT
By Car
By Body Style
By Price
A lifted truck is a truck modified to accommodate bigger tires (usually 35 inches or more) with a taller ride height. The benefits of a custom lifted truck include better off-road handling, higher ground clearance, and depending on your taste, cosmetics (it's hard to beat the tough appearance of a well-done truck lift!) A lifted truck is best suited for off-roading, rather than highway driving: the tires and ground clearance allow for better approach angles, less risk of damage, and a smoother ride across those tougher obstacles.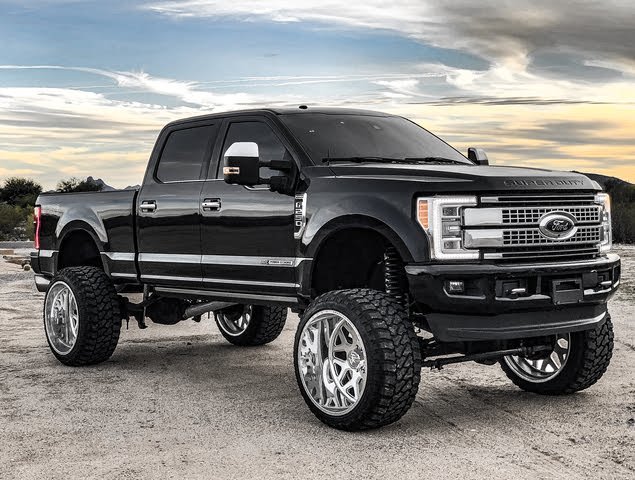 ---
Don't miss out on the car for you.
Save this search to get alerted when cars are added.
New 2022 Chevrolet Silverado 1500 ZR2 Crew Cab 4WD
---
Authorized Chevrolet Dealer
Year:

2022

Make:

Chevrolet

Model:

Silverado 1500

Body type:

Pickup Truck

Doors:

4 doors

Drivetrain:

Four-Wheel Drive

Engine:

6.2L V8

Exterior color:

Black

Combined gas mileage:

15 MPG

Fuel type:

Gasoline

Interior color:

Jet Black/Graystone

Transmission:

Automatic

Mileage:

11,853

NHTSA overall safety rating:

Not Rated

Stock number:

U27266

VIN:

3GCUDHEL9NG635938
2021 Chevrolet Silverado 1500 RST Crew Cab 4WD
Year:

2021

Make:

Chevrolet

Model:

Silverado 1500

Body type:

Pickup Truck

Doors:

4 doors

Drivetrain:

Four-Wheel Drive

Engine:

355 hp 5.3L V8

Exterior color:

Black

Combined gas mileage:

17 MPG

Fuel type:

Gasoline

Interior color:

Black

Transmission:

Automatic

Mileage:

6,642

NHTSA overall safety rating:

4

Stock number:

U18627

VIN:

3GCUYEED2MG140197
2014 Chevrolet Silverado 1500 LT Z71 Crew Cab 4WD
---
Year:

2014

Make:

Chevrolet

Model:

Silverado 1500

Body type:

Pickup Truck

Doors:

4 doors

Drivetrain:

Four-Wheel Drive

Engine:

5.3L V8 Flex Fuel Vehicle

Exterior color:

Blue

Combined gas mileage:

19 MPG

Fuel type:

Flex Fuel Vehicle

Transmission:

6-Speed Automatic Overdrive

Mileage:

93,000

NHTSA overall safety rating:

5

VIN:

3GCUKREC7EG446569
2020 Jeep Gladiator Rubicon Crew Cab 4WD
Year:

2020

Make:

Jeep

Model:

Gladiator

Body type:

Pickup Truck

Doors:

4 doors

Drivetrain:

Four-Wheel Drive

Engine:

285 hp 3.6L V6

Exterior color:

Black

Combined gas mileage:

19 MPG

Fuel type:

Gasoline

Interior color:

Black

Transmission:

8-Speed Automatic

Mileage:

24,137

NHTSA overall safety rating:

Not Rated

VIN:

1C6JJTBG3LL111116
2022 Chevrolet Silverado 1500 ZR2 Crew Cab 4WD
Year:

2022

Make:

Chevrolet

Model:

Silverado 1500

Body type:

Pickup Truck

Doors:

4 doors

Drivetrain:

Four-Wheel Drive

Engine:

6.2L V8

Exterior color:

Dark Ash Metallic

Combined gas mileage:

15 MPG

Fuel type:

Gasoline

Interior color:

Jet Black/Graystone

Transmission:

Automatic

Mileage:

14,382

NHTSA overall safety rating:

Not Rated

Stock number:

DB699

VIN:

3GCUDHEL4NG577401
2018 Toyota Tacoma TRD Sport Double Cab 4WD
Year:

2018

Make:

Toyota

Model:

Tacoma

Body type:

Pickup Truck

Doors:

4 doors

Drivetrain:

Four-Wheel Drive

Engine:

278 hp 3.5L V6

Exterior color:

Gray

Combined gas mileage:

20 MPG

Fuel type:

Gasoline

Interior color:

Black

Transmission:

6-Speed Automatic

Mileage:

104,274

NHTSA overall safety rating:

4

VIN:

3TMCZ5ANXJM156782
2020 Toyota Tundra SR5 CrewMax 4WD
---
Certified Pre-Owned • Authorized Toyota Dealer
Year:

2020

Make:

Toyota

Model:

Tundra

Body type:

Pickup Truck

Doors:

4 doors

Drivetrain:

Four-Wheel Drive

Engine:

381 hp 5.7L V8

Exterior color:

Super White

Combined gas mileage:

15 MPG

Fuel type:

Gasoline

Interior color:

Black

Transmission:

6-Speed Automatic

Mileage:

38,445

NHTSA overall safety rating:

4

Stock number:

106031

VIN:

5TFDY5F15LX923433
Staten Island, NY (48 mi)
---
Year:

2023

Make:

Ford

Model:

F-150

Body type:

Pickup Truck

Doors:

4 doors

Drivetrain:

Four-Wheel Drive

Engine:

400 hp 5L V8 Flex Fuel Vehicle

Exterior color:

Atlas Blue Metallic

Fuel type:

Flex Fuel Vehicle

Interior color:

Black

Transmission:

Automatic

Mileage:

30

NHTSA overall safety rating:

Not Rated

Stock number:

E23463

VIN:

1FTFW1E53PKE23463
New 2024 Toyota Tundra Platinum HV CrewMax Cab 4WD
---
Year:

2024

Make:

Toyota

Model:

Tundra

Body type:

Pickup Truck

Doors:

4 doors

Drivetrain:

Four-Wheel Drive

Engine:

437 hp 3.4L V6 Hybrid

Exterior color:

Wind Chill Pearl [Extra_Cost_Color]

Fuel type:

Hybrid

Interior color:

Black Leather-Trimmed

Transmission:

Automatic

Mileage:

0

NHTSA overall safety rating:

5

VIN:

5TFNC5DB4RX43D206