Dealerships near me (Warner Robins, GA)
159 dealerships within 50 mi
Interstate Auto Sales of Warner Robins
|
View Inventory
1856 Watson Boulevard, Warner Robins, GA 31093 (0 mi)
Sales hours
Sunday: 8:00 AM - 6:00 PM
Monday: 9:00 AM - 7:00 PM
Tuesday: 9:00 AM - 7:00 PM
Wednesday: 9:00 AM - 7:00 PM
Thursday: 9:00 AM - 7:00 PM
Friday: 9:00 AM - 7:00 PM
Saturday: 9:00 AM - 5:00 PM
Taylor Auto Sales & Title Pawn
|
View Inventory
1301 Watson Boulevard, Warner Robins, GA 31093 (1 mi)
Sales hours
Sunday: 8:00 AM - 6:00 PM
Monday: 9:00 AM - 6:00 PM
Tuesday: 9:00 AM - 6:00 PM
Wednesday: 9:00 AM - 6:00 PM
Thursday: 9:00 AM - 6:00 PM
Friday: 9:00 AM - 6:00 PM
Saturday: 10:00 AM - 4:00 PM
My EZ Auto Sales, Inc.
|
View Inventory
312 N Davis Dr, Suite B, Warner Robins, GA 31093 (1 mi)
Ennis did everything he could to help me get the vehicle that I wanted. He was cool, attentive, and checked up on me to make sure that everything was going smoothly. He answered all of my questions and was very nice and helpful.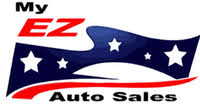 Sales hours
Sunday: 8:00 AM - 6:00 PM
Monday: 9:00 AM - 6:00 PM
Tuesday: 9:00 AM - 6:00 PM
Wednesday: 9:00 AM - 6:00 PM
Thursday: 9:00 AM - 6:00 PM
Friday: 9:00 AM - 6:00 PM
Saturday: 9:00 AM - 6:00 PM
Five Star Chevrolet Buick GMC
|
View Inventory
495 Watson Blvd., Warner Robins, GA 31093 (2 mi)

Sales hours
Sunday: Closed
Monday: 9:00 AM - 8:00 PM
Tuesday: 9:00 AM - 8:00 PM
Wednesday: 9:00 AM - 8:00 PM
Thursday: 9:00 AM - 8:00 PM
Friday: 9:00 AM - 8:00 PM
Saturday: 9:00 AM - 8:00 PM
Displaying dealers 1 - 10 of 159