Used Scion xB
Scion xB Questions
Ignition Coils... OEM Versus High Performance Coil
Am I really gonna get better performance from my car using an Eccel ignition coil over an OEM replacement coil. I can get 4 OEM for $100 dollars down the street today. I can get 4 Eccel's for $200 dol...
Cut Wires
My bf accidentally cut through firewall grommet and cut some wires in that bundle that goes through the firewall. How can we repair this? The car doesn't turn over now.
Check Engine, Trac Off , Vsc
I have a 06 xB...I have recently put a intake manifold on it and the dash board lite up... Check engine VSC and Trac off all came on at the same time..I did expect that but have tried a few things ...
2011 Scion Xb
I just had new front struts put on but now its making a loud squealing/screeching sort of sound when I turn my steering wheel and even just regular driving down road...please help with any ideas o...
My 2010 Scion Xb Rear Window Washer Does Not Work
My 2010 scion xb rear window washer does not work
Older Scion xB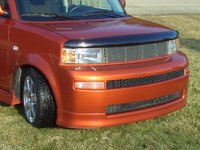 Scion xB
Overview
Choosing to think inside of the box, Toyota introduced its new U.S.-only Scion division with the help of the Scion xB, a boxy, 5-door hatch wagon based on the Japanese bB. Along with the more rounded xA, the Scion xB was rolled out slowly over the course of 2004, with a nationwide release in 2005. The xB was part of Toyota's overall attempt to woo young drivers, and it offered an affordable, roomy car with good fuel economy, no-haggle pricing, and a long list of personalized accessories designed to appeal to the youth market.
The compact hatch is much like the xA. Both were based on a Toyota Echo and Yaris platform. Both have a 1.5-liter, 103-hp I4 engine with choice of 5-speed manual or 4-speed automatic transmission. Both come standard with ABS brakes, traction and stability control, power features, sport seats, and keyless entry. But the Scion xB ended up outselling the xA almost two to one, surprising Toyota, who thought it would be the other way around. Another surprise was its appeal to the over-30 crowd. Perhaps both phenomena were because of a combination of its low price and its cargo versatility. The xB's boxy milk truck shape offers an unbeatable 46 inches of headroom and allows for maximum space utilization (43 cubic feat when rear seats are folded) whether it's for cargo or passengers. Its unique look, with a lower ground clearance and ground effects that the xA did not have, was also appealing.
Drivers can choose from a list of 40 customizable accessories, including performance parts, lighting configurations, satellite radio, a roof rack and other mostly superficial features. In 2006, the xB added an upgraded and much praised sound system with iPod connectivity. These features could be chosen directly at the dealership, reducing the hassle of negotiation or deciding between a variety of bundled packages.
The xB now accounts for 40% of Scion sales. Owners seem to like its agile handling, affordability, high ride height and good visibility, and its overall value. Detractions include somewhat cramped rear legroom, sluggish acceleration with the auto tran, and general lack of power. The all-new 2008 model plans to address some of these issues. The new xB will be longer and wider and feature the more powerful 2.4-liter, 158-hp engine found in the sporty tC. Now standard will be six airbags and cruise control, which was not even offered as an option previously.