Mercedes-Benz GL-Class
Model Overview
Used Mercedes-Benz GL-Class
Mercedes-Benz GL-Class Questions
I'm From Cambodia, I Want To Order Buy The Car. So Where Can I Get The Info...
well, I want know the shopping price from here to Cambodia.
I Can't Click On Car Gurus Listings And Have Them Zoom In And Open Up Any M...
For some reason NOTHING OPENS FOR CLOSER VIEWING when I click on Car Gurus cars. How can I get your website to work again. I am trying to buy a car this weekend an this is very aggravating.
Car Stuck In Neutral
Car stuck in neutral after being towed. How do you get to go into park & drive
Can You Notify Me Of Any 2013 Model Mercedes Gl450 Or 550 Registered Late 2...
Is it true that when a car is not registered over one year in the US, it can not be exported? I want to buy mercedes GL450 or 550 2013 model. if the above statement is true then i want to buy GL450 o...
I Really Want To Sell My 2015 Mercedes Benz Gl550. I Ordered The Vehicle Br...
2015 Mercedes Benz GL550 fully loaded 9974k.
Older Mercedes-Benz GL-Class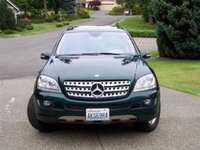 2006 Mercedes-Benz GL-Class
Mercedes-Benz GL-Class
Overview
The newest and largest SUV from Mercedes-Benz, the GL-Class made its debut in 2006, receiving overall positive reviews from drivers and critics. Originally, the automaker's plan was that the full-size GL would replace the G-Class in the Mercedes-Benz lineup. At the time, the boxy, military-oriented G-Class had just celebrated its 25th anniversary and was showing signs of its age. In fact, the GL's name was intended to be a tribute to the legendary G-Class, continuing the tradition of a capable SUV, but offering drivers a more luxurious and contemporary package.
However, due to public demand as well as a number of still-existing long-term military contracts, Mercedes-Benz reversed its decision and decided to continue to produce the G-Class through at least the end of the decade and possibly beyond. It also decided to retain the GL nomenclature for its new full-size SUV, resulting in potential confusion in the minds of some drivers.
One look at the two SUVs, though, and that confusion should disappear. While the G-Class still displays its squarish, functional, military-like exterior design, which dates back to the 1970s, the new GL-Class exudes a much more fluid, aerodynamic, and contemporary exterior appearance, with a hunky front end and a swept-back roofline. Still, some drivers think the GL looks too squarish, although it's not nearly as pronounced as on the G-Class.
The GL-Class comes with the most extensive list of standard features of any Mercedes SUV, offering an upscale alternative to buyers who consider the M-Class SUV to be too small or under-equipped, and the R-Class crossover SUV to be too sedan- or wagon-like. Drivers can choose from three engines, including a fuel-efficient 215-horsepower diesel engine (the GL 320 CDI), a 335-horsepower V8 (the GL 450), or a 382-horsepower V8 (the GL 550, which joined the lineup in 2008 as a replacement for the GL500).
All three trims come standard with 4MATIC all-wheel-drive, as well as such features as four-wheel electronic traction control, an Electronic Stability Program, a seven-speed automatic transmission, antilock brakes, and four-wheel air suspension, which automatically adjusts depending on passenger and cargo weight. Other features include Downhill Speed Regulation, which manages the throttle and brakes to ensure safe driving on steep slopes, and Hill Assist, which prevents rollback when the driver switches between the brake and gas pedals on steep uphill or downhill grades.
Inside, the GL-Class comes well-equipped with such features as a multifunction steering wheel, power-adjustable heated front seats, bird's-eye maple or Burl Walnut wood trim, dual-zone climate control, and window-curtain airbags. The high-end GL 550 trim adds heated rear seats, leather upholstery, and a wood-and-leather steering wheel.