Mazda MAZDA6
Model Overview
New Mazda MAZDA6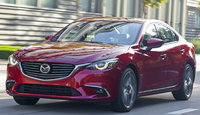 Used Mazda MAZDA6
Mazda MAZDA6 Questions
Shaking/jerking
I have a 2003 Mazda 6. It keeps on shaking/jerking when I am driving at 35-40mph on the road. And my fuel has been decreasing a lot. Like I start out with a full tank of gas and I go like 110-120 m...
Car Trunk Style
Hello Car Gurus, Forum! I am interested in knowing the name of a specific Trunk style, so a little background. My first car was a 2004 Mazda 6 speed with all the bells and whistles (a beauty for $2...
45,000 Miles And A Dead Battery?
Went to start my car recently and nothing. No lights were left on etc. Is that normal for a car, with its original battery, to only last for 45,000 miles? (The battery has since been replaced a...
Has Mazda Fixed The Rust Issues With The Mazda 6?
I have read that Mazda has had some rust issues occurring early around 2 years after purchase' especially on the Mazda 6 in the wheel wells and the frame. Have they resolved this issue on the newer ...
2005 Mazda 6
Have a mazda 6 radiator water pump then the serpentine belt once done it ran for a couple miles then dies had to spray starting fluid in it to get it started then died and won't start at all ppl sa...
Mazda MAZDA6
Overview
Launched in 2003 as a replacement for the Mazda 626 and Millenia mid-size sedans, the Mazda 6 was a decidedly sporty alternative to the somewhat-bland competition. Not only were the Mazda 6 sedans, and later hatchbacks and wagons, freshened up with sleek, aggressive designs that spoke to their sporty nature, but they were also more powerful and more nimble than the cars they replaced.
Initially the four-door Mazda 6 was available in two configurations. Under the hood of the base 6i sedan was a 160-horsepower, 2.3-liter inline four-cylinder engine, while the Mazda 6s sedan was equipped with a 3.0-liter V6 that pumped out 220 horsepower.
In 2004, hatchback and wagon versions were added to the Mazda 6 lineup. In 2005, a Grand Touring trim package made its appearance, while in 2006 a Grand Sport trim package was introduced.
By the 2007 model year, the Mazda 6 was available in four different basic styles, including the original Mazda 6 four-door Sports Sedan, as well as a 5-Door Hatchback, a Sport Wagon, and the high-performance MazdaSpeed6. The high-end MazdaSpeed6 came with a turbocharged 2.3-liter double-overhead-cam four-cylinder engine, which produced 270 horsepower.
Throughout its run, the Mazda 6 received high praise and high marks from both drivers and critics, who liked the vehicles for their sporty styling, peppy engines, extensive interior appointments, solid handling, and overall good value.