Mazda MAZDA6
Model Overview
New Mazda MAZDA6

The 2019 Mazda MAZDA6 has been announced, but it is not yet available for purchase.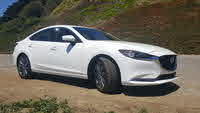 Used Mazda MAZDA6
Mazda MAZDA6 Questions
Headlight
Will a left xenon headlight from American be okay on a U.K car?
Car Doesn't Start. Turning Key In Ignition Doesn't Do Anything.
Alright, so I went out to my car and when I opened the door, all the lights were working. I even checked the headlights, and they worked as well. As soon as I turn car in ignition, everything goes b...
No Crank No Start Security Indicator Light Flashing Rapidly And Making Clic...
My 2007 Mazda 6i had been running great and then after parking it overnight, it wouldnt start the next morning. It tried to crank at first then slowly died out and then started making a clicking so...
2003 Mazda 6 2.3L Won't Start .new Parts . Sounds Like No Compression
I have a 2003 Mazda 6 2.3L . One day I was driving home and about .5 miles away my car just decided to die on me. It's an auto. It turns over and has a split second of some type of fire . I've rep...
Motor Swap From Mpv To Mazda 6
Will a motor out of a 05 mazda mpv 3.0 work in a 06 Mazda6.
Mazda MAZDA6
Overview
Launched in 2003 as a replacement for the Mazda 626 and Millenia mid-size sedans, the Mazda 6 was a decidedly sporty alternative to the somewhat-bland competition. Not only were the Mazda 6 sedans, and later hatchbacks and wagons, freshened up with sleek, aggressive designs that spoke to their sporty nature, but they were also more powerful and more nimble than the cars they replaced.
Initially the four-door Mazda 6 was available in two configurations. Under the hood of the base 6i sedan was a 160-horsepower, 2.3-liter inline four-cylinder engine, while the Mazda 6s sedan was equipped with a 3.0-liter V6 that pumped out 220 horsepower.
In 2004, hatchback and wagon versions were added to the Mazda 6 lineup. In 2005, a Grand Touring trim package made its appearance, while in 2006 a Grand Sport trim package was introduced.
By the 2007 model year, the Mazda 6 was available in four different basic styles, including the original Mazda 6 four-door Sports Sedan, as well as a 5-Door Hatchback, a Sport Wagon, and the high-performance MazdaSpeed6. The high-end MazdaSpeed6 came with a turbocharged 2.3-liter double-overhead-cam four-cylinder engine, which produced 270 horsepower.
Throughout its run, the Mazda 6 received high praise and high marks from both drivers and critics, who liked the vehicles for their sporty styling, peppy engines, extensive interior appointments, solid handling, and overall good value.