Mazda MAZDA6
Model Overview
New Mazda MAZDA6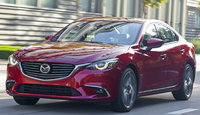 Used Mazda MAZDA6
Mazda MAZDA6 Questions
2005 Mazda 6 Security Light Bliking , Car Wont Start
The light blinks when the key is not even in ignition, wont turn over windows and lights work . do not have a remote starter, what could be wrong
I Just Replaced The Battery And The Negative Charge Connector On My 2012 Ma...
The lights and radio and dashboard lights work. The car either does nothing or clicks
2004 Mazda 6 Engine Swap
So I was just wondering if a 2006 Mazda 6 engine can fit in a 2004 Mazda 6 as a swap
2006 Mazda 6, Car Is Stalling When Slowing Down Or Stopped
130k miles, new battery, recent oil change. Car completely died at a stop light - couldn't even turn on hazards. Put the car in neutral and was able to coast about 10 feet in which case the lights c...
Ac Compressor Locked Up Car Wont Start
Can an locked up ac compressor not start a 03 Mazda 6? I need help plz
Mazda MAZDA6
Overview
Launched in 2003 as a replacement for the Mazda 626 and Millenia mid-size sedans, the Mazda 6 was a decidedly sporty alternative to the somewhat-bland competition. Not only were the Mazda 6 sedans, and later hatchbacks and wagons, freshened up with sleek, aggressive designs that spoke to their sporty nature, but they were also more powerful and more nimble than the cars they replaced.
Initially the four-door Mazda 6 was available in two configurations. Under the hood of the base 6i sedan was a 160-horsepower, 2.3-liter inline four-cylinder engine, while the Mazda 6s sedan was equipped with a 3.0-liter V6 that pumped out 220 horsepower.
In 2004, hatchback and wagon versions were added to the Mazda 6 lineup. In 2005, a Grand Touring trim package made its appearance, while in 2006 a Grand Sport trim package was introduced.
By the 2007 model year, the Mazda 6 was available in four different basic styles, including the original Mazda 6 four-door Sports Sedan, as well as a 5-Door Hatchback, a Sport Wagon, and the high-performance MazdaSpeed6. The high-end MazdaSpeed6 came with a turbocharged 2.3-liter double-overhead-cam four-cylinder engine, which produced 270 horsepower.
Throughout its run, the Mazda 6 received high praise and high marks from both drivers and critics, who liked the vehicles for their sporty styling, peppy engines, extensive interior appointments, solid handling, and overall good value.