Mazda MAZDA6
Model Overview
New Mazda MAZDA6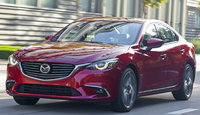 Used Mazda MAZDA6
Mazda MAZDA6 Questions
Mazda 6
I have a 2012 Mazda 6 that I recently about 4 months ago had to fix the shifter cable in now I was driving yesterday and it feels like my car is winding down and while idling my RPM goes up till l...
2009 Mazda 6 Lb Driver Side Headlight Keeps Blowing Fuse And Bulb.
I have a 2009 Mazda 6 and the low beam headlight on the drivers side keeps blowing out along with the fuse. I replace the fuse, headlight and it worked, so I thought it was fixed until it blew both ou...
Cargurus Already Has The Vin Number?
I put the car on sale and changed my mind. But now I need to sale my car. Try to put the vin number on but I received message that CarGurus already has my vin (but it does show on my sale add my vin...
Not Sure What Happened..easy Fix Or No
def looks like something broke...looks like bolt possibly broke...i really am not well with cars...how much would a repair charge...roughly
Brakes
I knew my brakes needed replacing..., I just didn't realize how fast the pads would be..GONE I'm hearing metal on metal but it's also sounding like the back drivers side wheel is rubbing against t...
Mazda MAZDA6
Overview
Launched in 2003 as a replacement for the Mazda 626 and Millenia mid-size sedans, the Mazda 6 was a decidedly sporty alternative to the somewhat-bland competition. Not only were the Mazda 6 sedans, and later hatchbacks and wagons, freshened up with sleek, aggressive designs that spoke to their sporty nature, but they were also more powerful and more nimble than the cars they replaced.
Initially the four-door Mazda 6 was available in two configurations. Under the hood of the base 6i sedan was a 160-horsepower, 2.3-liter inline four-cylinder engine, while the Mazda 6s sedan was equipped with a 3.0-liter V6 that pumped out 220 horsepower.
In 2004, hatchback and wagon versions were added to the Mazda 6 lineup. In 2005, a Grand Touring trim package made its appearance, while in 2006 a Grand Sport trim package was introduced.
By the 2007 model year, the Mazda 6 was available in four different basic styles, including the original Mazda 6 four-door Sports Sedan, as well as a 5-Door Hatchback, a Sport Wagon, and the high-performance MazdaSpeed6. The high-end MazdaSpeed6 came with a turbocharged 2.3-liter double-overhead-cam four-cylinder engine, which produced 270 horsepower.
Throughout its run, the Mazda 6 received high praise and high marks from both drivers and critics, who liked the vehicles for their sporty styling, peppy engines, extensive interior appointments, solid handling, and overall good value.