Kia Spectra
Model Overview
Used Kia Spectra
Kia Spectra Questions
Fuel Filter Access
Access fuel filter
How To Fix The Air Not Blowing Out?
There is no air coming out when its on. The A/C unit kicks on but nothing blows out, even when switched to heat.
Turn Signal Lighting Issue, Power Steering And Alternator HELP ME!!
Alternator test failed, and the power steering is going bad. Trying to fix the small stuff first though. I've replaced the front left turn signal twice now, and it still blinks fast, the back left t...
2005 Kia Spectra Speedometer/Odometer/cruise Control Stops Working When The...
My 2005 Kia Spectra Speedometer/Odometer/Cruise Control stops working, at about 7 miles of drive time, when the car warms up. If I let the car sit a long time after driving it and it cools off a ...
Headlight Stay On When The Car Is Off
When the car is off, the daytime lights are stay on, the speedometer is at maximum speed and indicator is flashing from the dashboard, I have to remove the relay DRL and HI HDLP
Older Kia Spectra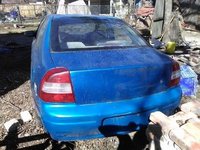 2001 Kia Spectra reviews: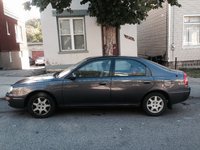 2000 Kia Spectra reviews:
Kia Spectra
Overview
When it appeared in 2000, the Kia Spectra was a hatchback version of the Kia Sephia compact sedan. It shared the same 1.8-liter, 124-hp I4 engine and was an economy compact car for families or individuals wanting a bit more cargo space. Like many of the original Kia cars, it lacked power and quality parts, which seemed to be the tradeoff for a budget car.
In 2002, the Sephia sedan was rebadged as a Spectra, and trim levels were carried over to the hatchback lineup. Base models were sparsely equipped, lacking even air conditioning, which was only offered in the higher trims. Though a plenitude of airbags were standard (safety being a Kia hallmark), ABS was not an option for a while.
In 2004, the boring Spectra got a makeover and new trim styles. The base LX finally came with standard power features, and the EX added on more comforts to that list. A bigger, more powerful 2.0-liter, 138-hp I4 engine sat under the hood, and overall length increased for more interior passenger room. Exterior lines were made sleeker and angular, for a sportier look.
The hatchback was redesignated the Spectra5 wagon in 2005. It was much more sports-oriented than the original hatchback and featured a sports-tuned suspension, sports seats, bigger wheels, a rear spoiler, and fog lights. A counterpart SX sedan was also added in 2005. Both the Spectra5 and SX have optional ABS, though standard four-wheel disc brakes are the only offering on all other trims.
These second generation Kia Spectras were more focused on quality materials to enhance the overall driving experience, while still keeping the Spectra in an economy compact position. Though it still suffers from a weak engine, particularly when matched with the optional automatic transmission, the Spectra exhibits good handling and overall styling that appeals to many owners.
Find great deals from top-rated dealersTM
Search