BMW 2 Series
Model Overview
New BMW 2 Series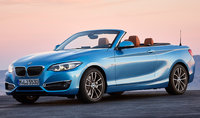 BMW 2 Series Questions
BMW Idrive
I just bought a bmw 2 series 218d sport line coupe 15 plate. The idrive system appears to be greyed out and will not let me select it. Does anyone know why this might be? Thank you in advance.
Software Reset
How can I do a software reset on my car? Is this something only BMW can do?
You Guys Have No Provision For Factory Approved Upgrades In Your Format. I'...
Transmission Switch?
I know this sounds impracticle... and highly stupid.... but im really yearning for a manual transmisison again. I got the car 2 years ago with the 8-speed, thinking it be better for my commute in ca...