Looking for a New Chevrolet Tahoe in your area?
CarGurus has 3,048 nationwide Chevrolet Tahoe dealers with 8,688 new car listings.
2021 Chevrolet Tahoe
Test Drive Review
The 2021 Chevrolet Tahoe is completely redesigned, resolving its primary shortcomings while expanding upon its numerous strengths. The result, depending on your requirements and perspective, is the best Chevy Tahoe yet.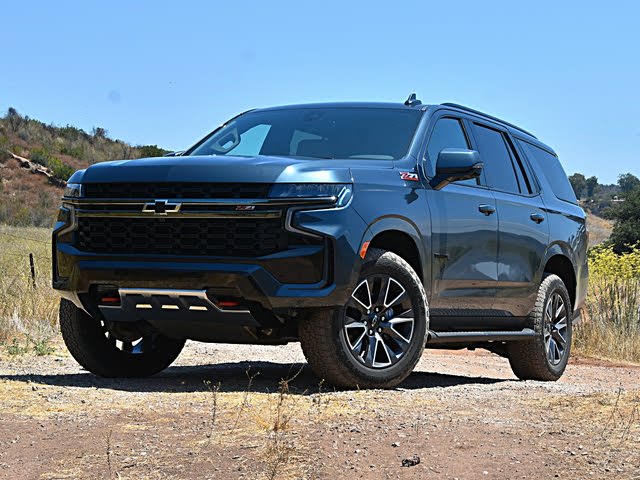 The full-size SUV segment is a relatively small one, and Chevrolet dominates it. The Tahoe, and its extended-length twin, the Suburban, account for about half of all big SUV sales despite competitive shortcomings in terms of interior comfort, cargo space, and towing capability. With the all-new 2021 Chevy Tahoe (and Suburban), two of those three flaws are resolved. At the same time, the 2021 Tahoe gets a big upgrade in terms of driving dynamics, technology, and innovation.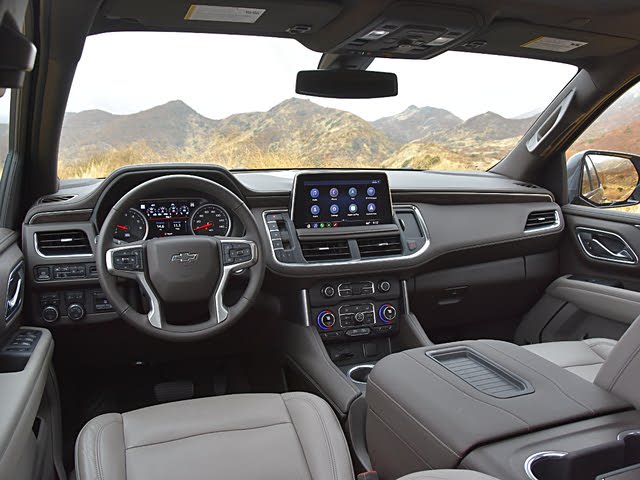 Six different versions of the 2021 Chevrolet Tahoe are available, most with an individual look that sets them apart from their siblings:
+ The base Tahoe LS and popular Tahoe LT have different grille patterns
+ The sporty Tahoe RST has a slotted grille, a blacked-out appearance, and 22-inch wheels
+ The rugged Tahoe Z71 uses the LS trim's grille combined with a blacked-out look, a redesigned front end for improved off-roading capability, red tow hooks, a skid plate, and unique 20-inch wheels with all-terrain tires
+ The upscale Tahoe Premier gets the RST's slotted grille with chrome accents, lots of shiny exterior trim, and polished wheels
+ The luxurious Tahoe High Country has a chrome bar grille, big 22-inch wheels with a bright finish, and body-color mirror caps
With each trim, the grille is the dominant design cue. Standard LED headlights are tucked into the upper corners, underscored by LED running lights similar to those on the Silverado pickup truck. Around back, the previous Tahoe's clean look gives way to more expressive taillights, available quad-outlet dual exhausts, and gratuitous tailgate trim.
The rest of the Tahoe's styling retains familiar design themes, though the previous SUV's creased-and-folded detailing gives way to more subtle and, frankly, plainer forms that leave the new Tahoe looking a bit slab-sided. The bigger you go with the wheels, the better this new SUV looks. And Chevy offers numerous wheel designs in sizes ranging up to 22 inches in diameter.
Prices start at $49,000 for the Tahoe LS with rear-wheel drive and rise to as much as $72,600 for the Tahoe High Country with 4-wheel drive. We tested a Tahoe Z71 ($59,200) with five option packages including the Luxury Package, Rear Media and Navigation Package, Z71 Off-Road Package, Off-Road Capability Package, and Max Trailering Package. In addition to these upgrades, the test vehicle included trailer tire pressure monitoring sensors, individual second-row seats, a power panoramic sunroof, and an innovative power sliding floor console. All in, the price came to $76,225 including a destination charge of $1,295 to ship it from the Arlington, Texas factory to your local dealership.
The Tahoe LS includes cloth seats. Leather is standard starting with Tahoe LT trim, in Jet Black or Gideon (seen in the accompanying photos). Premier trim adds perforated leather in Jet Black or Maple Sugar, while High Country offers perforated and textured leather in Jet Black or Mocha.
Chevy's interior execution is centered around a larger 10.2-inch infotainment screen and new electronic transmission controls located on the dashboard. As a result, storage capacity improves, but the control layout is compromised, with the physical controls for the infotainment, stereo, and climate systems moved far down on the center control panel where they are harder to see and use. Chevy also no longer offers a front bench seat for the Tahoe, limiting maximum capacity to eight people.
Based on the Z71 trim we tested, quality meets expectations for a Tahoe and for the segment. The upper half of the cabin employs exposed stitching and soft-touch surfaces, while the lower half is covered in hard plastic.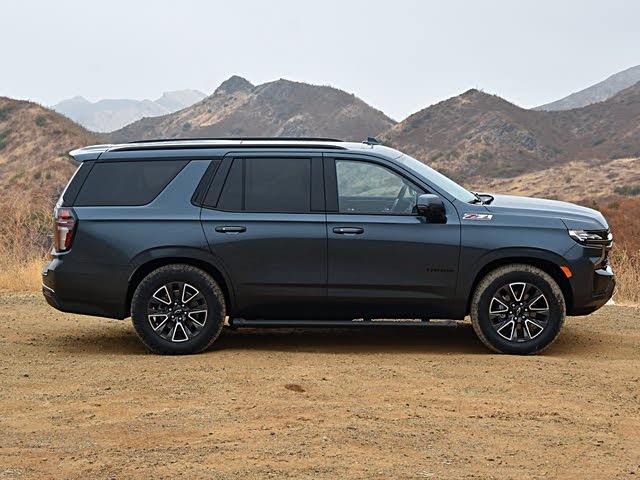 Chevrolet offers three engines for the 2021 Tahoe. Standard in all but the High Country, a familiar 5.3-liter V8 delivers 355 horsepower at 5,600 rpm and 383 lb-ft of torque at 4,100 rpm. Exclusive to the High Country, a 6.2-liter V8 cranks out 420 horsepower at 5,600 rpm and 460 lb-ft of torque at 4,100 rpm.
Shortly after the Tahoe goes on sale, a turbocharged 3.0-liter diesel inline six-cylinder will be available for all versions of the Tahoe except for the Z71. Chevy says the diesel engine won't fit in the Tahoe Z71 due to this model's modified front end and unique off-roading components.
The turbo-diesel offers 277 horsepower and 460 lb-ft of torque, and it promises a significant improvement in fuel efficiency. Depending on the trim level, you'll pay thousands more for this engine. Based on its deployment in the Silverado pickup truck, you can also expect to benefit from a five-mpg improvement in combined driving.
A 10-speed automatic transmission powers the Tahoe, driving the rear wheels (RWD) with most trim levels. Depending on powertrain and configuration, the 2021 Tahoe can tow up to 8,400 pounds and handle as much as 1,834 pounds of payload.
A four-wheel-drive (4WD) system is optional except for with the Tahoe Z71, in which it comes standard and includes a two-speed transfer case. The Z71 also gets hill descent control, all-terrain tires wrapped around 20-inch aluminum wheels, a front skid plate, and tow hooks.
The major engineering change for the 2021 Tahoe is the adoption of an independent rear suspension. Previously, the Tahoe had a solid axle rear suspension design, a more affordable solution that required compromise in terms of ride and handling as well as interior comfort and cargo space.
Additionally, Chevrolet offers its Magnetic Ride Control suspension with adaptive dampers for the new Tahoe, as well as a new Air Ride suspension option that adjusts vehicle height by up to four inches to help ease loading, maximize ground clearance, and improve the ride quality. The test vehicle had both of these options.
As far as performance is concerned, the Tahoe Z71 impresses both on and off of the road. In particular, the new independent rear suspension, coupled with the adaptive damping and air suspension upgrades and the Z71's thick 275/60 tires, produced a truly magical transformation in terms of ride quality.
Whether driving over the speed humps on the way to the elementary school, traversing potholes and railroad tracks, or crossing the ruts and dips and humps of a trail, a Tahoe Z71 equipped like our test vehicle is astoundingly smooth. With that said, we'd expect that other trim levels with 22-inch wheels will suffer more harshness, likely intruding more upon the cabin than we experienced with the Z71.
Likewise, the 5.3-liter V8 and its 10-speed automatic transmission prove refined and effortlessly capable. Granted, we weren't carrying any people or cargo or towing a trailer, but this drivetrain combination delivers plenty of power coupled with that V8 rumble that so many Americans adore. Whether crisscrossing city streets, cruising on the highway, or climbing a mountain grade, the Tahoe's engine and transmission proved perfect.
The engine includes Dynamic Fuel Management technology, which supplies 12 different engine cylinder-deactivation modes in an effort to improve fuel economy. The official EPA estimate for a Tahoe 4WD is 18 mpg in combined driving, a 1-mpg improvement over the outgoing version of the SUV. On our testing loop, the Tahoe returned 16.4 mpg.
Handling is commendable, too, though the Z71's all-terrain tires do it no favors when it comes to cornering on the pavement. Those adaptive and air-ride suspension upgrades control body roll and excessive motion, making the Tahoe feel planted and athletic on two-lane back roads. If anyone in your family suffers from motion sickness, both of the suspension upgrades are worthy investments.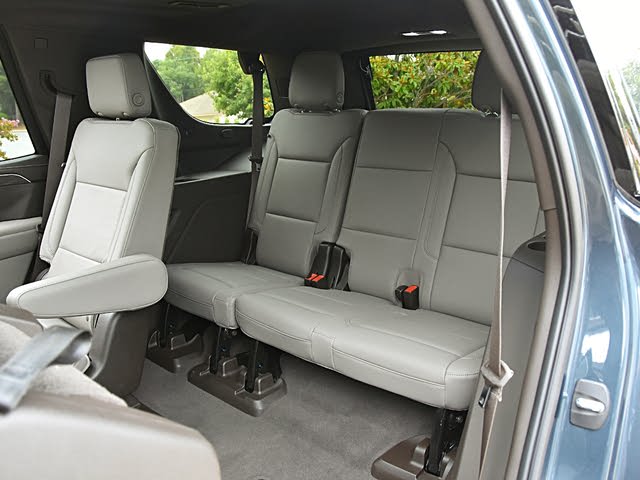 Previously, the Tahoe's solid-axle rear suspension required the SUV's floor to be higher, which in turn compromised both passenger comfort and cargo space. Now, with the new independent rear suspension, the Tahoe carries adults in comfort in all three rows of seats and offers what Chevrolet claims is the best cargo volume in the class.
The test vehicle had heated power-adjustable front seats and a heated steering wheel. All it lacked was a ventilated seat option in order to achieve optimum comfort.
Between the seats, Chevy's new power sliding storage console is highly recommended. It slides back toward the rear seats, exposing a large storage tray and a locking drawer where you can keep valuables secured. When the console is moved to the rear, the top armrest slides forward to ensure driver and front passenger comfort.
The second-row comes with a 3-person bench seat or individual captain's chairs with inboard armrests and a wide pass-through to the third-row seat. Equipped with the latter option, the test vehicle's captain's chairs proved comfortable, each facing an available 10.6-inch entertainment display mounted to the front seatbacks. With the power sliding console moved toward the back, the cupholders and rear climate controls are within easy reach.
To access the third-row seat, you can easily scoot between the captain's chairs. They also tumble and slide forward, and with a second-row bench seat, this is the only way to access the rearmost seating positions. This operation is manual unless you opt for the one-touch power release upgrade.
Clearance between the tumbled second-row seat and the roof pillar is generous enough but doesn't seem quite as wide as what you'll find on a Ford Expedition. Also, if a child safety seat is installed in the outboard second-row seating location, the seat slides but does not tumble for maximum access.
Third-row seat room is substantially improved in the new Tahoe. Adults not only fit, but they fit comfortably. Taller people will still want the second-row seat occupants to slide forward a bit to maximize legroom, though.
Behind the rear seat, the new Tahoe supplies 25.5 cubic feet of cargo space. Fold it down, and you'll have 72.6 cubic feet of volume at your disposal. Maximum volume measures 122.9 cubic feet. Not only are these figures substantial increases over the previous-generation Tahoe, but they're better than all other full-size, mainstream-brand SUVs except for the longer-wheelbase Chevrolet Suburban, Ford Expedition MAX, and GMC Yukon XL.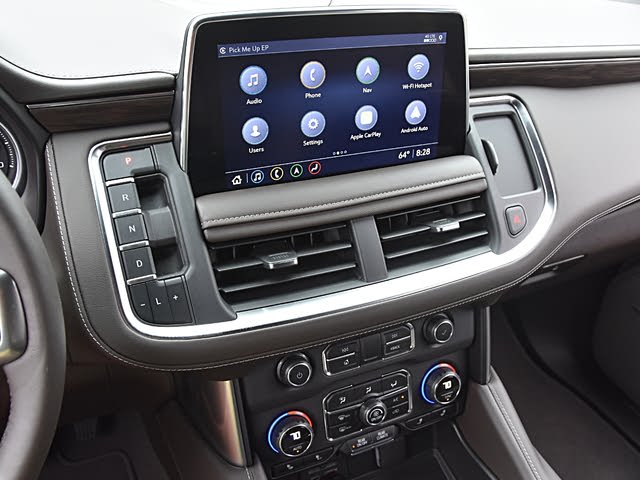 Chevrolet says the Tahoe's standard 10.2-inch touchscreen infotainment system uses a new digital platform providing five times the computing power, over-the-air update capability, and enhanced cybersecurity protection.
As was true before, standard highlights include wireless Apple CarPlay and Android Auto, a voice-recognition system, and Chevrolet Connected Services with multiple plans offering a variety of services including remote engine starting, a 4G LTE WiFi hotspot, automatic collision notification, SOS emergency calling, and stolen vehicle assistance. Navigation is an upgrade along with two different Bose premium audio systems.
In use, the infotainment system is easy to understand and works similar to a tablet computer. Main-menu shortcut icons located on the lower-left portion of the display are somewhat hard to use, though, because the bottom of the screen is recessed into the dashboard. The voice-recognition system is especially impressive, easily, quickly, and accurately responding to all of our naturally spoken test prompts. However, the climate system is not voice-activated.
Pairing to Bluetooth is fast, and streaming music via wireless Apple CarPlay proved simple and effective. A wireless charging pad with charger cooling kept my phone battery topped off, and the mid-grade 9-speaker Bose audio system produced decent audio quality.
The test vehicle had the Rear Seat Media system, which offers impressive versatility. However, due to a limited half-day testing window, we did not get a chance to put some kids in the back seat to see what they thought of its WiFi wireless device projection, content sharing, and other capabilities.
The test vehicle also lacked the Tahoe's available 15-inch head-up display, which no doubt comes in handy for referencing data, above the instrument cluster, at a glance.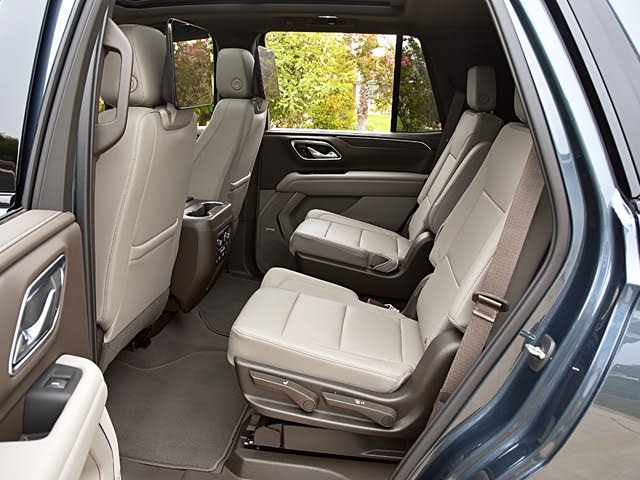 Another standard safety feature for the new Tahoe is Teen Driver, which reports to parents how their child drove while behind the wheel of the family SUV. It joins a rear-seat reminder system, forward-collision warning with pedestrian detection, and low-speed automatic emergency braking as standard equipment for every 2021 Tahoe. The SUV is also ready to accept an OnStar Safety & Security subscription plan that includes automatic collision notification, SOS emergency calling, and other functions.
By choosing a higher trim level or adding options, you can equip the Tahoe with lane-departure warning, lane-keeping assistance, blind-spot warning, rear cross-traffic warning, and rear pedestrian detection. Features reserved for Premier and High Country trim include adaptive cruise control, high-speed automatic emergency braking, a Safety Alert Seat that vibrates to get the driver's attention, and an upgraded blind-spot warning system with trailer coverage.
During testing, the Tahoe Z71's rather limited collection of driving-assistance and collision-avoidance features worked as expected and issued no false threats. Until you become accustomed to the audible alert that sounds when the technology detects a pedestrian, it can be distracting as you look down at the gauges in order to discern why the SUV wants your attention. Needless to say, looking down as you approach a pedestrian is a bad idea.
We recommend optioning the Tahoe with the available surround-view camera with rear, forward, and top-down views. It really helps when maneuvering this big SUV in tight quarters.
Because the Tahoe is brand new, neither the National Highway Traffic Safety Administration (NHTSA) nor the Insurance Institute for Highway Safety (IIHS) had performed crash tests on the SUV as this review was published.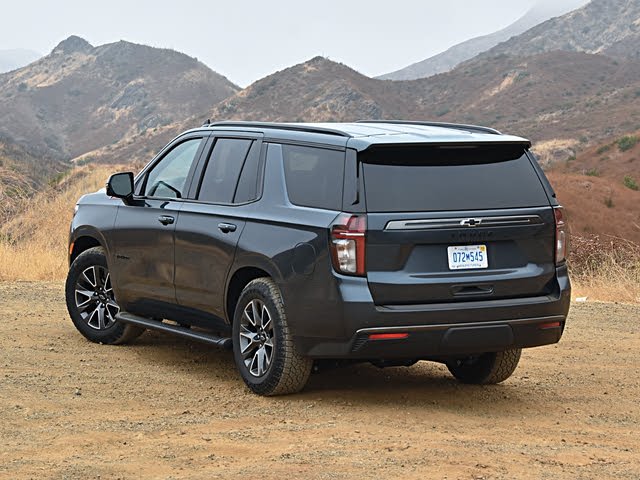 As tested, our Tahoe Z71's MSRP came to more than $76,000. That's twice the price of the average new vehicle sold in America. And while the test vehicle was loaded with impressive technology, the sticker-shock is real.
Like other full-size SUVs, the Tahoe's base price starts where well-equipped midsize three-row models leave off. What you get in exchange for thousands, or tens of thousands, of extra dollars is a roomier interior with lots of extra towing capacity. Literally, those are the only reasons to buy a full-size SUV, so you'd better need the added comfort, cargo room, and capability in order for one of these fuel-guzzling big rigs to prove cost-effective.
Among full-size SUVs, Ford remains the towing champion, the Expedition able to tug a trailer of up to 9,300 pounds. But Chevrolet kills it on cargo volume, and either of these SUVs is legitimately comfortable for adults in all three rows of seats. Both the Ford and the Chevy are more practical and appealing than competitors from Nissan and Toyota, and while the Dodge Durango can tow about the same amount of weight, it's a much smaller vehicle inside and out. But that rubber-burning, track-tuned SRT version sure is compelling.
Chevrolet has dominated the full-size SUV segment in terms of sales, in spite of its lack of competitiveness in some areas. Now that Chevy has leveled the playing field, the Tahoe is both worthier of its popularity and more cost-effective among like-sized SUVs than ever.
But only if you're buying one for its intended purposes.
Updated
Christian Wardlaw has 25 years of experience reviewing cars and has served in editorial leadership roles with Edmunds, J.D. Power, the New York Daily News, Autobytel, and Vehix. Chris prefers to focus on the cars people actually buy rather than the cars about which people dream, and emphasizes the importance of fuel economy and safety as much as how much fun a car is to drive. Chris is married to an automotive journalist, is the father of four daughters, and lives in Southern California.
What's your take on the 2021 Chevrolet Tahoe?
Have you driven a 2021 Chevrolet Tahoe?
All Tahoe Incentives
Enter your zip to see incentives for a new Tahoe in your area.
Cars compared to 2021 Chevrolet Tahoe
Looking for a Used Tahoe in your area?
CarGurus has 16,535 nationwide Tahoe listings starting at $2,695.
Chevrolet Tahoe Questions
Trims
Fleet 4WD

Starting At: $47,656
Fleet RWD

Starting At: $46,161
High Country 4WD

Starting At: $70,761
High Country RWD

Starting At: $69,595
LS 4WD

Starting At: $49,564
LS RWD

Starting At: $48,745
LT 4WD

Starting At: $55,448
LT RWD

Starting At: $53,445
Police 4WD
Police RWD
Premier 4WD

Starting At: $61,752
Show 5 more trims
Quick Links