Looking for a New Hyundai Venue in your area?
CarGurus has 859 nationwide Hyundai Venue dealers with 4,771 new car listings.
2020 Hyundai Venue
Test Drive Review
The Venue isn't very fast or rugged, but it offers plenty of value and efficiency as a commuter hatchback.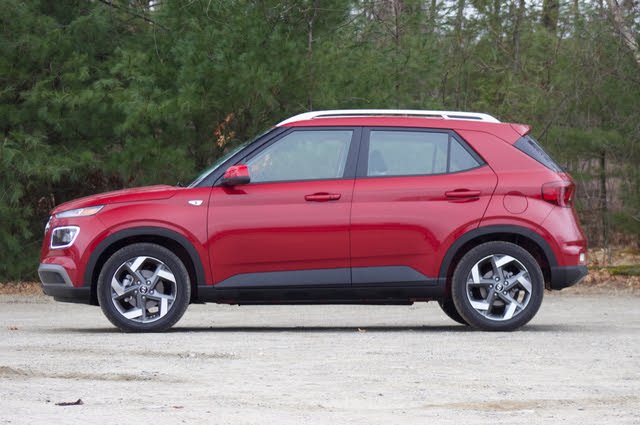 The 2020 Hyundai Venue you see here is classified as a subcompact crossover. But without the roof rails and extra plastic fender cladding, you might just as well call it a hatchback. If you were to describe a front-wheel-drive (FWD) car with a bit more space than a small sedan and with an emphasis on economy and efficiency, I would figure you are talking about a compact hatchback. But here we are, calling the Venue a crossover.
Small crossovers and SUVs have been among the most popular and fastest-growing group of vehicles sold in the past decade. This is partly because of their utilitarian image, but it's also because automakers are choosing to offer would-be hatchbacks as crossovers, thanks to the popularity of the segment. All we know is automakers have an easier time marketing a vehicle as a small sport utility vehicle, even if it doesn't offer much sport or utility.
But forget the labels. Let's look at the 2020 Venue for what it is: an affordable, economical hatchback with a decent amount of cabin space (for a vehicle its size) and the latest infotainment and safety technology.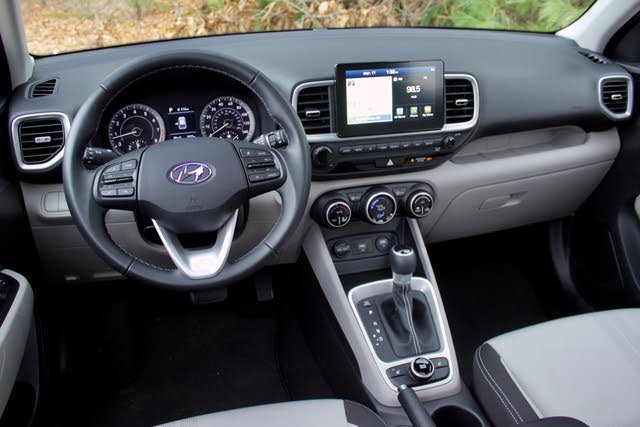 The announcement of the Venue had me a bit perplexed. The subcompact SUV segment was the one glaring hole in Hyundai's lineup for the better part of a decade, and it finally filled it… 2 years ago. In 2018, Hyundai debuted the Kona, another subcompact SUV, so the announcement of the Venue seemed redundant—until you look at the two vehicles.
Though it operates in a similar segment, the Kona is a bit more premium than the Venue, a bit more powerful, and it offers all-wheel drive (AWD). The Venue is much more of an affordable people-mover with a more upright design.
The Venue has a few touches that help it stand out in a crowd, including the white contrasting roof (on the range-topping Denim trim), and the large chrome grille. The shape of the grille is meant to evoke the larger Hyundai Palisade SUV, but to me, it's like some weird retro callback to Hyundai cars of the 1980s.
Inside, however, it is a different story, as the Venue's cabin looks modern and clean, and it offers a solid amount of space. The driver and front passenger sit up and yet still have plenty of head- and legroom. There's a surprising amount of usable space in the second row as well. The upright layout and large side windows mean the driver has great visibility when on the road as well.
Trims for the Venue are SE, SEL, and Denim. The base SE comes with 15-inch steel wheels, body-color power side mirrors, a manually adjustable driver's seat, one USB port, steering-wheel-mounted audio controls, and Bluetooth hands-free connectivity.
Moving up to the SEL adds more niceties including alloy wheels, a center armrest with a storage compartment, and dual USB ports. This is the CarGurus recommend trim, but not entirely on its own. If you go for the SEL, you'd do well to select the Premium package, which adds heated front seats, push-button start, remote keyless entry, and navigation. With the Premium package and other options, the SEL clocks in at about $22K, and it has a got a lot going for it.
The Denim trim is essentially a fully loaded SEL trim with many of those optional features as standard. It also has a fetching two-tone exterior with a contrasting white roof. Also, rather than leather, this range-topping trim features actual denim upholstery. It's nice to see we may have moved past the time in which leather is the only choice for premium cabin materials. Volvo is doing something similar with its wool seats, and the Swedish automaker has interior and exterior styling nailed. The fact that I just compared Hyundai with Volvo means the Korean automaker's doing the right thing.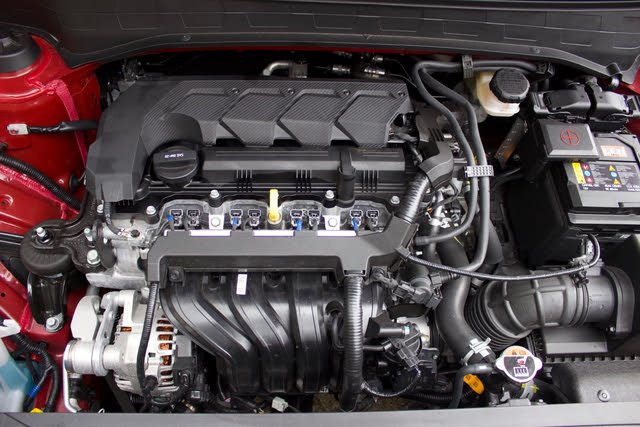 There is only one engine found in the Venue: a 1.6-liter 4-cylinder that makes just 121 horsepower and 113 pound-feet of torque. This engine can be paired to a manual transmission on the base trim, but most trims come with a continually variable automatic transmission, which Hyundai calls an IVT, rather than a CVT. This is optional on the base trim and the only transmission for the SEL and Denim.
The Venue sends power to the front wheels. No AWD option. So, despite its SUV aspirations, the Venue is more like a Kia Soul and other so-called SUVs like the Nissan Kicks and Toyota C-HR. That doesn't mean the car is without any capability, as added ride height and the right tire choice can sometimes get you out of mud and snow where a conventional car would be stuck. That said, it's still nowhere near the level of capability you'd have with an AWD car.
Even without the added heft of AWD, acceleration with this engine is pretty so-so, borderline underwhelming. Off the line, the Venue whines loudly, and you have to mash the accelerator to get it to move. There is a drive mode button in the center console with Normal, Snow, and Sport modes. Sport mode is a bit livelier at low speeds, but in any mode, the Venue takes a while to get up to highway speed and the engine makes a lot of noise along the way.
Despite the somewhat taller setup of the Venue, body roll in cornering is not as bad as you would expect. Sure, there is some roll at the start and end of a turn, but the car is pretty composed, and you do have a solid feel for the road. In fact, the Venue is perhaps too communicative with the road. You feel every single bump and crack, which is especially noticeable on New England's back roads. Despite what anyone calls it, this drives like a compact hatchback more than anything else.
My main concern with the Venue's lack of power is how it hampers the driver's ability to control the car in tight spots. For all the airbags and traction control, the thing you want in an emergency situation is the ability to brake evenly or accelerate predictably to avoid a hazard. Even getting up to highway speeds quickly, so as not to interrupt the flow of traffic, is a safety consideration. All of them become apparent with the Venue's lack of acceleration.
Fuel economy with the CVT is 30 mpg city, 34 highway, 32 combined, and the manual performs worse in the city and combined driving, but slightly better on the highway, at 35 mpg. In a week of combined driving with the CVT, we averaged 31.7 mpg.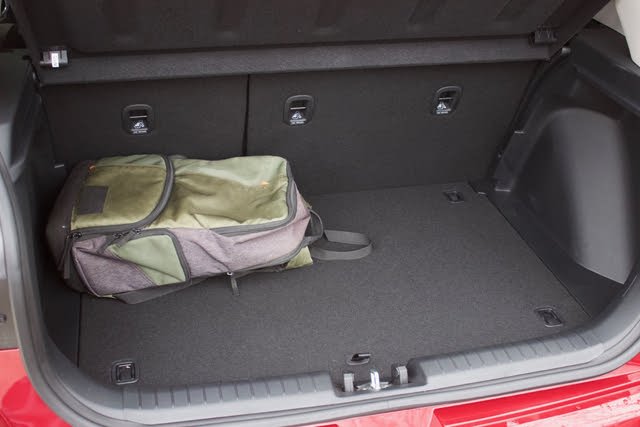 It is not very fast or sporty, and so the "S" in SUV doesn't really apply here. What about the "U"? Well, the Venue isn't extremely utilitarian, either, as it does not provide a ton of cargo space. For example, let's compare it to the Hyundai Kona, which is technically in the same vehicle class, but costs a bit more. The Kona is about 5 inches longer than the Venue, and those 5 inches translate to more space when you fold the rear seats. While the Venue has just 31.9 cubic feet with the rear seats folded, the Kona delivers 45.8. Strangely, with the rear seats up, both cars have around 19 cubic feet. Weird.
As mentioned, we had a ton of head- and legroom in the front seats. Even when we slid the driver's seat far enough back for my 6-foot-3-inch frame, there was actually decent usable legroom behind the driver's seat. This contrasts with the Kona, which offers almost no backseat legroom when you slide the driver's seat back.
The Venue also has excellent control layout. For the radio, you get a tuning dial and an even larger volume knob. If you've read some of my other reviews, you'll know I appreciate the combination of new technology with traditional buttons and dials for certain functions. The climate controls earn another checkmark for simplicity.
The only peculiar thing is that when you move to the SEL and Denim trims, you upgrade to automatic climate control. Aesthetically, it has a big center circle display for the temp and fan speed, but the display looks like a third dial. I went to turn it thinking it would do something, and I bet I'm not the last person to do that. Otherwise, the Venue shows that Hyundai has spent the time to consider how people in the real world interact with their cars on a daily basis.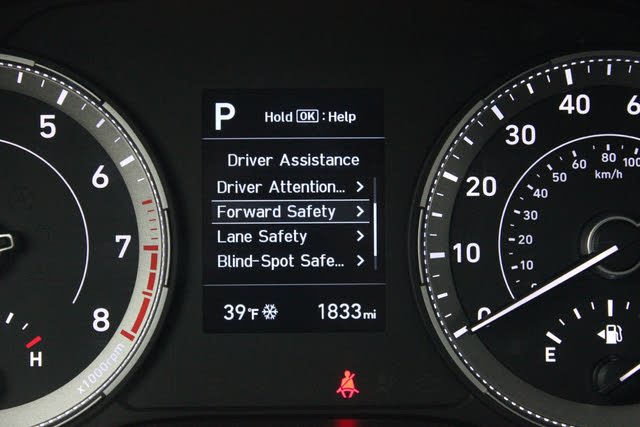 All trims of the Venue come with an 8-inch touchscreen infotainment system. It has Bluetooth, USB ports, Apple CarPlay, and Android Auto. Like the layout of the controls, Hyundai has long shown that it knows how to set up logical touchscreen layouts that will result in minimal distracted driving. Everything is where you would expect it to be, the icons and fonts are large and easy to read, and many of the major functions have redundant hard buttons on the dash.
More than that, I really appreciate the screen placement. It is a panel, but one that only partially extends from the dash. It doesn't stick out like a tablet. It juts out just enough to use your fingers to brace your hand when using the screen. This is extremely helpful when using the screen at-speed.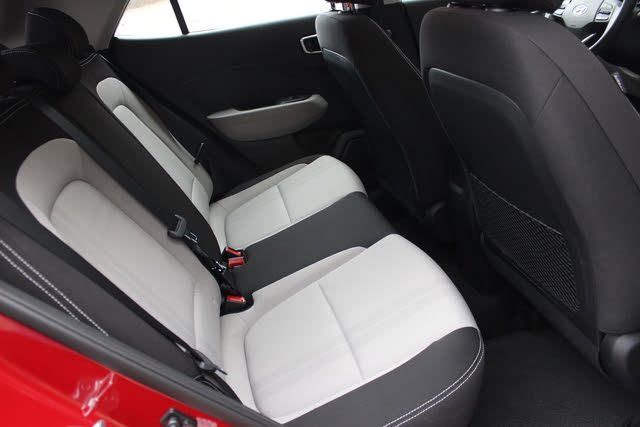 Standard safety features on the Venue include a reversing camera, traction control, a tire-pressure monitoring system, and a full array of front- and side-impact airbags. The Venue also comes standard with impressive driver-assistance technology like forward-collision avoidance with pedestrian detection, lane-keeping assist, and a driver-attention warning.
Our SEL test car also had the Convenience Package, which adds blind-spot monitoring and rear cross-traffic alert. These items come standard on the range-topping Denim trim.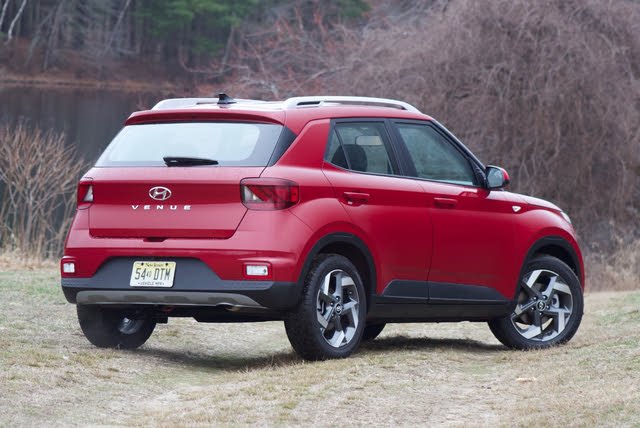 Base MSRP for the 2020 Hyundai Venue is $17,530. This makes it one of the most affordable new SUVs available right now. Even if you don't consider the Venue an SUV, that price still makes it one of the more affordable cars on the market, today. The SEL trim starts at $19,250, and with options, came it at a little over $22,000. Above that, the range-topping Denim trim starts at $22,050.
Considering that the Venue presents itself more like a compact hatchback at times, it might be more appropriate to compare it to a true hatchback like the Honda Fit. Honda's smallest hatch actually has more cargo space than the Venue, provides a bit more horsepower, and it and it starts at just over $16,000. This same argument would have cars like the Nissan Kicks and Toyota C-HR also lose out to the Fit. But among those small crossovers, the Venue provides a higher-quality interior and better technology.
If you're shopping for a car like the Venue, we recommend taking a close look at what you need from your car. The Fit will prove to be the better value, but more and more choices like the Venue are hitting the streets. It may not have a potent engine or even AWD, but if it fits your budget, the Venue does offer a lot. It's efficient, it has a sophisticated cabin, and it is still one of the most affordable small cars today… especially if you call it an SUV.
Updated
From open-wheel racecars to specialty off-road vehicles, George Kennedy has driven it all. A career automotive journalist, George has been a contributor, editor, and/or producer at some of the most respected publications and outlets, including Consumer Reports, the Boston Globe, Boston Magazine, Autoblog.com, Hemmings Classic Wheels, BoldRide.com, the Providence Journal, and WheelsTV.
What's your take on the 2020 Hyundai Venue?
Have you driven a 2020 Hyundai Venue?
All Venue Incentives
Enter your zip to see incentives for a new Venue in your area.
Cars compared to 2020 Hyundai Venue
Looking for a Used Venue in your area?
CarGurus has 1,797 nationwide Venue listings starting at $11,497.
Hi.... dealer is offering 3m car coating for new car purchase which includes body protection , engine coating,silencer coating,anti rust coating around 9k...is t necessary for new car..
Trims
Denim FWD
SE FWD

Starting At: $19,680
SE with CVT FWD
SEL FWD

Starting At: $17,029
Quick Links