Looking for a New GMC Sierra 1500 in your area?
CarGurus has 1,834 nationwide GMC Sierra 1500 dealers with 208,309 new car listings.
Review
by Guru99VZPM
— I have a 2000 GMC SIERRA it has 571000miles on it. Ive drive everyone of those miles. It still runs very well(the engine) but it has been a work truck and its time to get something more comfortable. ...
Read more
Review
by Oldgoldy
— This truck Is loaded with extras, it has everything You will ever need. I was amazed at how quiet the vehicle is. It's a diesel and it doesn't sound like one. Mileage is between 22-27 mpg. Especiall...
Read more
Review
by Ismael
— If youre looking to get a truck that performs and give you a lot more, this is the truck for you.
Read more
2020 GMC Sierra 1500
Test Drive Review
The new Sierra 1500 AT4 is far too nice to be a work truck, but it represents what modern pickup shoppers seek.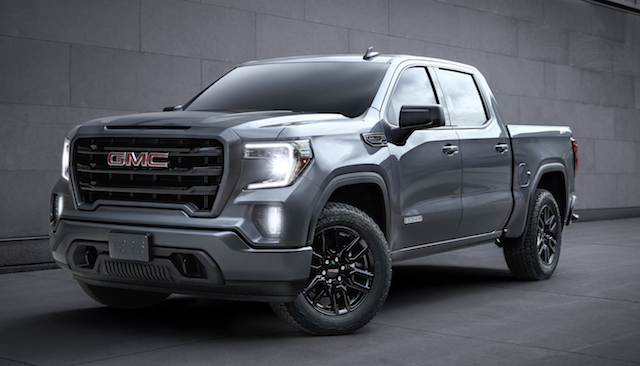 It's no surprise that trucks have improved and evolved over the years. After all, think about an average sedan from the early 1980s compared with a modern 2020 vehicle. Yet because pickup trucks are largely confined to a common shape, many shoppers are still surprised to see how nice they have become. This is especially true if your memory of trucks includes a vinyl bench seat.
Modern trucks heavily incorporate utility-minded innovations. Cargo-management tools, side steps, and bed steps make for a more useful vehicle. Under the hood, turbocharging has made V6 and even 4-cylinder engines usable, delivering the power of the larger engines they aim to supplant. And finally, cabins have become nicer and more comfortable than previously imagined for a pickup.
This evolution speaks to how trucks get used as family vehicles that can also do work. There are the work trucks, but there are also trucks like the 2020 GMC Sierra 1500, which has many of the creature comforts of SUVs and crossovers. It says "I want a truck, but I could probably be used as a minivan."
But somewhere in the middle sits Sierra's AT4 trim. It's comfortable, sure, but it's also capable. Does that make it a good fit for both the worksite and the daily commute?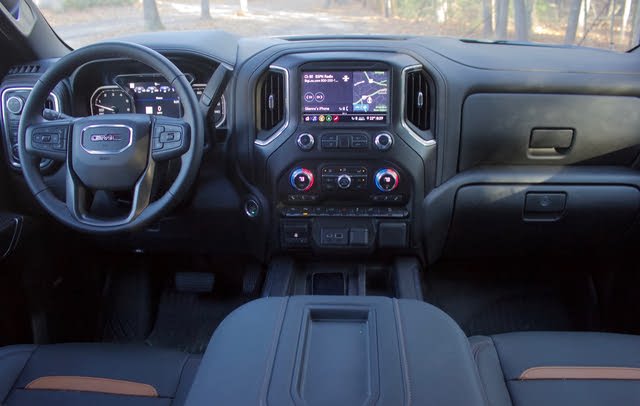 GMC completely redesigned the Sierra 1500 in 2019, and the truck carries into the 2020 model year largely unchanged. This is a smart evolution from the Sierra's previous generation, which had a design I liked a lot. The straight lines and crisp angles underscored a kind of understated, timeless stoicism, similar to the "GMT 400" trucks from the late 1980s and '90s. I could almost hear Bob Seger's "Like a Rock" playing when I looked at those trucks.
Inside, you'd be forgiven for confusing the 2020 Sierra for the old 2018 truck. Its layout remains nearly identical, although the dash seems flatter, resulting in a weird jukebox look. But all the controls are where they need to be, and as we'll explain later, that's what really matters.
The Sierra is available in six trims, Base, SLE, Elevation, SLT, the range-topping Denali, and the AT4 we drove. The Base truck comes decently equipped with a V6 engine, a 7-inch touchscreen, Apple CarPlay, Android Auto, Bluetooth connectivity, a USB port, and LED "light blade" headlights. Moving up to the SLE trim adds an additional USB port, a WiFi hotspot, a larger 8-inch touchscreen, and remote keyless entry. It also opens up a host of available option packages.
GMC offers the Elevation in double-cab and crew-cab configurations, and it brings a unique look that includes body-color bumpers, door handles, and grille surround. These body-color touches are set off with 20-inch wheels and black accents for the grille and tow hooks. Inside, the Elevation comes standard with heated front seats, remote engine start, and a heated steering wheel. The SLT has many of these features, but with more classic, chrome-clad styling.
We drove the AT4 trim, which has many of the features found on the range-topping Denali, but less chrome. As "bright and shiny" falls out of fashion, GMC has been wise to create the AT4 sub-genre to capitalize on changing tastes. The AT4 is also the off-road-oriented version of the Sierra, and it features unique touches like all-terrain tires and red tow hooks. Inside, the seats of the AT4 are covered in black leather with brown accents, and they give our test model an upscale quality while retaining a touch of ruggedness. That's really what most modern trucks are all about.
The Denali continues to set the bar for pickup-truck luxury. It comes with plenty of exterior chrome accents, massive 22-inch wheels, a head-up display (HUD), navigation, and wireless device charging.
CarGurus recommends the SLT trim. It features many of the creature comforts found in our test model, but with a bit more road-friendly setup, including more compliant tires and suspension.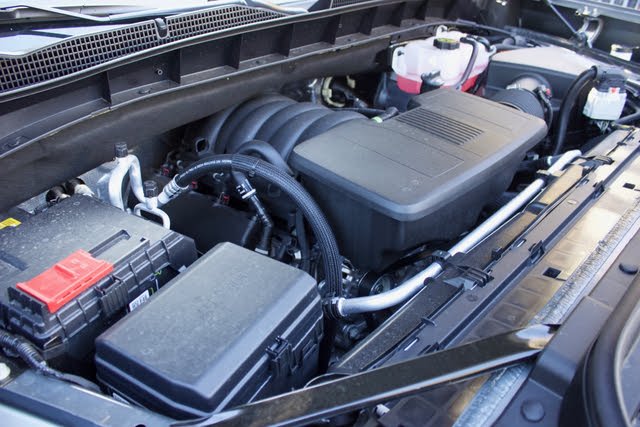 The Sierra offers you a choice between five engines, which seems like a lot. The base engine is a 4.3-liter V6 that's seemingly been around forever, tracing its roots back to the 1980s, with incremental improvements through the years. For 2020, it makes 285 horsepower and 305 pound-feet of torque.
In the past, General Motors offered a V6 and then a V8 or two, but now, the GMC Sierra offers a 2.7-liter turbocharged 4-cylinder engine as a high-feature, non-V8 engine. It makes 310 hp and 348 lb-ft of torque. For 2020, GMC also offers a Duramax turbodiesel 3.0-liter 6-cylinder engine, putting out 277 hp and 460 lb-ft of torque.
Two V8 engines are available: a 5.3-liter and a 6.2-liter. The 5.3-liter makes 355 hp and 383 lb-ft of torque. It's a popular option for truck owners. Our AT4 test model has the largest engine of the bunch, a 6.2-liter V8 making 420 hp and 460 lb-ft of torque.
Every single one of these engines routes power through an automatic transmission to the rear wheels or available 4-wheel drive (4WD). That 10-speed transmission is operated via a column shifter, which is a good thing to see compared with the rotary dial of the Ram 1500 and the center-console shifter of the Ford F-150. Frankly, I don't care how nice these trucks get, a real truck should have a plain old column shifter.
The 4WD system has a low range and is a simple push-button unit. It offers settings for 4-high, 4-low, 2-wheel-drive (2WD), and auto, which will automatically shift into 4WD if the truck loses traction.
The big 6.2-liter V8 we drove delivered commanding acceleration and provided that classic V8 "swell" of power. It will easily squeal the tires when jumping off the line, but more impressively, its 60-80-mph acceleration is relentless. At any speed, the 6.2 feels like it has more power on tap. When properly equipped, the Sierra 1500 can tow up to 12,100 pounds, which is more than most people will ever need.
In addition to the powerful V8, the AT4 trim has beefed-up skid plates, upgraded suspension components, and hill-descent control. It also has knobby off-road tires, which allow it to claw away at dirt and rock. When combined with the Rancho off-road shocks, the Sierra AT4 feels right at home on the trail, even if it is a bit snug on most single tracks.
The tires and suspension that allow the Sierra to be so confident on the trail unfortunately also make for a pretty rough on-road ride. Over everything but the smoothest surfaces, there will be a lot of chatter from the chassis. If you like the idea of a well-equipped truck, but with a more-road friendly ride, try the SLT trim.
Fuel economy for our Sierra AT4 is 15 mpg city, 19 highway, 17 combined. The most efficient version of the Sierra 1500 is the new turbodiesel with rear-wheel drive (RWD), returning fuel economy of 23/30/26. The 2.7-liter turbo returns fuel economy of 20/23/21, while the most efficient V8 is the 5.3-liter with RWD, returning 17/24/20.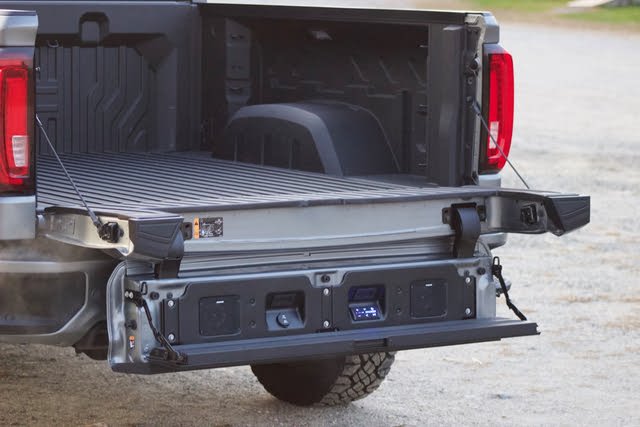 You can buy the Sierra with a single cab and a long bed, a double cab with a standard-size bed, or a full 4-door crew cab like our test model, which is available with either a standard bed or a short bed.
Our test model also featured GMC's new carbon-fiber bed and MultiPro tailgate. The carbon-fiber bed reduces weight, which helps conserve fuel. Production costs for carbon fiber have come down, otherwise, this truck would cost as much as a supercar!
The MultiPro tailgate is a six-way tailgate that can work as a bed-extender or an easy set of steps into the truck bed. This works in addition to the corner bed steps, which many prefer because, frankly, they have less chance of breaking over long-term use.
As for using the tailgate normally, it will open with the push of a button in the cab, on the key fob, or on the gate itself. It is not power open-close, which is available on the Silverado. Frankly, the button-release on the actual tailgate is a bit frustrating, as most truck drivers expect there to be just a handle to grab.
The cabin itself is loaded with cupholders, cubbies, and storage units of all kinds. This is an area where trucks have gotten incredibly impressive, and I'd be shocked if truckmakers can find another place for cupholders or trays for your stuff. In addition to all this, the rear seats fold upward, providing a large storage area in the cabin of the truck, which is helpful for valuable items that you'd like to put behind locked doors.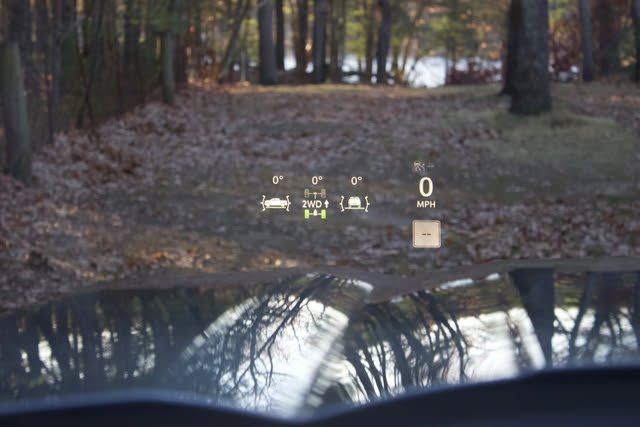 As previously mentioned, the Sierra has straightforward controls, and a key part of that is the simplicity of the infotainment system. It offers incredibly clear, crisp graphics, large icons, and a sensible menu. This system is also complemented by tactile controls for the radio and climate controls.
The most recent Ram 1500 has a massive Tesla-size touchscreen, and given that we've seen similarly massive screens from Ford in the new Explorer and Mustang Mach-E, it's likely only a matter of time before the next-generation F-150 gets one too. Those massive touchscreens are flashy, but I still prefer systems like the Sierra's, which keeps the correct functions off the screen with tactile controls.
Our AT4 trim also featured an HUD, wireless charging, and multiple USB ports and outlets. But thankfully, all the controls are pretty straightforward.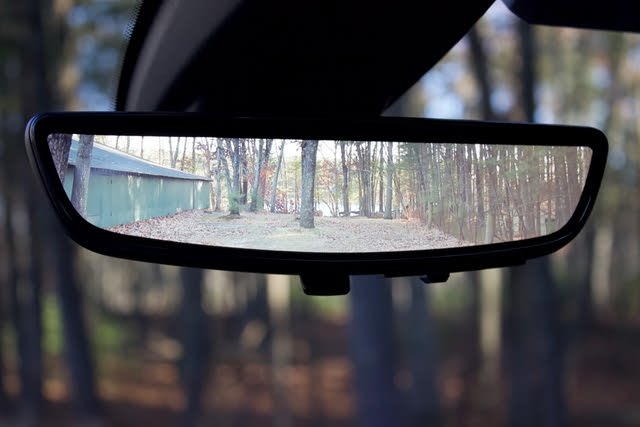 Standard safety features include a reversing camera, traction control, and a full array of front- and side-impact airbags. Our AT4 test truck came with many available safety features, including a vivid surround-view camera and front and rear parking sensors. It also came with a full suite of driver assistance features, including forward-collision warning, lane-departure warning, automatic high beams, and adaptive cruise control. You can also get blind-spot monitoring, lane-keeping assist, and rear cross-traffic alert.
The Sierra also features GM's recent development: the rear camera mirror. With this system, one of the several rear-facing cameras can be projected on the rear-view mirror with the flip of a switch, replacing the mirror's natural reflective image with a digital image. It takes a bit of getting used to, but it does help with obstructions, and you can always turn it off with the flip of a switch.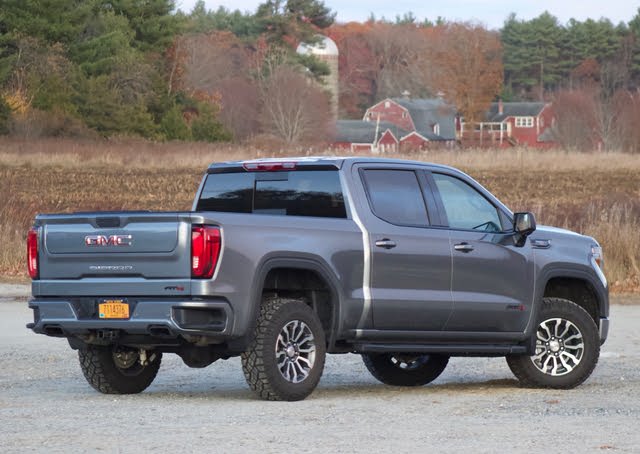 The 2020 GMC Sierra 1500 has a base MSRP of $29,600. A Double Cab 1500 starts at $33,500, and a Crew Cab starts at $35,900. An SLE Double Cab starts at $37,800, while an Elevation Double Cab trim starts $40,300.
Our AT4 test model with all the options comes in at more than $66,000. And while that's certainly pricey, it's not the most expensive Sierra 1500 you can get—far from it, actually. A range-topping Denali Crew Cab can cost more than $70,000 with options.
GMC has shown it understands how its trucks are actually being used. Sure, it makes bare-bones trucks for work crews, but the Sierra AT4 is for weekend warriors who use their truck as a capable commuter vehicle, and who may also need it to carry some tools or a load of loam when needed. The AT4 strikes the ultimate blend of comfort and capability, to the point where I honestly don't know where the pickup truck market goes from here.
Updated
From open-wheel racecars to specialty off-road vehicles, George Kennedy has driven it all. A career automotive journalist, George has been a contributor, editor, and/or producer at some of the most respected publications and outlets, including Consumer Reports, the Boston Globe, Boston Magazine, Autoblog.com, Hemmings Classic Wheels, BoldRide.com, the Providence Journal, and WheelsTV.
What's your take on the 2020 GMC Sierra 1500?
2020 GMC Sierra 1500 Top Comparisons
Users ranked 2020 GMC Sierra 1500 against other cars which they drove/owned. Each ranking was based on 9 categories. Here is the summary of top rankings.
Have you driven a
2020 GMC Sierra 1500
?
All Sierra 1500 Incentives
Enter your zip to see incentives for a new Sierra 1500 in your area.
Cars compared to 2020 GMC Sierra 1500
Looking for a Used Sierra 1500 in your area?
CarGurus has 33,933 nationwide Sierra 1500 listings starting at $1,999.
Have questions?
Ask a question
GMC Sierra 1500 Questions
Park Assist Not Funtioning,is There A Repair?
Park assist not functioning only 2300 miles, is there a fix for it?
How Do I Put In Year Of Vehicle?
I clicked on sell my car and then picked the brand which is GMC. I then went to select the year and the year only went to 1999, I couldn't select anything newer. How do I put a newer year in? I wo...
Towing With 2020 GMC Sierra 1500
I will be towing a double axle utility trailer total maximum weight on the hitch will be 5000 pounds. Plus a maximum weight in the truck bed including passengers will be 2500 pounds. I have no ...
I Want To Have My Son Pick Up The Truck In Vermont
I bought a second house in Vermont but live in Idaho
Why Was The Trim Filter Removed From CarGurus?
The search or filter function on trim type is not available. why?
Trims
AT4 Crew Cab 4WD

Search 11,185 listings

Starting At: $44,015
AT4 Crew Cab LB 4WD

Search 15 listings

Starting At: $62,905
AT4 Double Cab 4WD

Search GMC dealers
Base LB 4WD

Search 4,503 listings

Starting At: $27,880
Base LB RWD

Search 1,236 listings

Starting At: $22,850
Crew Cab 4WD

Search 2,174 listings

Starting At: $31,500
Crew Cab LB 4WD

Search GMC dealers
Crew Cab LB RWD

Search GMC dealers
Crew Cab RWD

Search 774 listings

Starting At: $27,445
Denali Crew Cab 4WD

Search 37,523 listings

Starting At: $48,770
Denali Crew Cab LB 4WD

Search 19 listings

Starting At: $58,220
Show 22 more trims
Find great deals from top-rated dealersTM
Search
Quick Links