Looking for a Used Impala in your area?
CarGurus has 7,889 nationwide Impala listings starting at $800.
2015 Chevrolet Impala
Test Drive Review
The Impala has no trouble merging onto fast-flowing freeways or kicking down a gear for passing power…(but) what makes the Impala enjoyable to drive…is how predictable and consistent it is.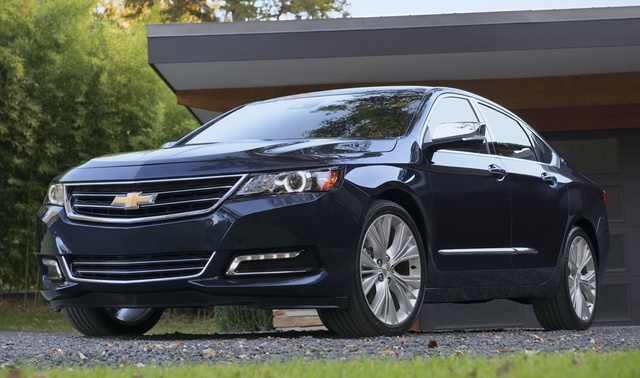 Has the world moved beyond the full-size family sedan? The answer might be yes. Considering that a Chevrolet Impala provides just a few inches of extra space here and a few cubic feet of additional trunk room there, but at a cost in terms of purchase price and fuel economy, it's hard to justify a big car's existence. Yet, the Impala exists, and within its segment, it is absolutely worthy of consideration.
Once upon a time, big American cars ruled the road. Today, crossover SUVs have taken on the family-hauling duties once performed by large sedans, hulking station wagons, and mommy-mobile minivans, leaving full-size 4-door cars like the 2015 Chevrolet Impala in automotive purgatory.
Big cars are not without merit. They are comfortable. They typically have giant trunks (though not all of them do). They're squeezed into vehicle lineups between popular midsize models and entry-luxury sedans, providing impressive value. Still, a week spent driving the Chevy Impala made me wonder why companies bother building oversized cars like this one.
Believe it or not, the Impala comes standard with the same 4-cylinder engine used in the midsize Malibu. For a satisfying V6 engine, upgrading to the 2LT or 2LTZ trim level is a requirement. Oh, you wanted a V8 engine? You're gonna need to get the Chevy SS, a legitimate rear-drive sports sedan that the company brings in from its Australian operations.
My Impala 2LT had more than just a V6 under its scalloped hood. Equipped with every factory option, including extra-cost paint and bigger 19-inch wheels, the sticker price rose from $31,110 to $37,320, with the $825 destination charge factored into the equation. Get an Impala LS, and you'll spend as little as $27,885. Or you can choose a loaded Impala 2LTZ and fork over as much as $42,160.
Greater cash outlay certainly results in a better-looking Impala. Big cars look best riding on larger wheels, and that was true of my Impala 2LT test car. Beyond the appealing 19-inch rims, the Impala is rakish and expressive, featuring hints of heritage Chevy design. Better yet, unlike with less-expensive Chevrolet cars, the Impala suffers no twin-port grille nonsense, and as a result it's the best looking of the bunch.
Designers were not quite as successful when it comes to the Impala's interior, which is busy in appearance even when everything is rendered in Jet Black, as it was in my test car. From chrome detailing to silver metallic accents and fake wood trim, the Impala's interior aims for an upscale look and feel but falls short of the mark in terms of execution. Even at night, with the controls emitting a cool blue hue, the disjointed ambient lighting is jarring and distracting, rather than glowing gently and soothingly in the background.
When Chevrolet successfully re-launched the Impala back in the mid-1990s, it was on the strength of a V8 engine and Super Sport (SS) trim. Don't bother searching Chevy's website for an Impala SS, as this role has been assumed by the excellent—but expensive—Chevrolet SS model. (Yes, it is confusing to use a trim level as a model name, but don't complain to us. Contact General Motors.)
In the modern Impala, the most powerful engine is a 3.6-liter V6 cranking out 305 hp and 264 lb-ft of torque. That's more horsepower than the last V8-powered Impala SS that Chevy made, but not nearly the same amount of torque. Nevertheless, by Chevy's stopwatch, acceleration to 60 mph takes just 6.8 seconds.
That's quick for a mainstream full-size car, and the Impala has no trouble merging onto fast-flowing freeways or kicking down a gear for passing power. A 6-speed automatic transmission is the only one available for this front-drive sedan, and it behaves exactly as the driver expects at almost all times. The manual shift feature is entirely dissatisfying, though, operated using a cheesy-looking rocker switch located atop the shift knob.
The EPA says to expect between 18 mpg in the city and 29 mpg on the highway, depending on vehicle configuration. My test car averaged 21.7 mpg in combined driving, squaring with official estimates.
Expectedly, the Impala excels at covering mile after mile on the highway. The only sources of irritation are an excessive amount of road noise from the tires and truly awful rear visibility. This hulking Chevy wafts down the road, soaking up imperfections and gliding atop the pavement. Comfortable seats and a steering wheel that's a pleasure to hold make the Impala a road-trip champion.
In the city and suburbs, the Impala proves more nimble than its size might suggest, my test car's reversing camera, rear parking-assist sensors, rear cross-traffic alert system, and blind-spot monitoring system making it easier to maneuver this largest of Chevy sedans. Although its substantial dimensions do require more space for parking and within a lane, from the driver's seat it frequently does not feel that way.
Most surprising, my Impala 2LT demonstrated an unexpected fleetness of foot on the twisty mountain road portion of my test loop. The optional 19-inch wheels and 245/45 Goodyear Eagle RSA tires provided decent grip without howling at the first signs of enthusiastic driving, and started scrubbing well in advance of the limit of adhesion, delivering early signals that the driver needed to cool it in the corners.
What makes the Impala enjoyable to drive, though, is how predictable and consistent it is. The available variable-effort electric steering, though not terribly fast, is both precise and perfectly weighted, making it easy to place the car right where you want it to go. While suspension tuning is on the soft side, weight transfer is properly managed, making body bob, weave, and roll easy to predict. Plus, on a hot testing day, the brakes remained stout and responsive despite significant abuse.
Trust me. I did not expect to tell you that this version of the Impala is engaging to drive. But it is. Relatively speaking, of course.
This past Father's Day, we invited my dad to take a ride up the California coast to a little restaurant we frequent. It's a casual place, right on the beach, with a big sand pit for kids to play in while adults enjoy conversation. Since the Impala was parked in the driveway, we figured it would be perfect for 5 people.
Trouble was, a forward-facing child seat was mounted behind the driver, and a booster seat was required for my 6-year-old, who rode behind the front passenger's seat. We figured my wife would be able to fit right between them, just as she can in our own crossover SUV.
As it turned out, this was a terribly uncomfortable spot for her to sit and one of the reasons why I question the future viability of big family cars.
With just my family of 4 aboard, however, the Impala was quite roomy. The front seats lacked only seat ventilation to achieve perfection, and rear legroom is generous enough to limit the amount of seatback kicking performed by my 4-year-old. Adults riding in the rear outboard seats should be quite happy with the amount of head, leg, and foot space provided by the Impala.
Front-seat occupants face a dashboard with a fairly simplistic and intuitive layout employing traditional knobs and buttons for primary functions. Deeper vehicle settings and features are accessible through the Chevrolet MyLink 8-inch color touchscreen infotainment system, or the driver information screen located between the speedometer and tachometer within the instrument cluster.
Where Chevrolet really needs to step up its game with regard to the Impala is in relationship to the quality of the controls and interior materials. Every single time I used a stereo or climate button, or whenever I rested my fingers on the trim directly beneath the touchscreen while accessing menus or inputting information, such action was accompanied by the creaking of plastic. This creaking sound, in combination with too many hard and glossy interior panels and at least one poorly fitted panel, regularly calls into question the level of quality in this car.
Getting back to how well the Impala works as family transport, one thing is for sure: It's got a big trunk. Measuring 18.8 cubic feet, the Impala's cargo space is larger than any midsize sedan's and provides at least 2.5 cubic feet of extra volume compared to Chevy's own Malibu.
Taking a conference call, even via Skype, is easy when you're sitting in a Chevy Impala. Thanks to its OnStar 4G LTE Wi-Fi connection, roomy interior, and 3-prong electrical outlet, this car serves as the perfect mobile office. You do need to know, however, that if it's hot outside and the discussion goes long, the cabin will get toasty, because the climate-control system operates at a lower level of output during Bluetooth calls in order to limit background fan noise.
In addition to Wi-Fi, the Impala's MyLink infotainment system and OnStar services technology supply a variety of services, some of which are free of charge for the first 5 years of vehicle ownership. I had no trouble pairing an iPhone 6 and streaming playlists, or making and receiving calls. The Impala's MyLink system also supports Pandora Internet radio and has a Text Messaging Alert system that reads text messages aloud over the car's stereo system and allows the driver to reply with a pre-set message along the lines of: "I'm driving now and will respond soon."
Three USB ports are aboard the Impala, including one behind the MyLink display screen. Power the screen up, and you've got a safe place to store connected devices while you're away from the car. You can even set a PIN code that is required to access the compartment.
Automatic Crash Response, and other systems like it, is one of my favorite modern safety innovations. It works like this: With an active OnStar subscription, when the Impala's airbags deploy, the telecommunications technology aboard the car automatically dials out to special OnStar advisors who can send help to the car's exact location, even if the occupants are unable to respond.
What's the catch? With the Impala (and all GM vehicles), you need to subscribe to the service following the free trial period. Not all automakers require a subscription for similar services, as long as a paired smartphone is aboard the vehicle at the time of the collision. In the Impala's class, similar services are free in the Ford Taurus and Kia Cadenza.
Equipped with 10 airbags, the Impala aces most crash tests conducted by the NHTSA, resulting in the highest possible overall protection rating of 5 stars. In tests conducted by the Insurance Institute for Highway Safety (IIHS), the Impala earns a Good rating in the moderate overlap frontal impact and side impact tests. The IIHS has not tested the Impala in other assessments, so no overall rating is available.
Chevy also offers a number of safety technologies for the Impala, allowing it to earn a Superior rating for front crash prevention, according to the IIHS. Trouble is, you need to buy the most expensive version of the Impala, the 2LTZ, and then add the optional adaptive cruise control system, which includes front automatic braking.
Other versions of the Impala are available with a reasonably priced Advanced Safety Package, which costs just $890. It includes a blind-spot monitoring system, a lane-departure warning system, a rear cross-traffic alert system, and a forward-collision warning system. In practice, the forward-collision warning system is too sensitive and loud, the blind-spot monitoring system is too quiet and difficult to detect, and the lane-departure warning system is just right.
In the grand scheme of things, the Chevy Impala is an average automobile when it comes to its cost-effectiveness, which might be why deals are readily available.
Quality and reliability are slightly better than average, according to J.D. Power, while fuel economy results notch just below the averages published by the EPA. Consumer Reports says that long-term ownership costs are predicted to be average, and ALG gives the Impala an average rating for its ability to retain its value over time.
That means the best chance to derive value from an Impala is with regard to the deal you negotiate up front. As this review is written, Chevrolet is offering no-interest financing for 60 months, up to $2,500 in cash rebates, or low-payment lease deals.
Once these programs are factored in, a Chevy Impala starts looking more appealing, especially in comparison to a midsize crossover SUV that might not be quite as fuel efficient and fully featured. You'll give up maximum cargo space, of course, and all-wheel drive is not offered for an Impala, but otherwise a big family sedan makes sense.
That is, until you realize that most midsize sedans are almost as large and almost as commodious, but are usually more efficient and less expensive.
Updated
Christian Wardlaw has 25 years of experience reviewing cars and has served in editorial leadership roles with Edmunds, J.D. Power, the New York Daily News, Autobytel, and Vehix. Chris prefers to focus on the cars people actually buy rather than the cars about which people dream, and emphasizes the importance of fuel economy and safety as much as how much fun a car is to drive. Chris is married to an automotive journalist, is the father of four daughters, and lives in Southern California.
What's your take on the 2015 Chevrolet Impala?
2015 Chevrolet Impala Top Comparisons
Users ranked 2015 Chevrolet Impala against other cars which they drove/owned. Each ranking was based on 9 categories. Here is the summary of top rankings.
Have you driven a 2015 Chevrolet Impala?
Cars compared to 2015 Chevrolet Impala
Looking for a Used Impala in your area?
CarGurus has 7,889 nationwide Impala listings starting at $800.
Chevrolet Impala Questions
Trims
1LT FWD

Avg. Price: $15,628
2LT FWD

Avg. Price: $16,798
LS CNG FWD

Avg. Price: $18,956
LS Fleet FWD

Avg. Price: $13,898
LS FWD

Avg. Price: $15,387
LT CNG FWD
LTZ 1LZ FWD

Avg. Price: $15,773
LTZ 2LZ FWD

Avg. Price: $18,892
Quick Links