Looking for a Used MX-5 Miata in your area?
CarGurus has 2,195 nationwide MX-5 Miata listings starting at $3,100.
Review
The Good
Sensational agility, a spiffy design, decent mileage, a simple but effective retractable hard-top option and an agreeable base price keep the 2012 Mazda MX-5 Miata at the top of the affordable sports car list.
The Bad
Little trunk or cabin storage, cramped interior space and a lot of road noise won't win this two-seater any prizes for comfort.
The CarGurus View
Once more, Mazda has a winner with its well-wrought 2012 MX-5 Miata sports convertible. This third-generation roadster provides some cheap thrills on twisty roads, but don't think about a coast-to-coast adventure. Cramped quarters and little luggage capacity don't play well with long limbs and voluminous wardrobes.
At a Glance
For over 20 years, Mazda's Miata lineup has given drivers on a budget the thrill of piloting a true sports car. For 2012, the third-generation MX-5 Miata continues this grand tradition. This lightweight two-seater offers both soft-top and retractable hard-top versions, boasts some utterly delightful handling characteristics and features a respectable, if not exactly power-laden inline 4-cylinder (I4) engine along with a choice of three transmissions. Don't expect this little runabout to offer a feature-rich picture of posh, however. Nor a whole lot of cabin or cargo space, either, with its miniscule trunk offering only 5.3 cubic feet of toting capacity. With so little trunk space, this affordable roadster carries no spare tire, though a standard tire repair kit comes with each trim. Additionally, the MX-5 Miata's interior rummages the bottom of the barrel for materials, with much hard plastic and little in the way of ambiance, while the curious placement of lower-dashboard cupholders makes shifting either of the manual transmissions a challenging exercise in dexterity. But then, that's part of what puts the "sport" in this particular sports car, or so Mazda would have one believe.
In any case, by dropping the limited-production Special Edition trim for 2012, Mazda now offers it's MX5 Miata in three trims, the base Sport, midlevel Touring and high-end Grand Touring. All are offered with the standard manual-folding soft top, with the two higher trims boasting an available retractable hard top that raises or lowers with the push of a button. All trims are rear-wheel drive only, a must for agility and fun, especially with the available Suspension Package, available on the two higher trims. Mazda recommends premium unleaded gasoline throughout the lineup.
Again, the up-and-coming MINI Cooper convertible offers the MX-5 Miata its closest competition in 2012, while Ford's venerable V6 Mustang convertible also might be worth a look-see in this price range. Nonetheless, a base price of $29,130, pure driving exhilaration and a bold, in-your-face design should once again keep Mazda's iconic two-seater perched solidly atop the list of popular and affordable sports cars.
Drivetrain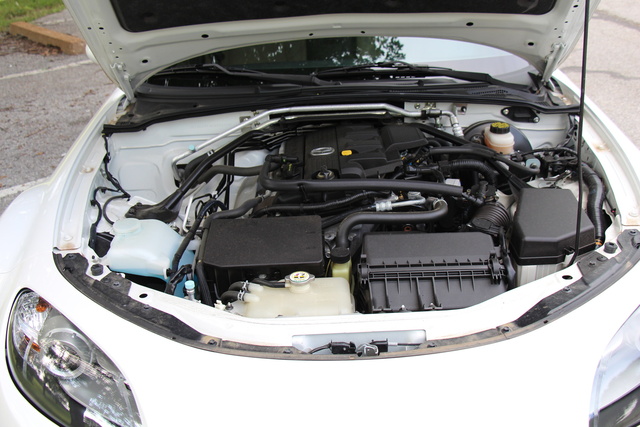 A 2.0-liter I4 powerplant is the sole engine offering for the 2012 MX-5 Miata lineup. This spiffy four-banger is matched with either the standard 5-speed manual transmission in the Sport or a standard 6-speed stick shift in the Touring and Grand Touring trims, for 167 hp at 7,000 rpm and 140 lb-ft of torque. Meanwhile, an available 6-speed shiftable automatic transmission is optional across the lineup, but cuts the ponies back to 158 hp at 6,700 rpm. Mileage runs in the vicinity of 22 mpg city/28 highway with the 5-speed stick shift and 21/28 with both the 6-speed manual and the 6-speed shiftable automatic transmissions.
Reviewers in general look favorably on the MX-5 Miata's potent I4, with one maintaining that it carries itself well both around town and on the highway. One test of the four-banger had it turn 0-60 in 6.9 seconds, which won't break any track records but isn't anything to sneeze at, either. A hoot to rev at a red light, the I4 requires a sure hand in stick-shift-equipped trims to prevent a bit of embarrassment getting from first to second gear, reviewers note. However, virtually all agree that the short throw and glitch-free clutch common to both the 5- and 6-speed manual transmissions makes for some exhilarating moments coming down the mountain. The 6-speed shiftable automatic, meanwhile, with its steering-wheel-mounted paddle shifters, is nearly comparable to its stick-shift brethren, with only a marginal decrease in overall oomph from a stop, according to several reviews. Finally, opinion among reviewers differs as to engine noise, with some claiming a sporty note from the I4 and others declaiming simply a racket.
Ride & Handling
The 2012 MX-5 Miata stakes its reputation on its over-the-top handling characteristics. Indeed, its 4-wheel independent suspension, with a double-wishbone front end and multi-link rear suspension, complements its svelte weight to provide some astonishing nimbleness on even the trickiest back roads. Front and rear stabilizer bars help, of course, as do the performance tires that come standard across the lineup, with 16-inch alloy wheels standard on the base Sport and the higher trims boasting standard 17-inch alloy wheels. And, as if that wasn't enough, both the Touring and the Grand Touring trims also can be delivered with a Suspension Package that features a sport-tuned suspension system bolstered by Bilstein shock absorbers, a larger rear stabilizer bar and a limited-slip rear differential.
A number of reviewers complain of the MX-5 Miata's tendency for the rear end to sling-shot a bit in fast turns, but all agree that prudent throttle, shifting and steering manipulation work wonders in this agreeable roadster. Braking, meanwhile, is described by reviewers as powerful and true, while body-lean in turns is, as would be expected, well controlled. Steering is described in most reviews as surprisingly balanced at higher speeds, though some complain of a rather heavy feel at low and moderate speeds.
Of course, all this agility comes at a price in overall ride comfort. This is, after all, an automobile designed for the fast lane, with the stiffer suspension taking cushy pretty much out of the cruise. Most reviewers concede, however, that though firm, the ride is usually not discomforting. Owners who select the available Suspension Package, however, can expect an even less compliant ride, especially with the standard 17-inch tires. No matter the suspension, trims with standard 17-inch tires will react uncomfortably to obvious road imperfections, to the extent that some marginal interference can be expected with this otherwise competent two-seater's overall aplomb.
Cabin & Comfort
Sporty and plush seldom go together in an automobile, especially when affordable is thrown in. The 2012 MX-5 Miata Sport trim with the 5-speed stick shift, however, boasts a standard manually folding soft top, cloth upholstery, floor mats, simulated alloy dashboard trim, leather-trimmed center console and a leather and simulated alloy steering wheel. Further amenities delivered with this base trim include power windows and mirrors, tilt-wheel steering and air conditioning, with entertainment consisting of an MP3-capable single-CD player and 6 speakers. The Sport trim equipped with the 6-speed automatic transmission adds cruise control, remote power door locks and a thermometer.
Moving up to the midlevel Touring, meantime, begets such standard additions as remote power door locks, cruise control, a 6-CD changer, auto day/night rear-view mirror and a universal garage door opener. Finally, the top-shelf Grand Touring tosses standard leather-trimmed upholstery, simulated alloy trim on the doors, heated seats, automatic climate control and a Bose premium sound system with subwoofer on top of the mix.
Options for the Sport trims include splash guards, satellite radio, a 6-CD changer and a rear spoiler, with a couple a of available packages also thrown in. The Appearance Package boasts side and rear underbody skirts and a front air dam, with the Convenience Package offering cruise control, upgraded power windows, steering-wheel-mounted audio and cruise controls and a trip computer. Both the Touring and Grand Touring trims, meanwhile, are eligible for the available retractable hard top convertible roof and the Suspension Package. Additionally, the Grand Touring can be delivered with the Premium Package, featuring keyless access and start, satellite radio and a wireless cell-phone link.
Most reviewers find the MX-5 Miata's cabin somewhat cramped, especially those 6 feet and taller, though gauges and controls are conceded as large, readable and straightforward. Another concession made by several reviews is the fact that the abundant hard plastic cabin surfaces don't come across as cheap, and the leather upholstery in the Grand Touring definitely adds some needed class. Seats are noted by most reviewers as comfortable enough for short-to-midrange trips, but not bolstered or padded well enough for longer cruises. Rearward visibility is painfully limited with the soft top up, according to virtually all reviewers, but the retractable hard top, whether up or down, offers splendid views all around.
Safety
The usual standard safety features adorn the 2012 MX-5 Miata, including 4-wheel antilock disc brakes (ABS), traction and Dynamic Stability Control (DSC) and dual side-mounted airbags with head protection chambers. The Touring and Grand Touring trims, as well as the Sport trim flaunting the 6-speed automatic, additionally sport standard halogen front fog/driving lights, while the Grand Touring can be delivered with available xenon high-intensity discharge (HID) headlights and a remote antitheft alarm, both part of the Premium Package.
For whatever it means, neither the National Highway Traffic Safety Administration (NHTSA) nor the Insurance Institute for Highway Safety (IIHS) has tested either the 2011 or 2012 MX-5 Miata. Though traction and stability control are cited by the NHTSA as necessary safety equipment, it might behoove owners to use some discretion in putting this racy roadster through its paces.
What Owners Think
When listing the downsides to the 2012 MX-5 Miata, owners generally home in on its cramped and plastic-laden cabin. Owners with stick-shift trims also complain that the lower-dashboard cupholders interfere endlessly with dexterous shifting. Tepid acceleration is an issue with some owners, though others say that the four-banger suits them just fine, especially considering this little roadster's low weight. Finally, visibility issues with the soft top raised and the lack of a spare tire, as well as a lamentable dearth of both cabin and trunk storage space has a number of owners relegating this spiffy convertible to only-on-sunny-Sundays status.
When it comes to pure driving fun on any day of the week, however, owners are adamant in their praise of Mazda's little roadster. Good looks, decent-to-laudable mileage, wind-in-the-hair exhilaration and a pretty fair value traditionally run high on the list of the MX-5 Miata's lauded traits.
Updated
Have Laptop. Will Travel. I'm retired and travelling the country in a 34' motor home. I'm really digging meeting people . . and sometimes their cars . . . getting a sense of what makes this nation tick. The plan is to visit all the national parks in the continental US, then cruise to Alaska to visit Denali, and to Hawaii to check out Haleakala and the Hawaii Volcano's national parks. Anyhow, when I'm not horsing the motor home around the roadways, I'm tooting around in the 2012 Ford Focus that we tow behind, or making runs to Home Depot and various malls with the 2004 F-150 that just won't die.
What's your take on the 2012 Mazda MX-5 Miata?
Have you driven a 2012 Mazda MX-5 Miata?
Cars compared to 2012 Mazda MX-5 Miata
Looking for a Used MX-5 Miata in your area?
CarGurus has 2,195 nationwide MX-5 Miata listings starting at $3,100.
Mazda MX-5 Miata Questions
Trims
Grand Touring RWD

Avg. Price: $19,487
Grand Touring RWD with Power Hard Top

Avg. Price: $18,855
Special Edition RWD with Power Hard Top

Avg. Price: $17,729
Sport RWD

Avg. Price: $16,734
Touring RWD

Avg. Price: $17,833
Touring RWD with Power Hard Top

Avg. Price: $19,069
Quick Links