Looking for a Used Civic in your area?
CarGurus has 65,288 nationwide Civic listings starting at $1,111.
A Great Bundle Of Stylishness, Efficiency, And Technology
by David
— I loved everything above: the alloy wheels, leather seats, Bluetooth, and Gas consumption. It's pretty stylish and comfortable. Fun to drive and a nice car to own. Honda cars are expensive brand-new, ...
Read more
Economy Size Car
by Johnnyk18
— Like the reliability, features such as bluetooth, xm radio, easy accessibility, cruise control, digital speedometer, leather seats, sun roof, alloy wheels, gas mileage, maintenance, exterior color bla...
Read more
Great Second Car.
by Lucypenny
— This car met all of our expectations for a second car. It is comfortable and roomy. We drove the car on a few long trips and we're very satisfied with the performance. We liked the economy, looks, ...
Read more
Review
The Good
The all-new 9th-generation Honda Civic debuts for 2012 with an updated exterior design, a more spacious interior and an extensive lineup of available choices, including nearly a dozen trims, from the economical DX to the sporty Si to the efficient Civic Hybrid to the cutting-edge Natural Gas Civic.
The Bad
With competitive vehicles from Ford, Chevy and Hyundai upping the ante, the redesigned Civic missed an opportunity to take leadership of its class, falling short of the best the field has to offer in just about every category.
The CarGurus View
Over its 40-year history, the Honda Civic has gained a reputation as a reliable and affordable compact car. But like the Toyota Camry, which also received a full redesign in 2012, the Civic received an evolutionary rather than a revolutionary updating. While this may appeal to longtime fans of the Civic, it also imperils the vehicle's leadership role in the segment, since competitive vehicles like the Ford Focus, Chevy Cruise, and Hyundai Elantra have leap-frogged it in terms of styling, power, fuel economy and value. Still, the new Civic has much to offer, and it's worth a look, especially if you're drawn by Honda's reputation for reliability and build quality.
At a Glance
Honda had specific goals in mind when redesigning the Civic for its 9th generation, seeking to create a car that was "energetic, sleek and aerodynamic," according to an early press release. Whether the automaker has achieved those goals is up for debate. Numerous critics feel that Honda has missed an opportunity to re-establish the Civic as the leader in its class. In fact, in several rankings of compact cars, the Civic slots in mid-field, overshadowed by newer, sexier vehicles designed to appeal to younger, more energetic and more value-driven buyers.
It's easy to follow Honda's thinking. The automaker simply wanted to ensure that the 9th-generation Civic was still recognizable as a Civic. Hence, the overall look of the previous generation remains, specifically the "mono-form" (i.e. seamless) styling, which now has a slightly more fluid, aerodynamic shape. The windshield is more dramatically raked, creating better aerodynamics while improving interior space, and the front and side pillars have narrowed, providing better visibility for the driver and passengers, according to Honda. In addition, the increased use of high-strength steel in the body helps to reduce the Civic's weight while increasing rigidity.
Although the Civic's overall dimensions have not changed, it now boasts an additional 3.8 cubic feet of interior space (for a total of 94.7 cubic feet inside), thanks to design advancements, the more sharply raked windshield, and the interior's revamped layout. That additional interior space is most noticeable in rear-seat legroom, which increases by 1.6 inches, and in an additional 3 inches of shoulder room for front passengers. In addition, larger windows help the interior seem more spacious, although that also shows off the oodles of hard, cheap plastic surfaces. The wide expanse of the dash is especially unattractive to some reviewers.
Civic trims for 2012 include the entry-level DX, mid-level LX, and upper-end EX and EX-L, as well as the high-performance Si, the Civic Hybrid and the new highly fuel-efficient, value-oriented Civic HF. Completing the lineup is the Civic Natural Gas, previously known as the GX, which runs on compressed natural gas. Although it was sold in only four states in previous years, it's now available through select, qualified dealers nationwide.
Drivetrain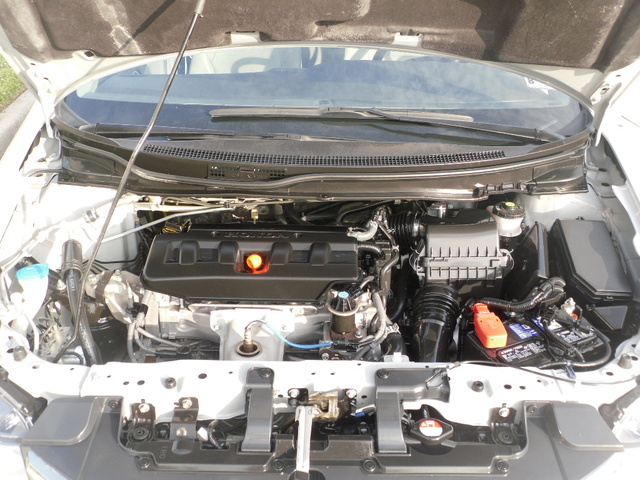 Despite the Civic's redesigned exterior and interior, its powerplants in the Civic DX, LX, EX, and EX-L roll over from the previous year unchanged, although Honda says it did tweak the engines with "new powertrain technologies" to make them more fuel-efficient. The Si receives a new, larger 2.4-liter engine plus a new power monitor, while the Civic Hybrid now comes equipped with a new, larger 1.5-liter engine, replacing the previous year's 1.3-liter powerplant. It also gets a new lithium-ion battery system, replacing the previous nickel-metal hydride system.
The Civic's primary powerplant, the 1.8-liter SOHC, i-VTEC 4-cylinder engine, has been driving the Civic since 2006. Generating 140 hp and 128 lb-ft of torque at 4,300 rpm, it powers the Civic's standard sedans and coupes, as well as the new Civic HF. The engine links to either a 5-speed manual transmission, which comes standard in the DX and LX, or a 5-speed automatic, which is optional in the DX and LX and standard on the EX and EX-L, as well as in the HF. The EX-L Coupe, EX and EX-L Sedans, and HF do not offer the manual transmission. Both transmissions deliver solid performance but disappoint when compared to the 6-speed units found in the Focus, Cruze and Elantra.
Thanks to aerodynamic and friction improvements, the 1.8-liter powerplant ekes out an extra 3 mpg when compared to the previous year's engine. The Civic's base engine now posts fuel economy numbers of 28/39 mpg when mated to the automatic transmission, and 28/36 when linked to the manual transmission. Thanks to reductions in aerodynamic drag and low-rolling-resistance tires, the Civic HF posts even higher numbers of 29/41 mpg.
The Si's new 2.4-liter i-VTEC engine, which was pulled from the Acura TSX sedan, produces 201 hp, a mere 4-hp increase over the previous 2.0-liter engine. But it also delivers 170 lb-ft of torque, as opposed to 139 from the 2.0. That's a substantial increase in the very usable lower end of the powerband. In addition, peak power now comes at 7,000 rpm, as opposed to 7,800 rpm in the previous engine. This does a lot to increase the overall driveability of the Si, especially around town. The Si also gets a new 6-speed manual transmission, which helps to improve fuel economy. The engine posts fuel economy numbers of 22/31 mpg, up slightly from the previous year's numbers of 21/29.
The Civic Hybrid's new powerplant consists of a 1.5-liter 4-cylinder i-VTEC engine and a larger, more powerful 23-hp electric motor. Together, the gas engine and electric motor generate 110 hp and 127 lb-ft of torque. That horsepower number is the same as the previous-generation powerplant, but the new engine achieves peak performance at 500 fewer rpm, providing better performance at lower speeds. Torque has increased by 4 lb-ft over the previous version. The Hybrid's powerplant also includes a Continuously Variable Transmission (CVT) with a wide drive ratio for improved acceleration and performance at cruising speeds. Other features of the Hybrid include a fuel-efficient ECON drive mode, regenerative braking and a lighter, more compact and more powerful lithium-ion battery. The EPA estimates fuel economy numbers for the Hybrid at 44/44 mpg.
Previously available in only four states, the Civic Natural Gas is now sold through select dealers nationwide. It uses a tweaked version of the same 1.8-liter engine found in the Civic, generating 110 hp and 106 lb-ft of torque. An ECON driving mode and ECO Assist help boost fuel economy at cruising speeds. Fuel economy numbers for the Civic Natural Gas check in at 27/31 mpg.
Ride & Handling
While the Civic generally gets good marks for its ride and handling, competitive vehicles match, and sometimes exceed, the Civic in those areas. The 6-speed transmissions in the Focus, Cruze and Elantra, for instance, help improve overall performance. The Civic's improved low-end torque also helps, but again, competitors like the Elantra meet or exceed the Civic in that regard.
All Civic trims ride on an updated chassis, which Honda claims has a 10 percent improvement in rigidity. Testers have commented that the Civic feels tighter for 2012, despite carrying over the same front strut and multilink rear suspension.
Motion-Adaptive Electronic Power Steering, designed to improve steering at lower speeds while helping to improve feel at higher speeds, also comes standard across the Civic lineup. However, some critics ding the system for a lack of feedback. In addition, some reviewers cite excessive body roll in tight corners as well, and note that the suspension feels a little too softly tuned in the Civic Sedans, although it tightens up a bit for the Coupes. Testers note that even the sporty Si exhibits a little too much body lean in corners.
Redesigned front seats for the Civic provide better support, internal springing and padding for passengers, who will notice more shoulder and hip room as well, thanks to a more spacious cabin. The fabric-covered seats in the lower-end trims generally get good marks from reviewers, but some say that the leather upholstery in upper-end trims bunches at odd places, creating an uncomfortable feel. Controls and knobs on the Civic's two-tier instrument panel will be familiar to those who drove the previous generation, but some may find the array of controls, including steering-wheel-mounted controls for the Civic's new Intelligent Multi-Information Display (i-MID), to be confusing at first.
Entry-level Civics ride on 15-inch tires, while upper-end trims get 16-inch rubber. The Civic HF receives special low-rolling-resistance tires, which help improve fuel economy.
Cabin & Comfort
Just as the Civic is criticized for its uninspiring exterior, it fails to impress many reviewers and buyers on the inside. Many current Civic owners will find the new Civic's layout familiar. A two-tiered instrument cluster places key displays at the top of the dash above the steering wheel, closer to the driver's line of sight out the windshield. Other less-important displays and readouts are in the lower tier. The center console, with the new 6.5-inch Intelligent Multi-Information Display (on all trims but the DX) angles toward the driver, creating a wraparound affect. Add in multiple controls on the steering wheel, and it's a lot to look at. In fact, at first glance, it resembles the cockpit of an aircraft and might seem a little overwhelming to new drivers. Subtle it is not.
On the plus side, the new plastic has a more pleasing rice texture, and the plastic is nicely sculpted around the shifter and passenger well. Also on the plus side, larger windows and narrower A and B pillars give the interior a more open feeling, as well as better visibility out the front and sides.
All trims except the DX receive Honda's new 6.5-inch LCD intelligent Multi-Information Display (i-MID), which nestles into the upper right section of the Civic's instrument panel. The new display system handles audio, Bluetooth and general vehicle systems, controlled through on-screen icons or buttons on the steering wheel. The system gets mixed reviews, with some finding it confusing to operate, given the vast array of buttons and controls, while others note that it's one of the better multi-information displays available today. The i-MID also provides driver-feedback and fuel efficiency information on Hybrid trims, and handles navigation for Civics equipped with that feature.
While the Civic's mid- and upper-end trims come well-equipped for its class, some competitors offer better-equipped cabins in essentially the same price range, making them a better overall value. This also applies at the low end, since the entry-level DX trim comes equipped with such standard features as power windows and a tilt-telescopic steering wheel but not air conditioning, a radio or power door locks. Some entry-level competitive vehicles do. The LX level adds a 160-watt audio system, air conditioning, power door locks, cruise control, remote keyless entry and steering-wheel-mounted controls, while the EX and EX-L add a 360-watt audio system, a power moonroof, voice-activated controls for Bluetooth and a second-row fold-down armrest. The EX-L also comes equipped with heated front seats and leather upholstery, while owners can add navigation to either the EX or EX-L.
The Si gets a leather-wrapped steering wheel with audio, cruise and Bluetooth controls, plus a power moonroof, 360-watt audio system, keyless entry, air conditioning and power features. Air conditioning does not come standard on the base Hybrid, but it includes Bluetooth, a 160-watt audio system and power windows and door locks as standard features. For the Civic Natural Gas, air conditioning, Bluetooth, steering-wheel-mounted controls, and power windows and door locks are among the standard features. The value-oriented HF comes equipped with the i-MID and a stripped-down 4-speaker audio system, among other features.
Trunk space is up in the Civic this year, with an additional half a cubic foot, bringing the total in the sedan to 12.5. However, it's still trailing class leaders like the Elantra and the Cruze, which offer 14.8- and 15-cubic-foot trunks, respectively.
Safety
Named a Top Safety Pick by the IIHS, the Civic sedan also received a top score of 5 out of 5 stars from the NHTSA. All Civics now come equipped with vehicle stability control as well as antilock brakes, electronic brakeforce distribution and brake assist. Side-curtain and front-side airbags, as well as dual-stage front airbags, also come standard on all Civics.
Some reviewers have noted that the Civic's stopping distance is not as good as it should be, which isn't surprising, since the braking systems also roll over from the previous generation unchanged. Critics have noted that the EX and EX-L trims, which get 10.3-inch front and 10.2-inch rear disc brake rotors, bring the Civic to a halt from 60 mph in a disappointing 131 feet. Rivals do better, and certainly better than DX and LX trims, which get a rear drum. The Si gets larger, 11.8-inch front rotors, which help improve stopping distance somewhat.
What Owners Think
Not surprisingly, the new Civic gets overall good marks from owners, who cite improved fuel economy, a smooth ride, and good handling as among the car's positive attributes. They also like the Civic's updated exterior styling, finding it sporty and attractive. This is especially true for long-time Honda owners, who are familiar with the brand and find the redesigned Civic a worthy successor to the lineage.
The Civic's quietness as lower speeds, as well as its roomy interior, are also cited as positive aspects of the Civic by many owners. In addition, they find the interior roomy, and they value the Civic's many safety features.
On the negative side, some owners find the Civic's seats a little too uncomfortable for long trips, and a number of owners have noted excessive vibrations, especially around the dash, as well as excessive road noise at higher speeds. On the other hand, owners note that the new Civic's road noise is not as bad as it was in earlier versions of the vehicle. A number of owners point out that they were almost dissuaded from looking at the Civic due to negative comments from some reviewers, but ultimately say they were happy they ignored those comments and purchased a Civic, concluding that they're happy with their buying decision.
Updated
Rob has been a contributor to CarGurus since 2007, and an automotive test-driver and writer since the early '90s. He's test-driven everything from BMWs and Jags to Bentleys and Saabs, with an occasional Range Rover, Ferrari, Porsche or Lamborghini thrown in. He also created the annual Car of the Year and Exotic Car of the Year awards for Robb Report magazine. He currently resides in California.
What's your take on the 2012 Honda Civic?
2012 Honda Civic Top Comparisons
Users ranked 2012 Honda Civic against other cars which they drove/owned. Each ranking was based on 9 categories. Here is the summary of top rankings.
Have you driven a
2012 Honda Civic
?
Cars compared to 2012 Honda Civic
Looking for a Used Civic in your area?
CarGurus has 65,288 nationwide Civic listings starting at $1,111.
Have questions?
Ask a question
Honda Civic Questions
Help With Grinding/rattling Noise?
I have a 2012 Honda Civic, recently I started getting the smell of antifreeze while stopped at lights, or randomly while driving. Last night I left work and noticed a slight grinding type sound comi...
Honda Civic 2012 Charging Battery Issue Without Lights
Honda civic 2012 LX 1.8L won't charge under certain load conditions. Had the reg/alternator and battery check OK. When the battery is not fully charged and it reads around 12.3 vdc using a voltmeter...
Is Continental Mazda Of Naperville Permanently Closed
2012 civic coupe was at continental Mazda in Naperville. Now website shows permanently closed! If so what happened to the cars?
2012 Honda Civic Throws All Codes
2012 Honda Civic will turn over fine but not start. I turn the key back to the off position then try to start again and it will start right up. Once it starts it throws emissions, traction control...
2012 Civic Starting Battery Brand New
Starts most of the time but it wont start sometimes. everything electrical works but starter wont turn over like there is not enough battery power. Put in new battery but doesn't change things. Alte...
Trims
DX

3 national listings

Avg. Price: $8,841
EX

Avg. Price: $9,488
EX w/ Navigation

Avg. Price: $9,526
EX-L

Avg. Price: $9,703
EX-L with Navigation

Avg. Price: $9,343
GX
HF

Avg. Price: $7,854
LX

Avg. Price: $8,947
Natural Gas

Avg. Price: $8,061
Natural Gas with Navigation
Si

Avg. Price: $11,600
Show 2 more trims
Find great deals from top-rated dealersTM
Search
Quick Links