Looking for a Used 3 Series in your area?
CarGurus has 15,700 nationwide 3 Series listings starting at $2,499.
Review
The Good
BMW's 3 Series has continually provided class-leading handling, legendary engines, and near-perfect transmissions, and the 2011 lineup is no different.
The Bad
Continued attention to interior design and ergonomics are needed before the 2011 3 Series can truly be considered complete.
The CarGurus View
Critiquing BMW's 3 Series can spell doom for a reviewer, as you're bucking both consumer and critical opinion in general – but that doesn't mean the 2011 3 Series is perfect. It's not that the ergonomic inconsistencies and interface complexities are terminally detrimental, but when taken in contrast to the refined engines and transmissions and the benchmark suspensions, these shortcomings shine even more. Thankfully, diving into corners hard with that straight-six screaming, the audio controls and turn signal stalks will be far from top of mind.
At a Glance
A new trim level encompasses the only major change for the iconic BMW 3 Series in 2011. A sportier version of the 335 coupe and convertible has been added to the lineup, to accompany the 328 and traditional 335 trims. The base 328 trim comes in rear- or all-wheel drive and is available as a four-door sedan, two-door convertible or coupe, or a four-door wagon, while the 335 drops the wagon configuration, but adds several engine options. The 328i has a base rear-wheel-drive layout, while those designated xDrive receive BMW's xDrive all-wheel-drive system.
Drivetrain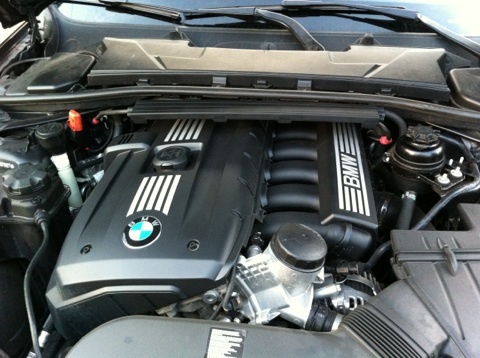 All 328s are powered by a 3.0-liter inline six-cylinder engine that produces 230 hp for a spirited if not harrowing ride. 230 horses don't seem like much anymore, but they're more than enough to scoot the 328 both around town and on the highway, with even passing maneuvers failing to tax the robust six. xDrive will offer a slight penalty in overall sprightliness, but with a major gain in stability, especially in the snow.
If the 3.0-liter in the 328 is competent, the turbocharged 300-hp version in the 335 serves to up the ante slightly, enough to make the jaunt to 60 mph in 4.7 seconds. Turbo lag is evident, but not excessive or aggravating, and the ramp up to peak power is exhilarating. 335is coupes and convertibles get an even more potent 320-hp version of the turbocharged inline 3.0-liter six, which feels much faster than the extra 20 horses would suggest. Perhaps that's because it also gets an extra 32 lb-ft of torque for a total of 332, as well as an overboost mode that will ramp the pressure in the turbines up to 14.5 psi for up to 7 seconds, delivering 370 lb-ft at will.
For years in the States we've complained about all those high-performance special edition 3-Series models that appear in Europe but never seem to hop the pond. It'd be easy to think that the Germans decided to quiet our near-constant complaints by simply upping the boost in the 335i from 8.7 to 11.6, slapping an "s" on the end of the trim designation and retiring to the nearest watering hole for brats and beers. But this simply isn't the case, lucky for us. The 335is gets a higher-capacity cooling fan and a redesigned lower fascia with bigger openings to cool the secondary radiator and oil cooler tucked behind its left and right sides. It also gets stiffer engine mounts to handle the increased torque and is the first non-M BMW to get not only the six-speed manual, but the seven-speed Double Clutch Transmission, arguably the best offered in the lineup. It's the torque that really makes the difference, with even its baseline rating of 332 besting the flagship M3's 295 by a surprising amount, especially when considering the 335's peak torque arrives at 1,200 rpm, as opposed to 3,900 for the M3. Horsepower is a similar story, and while the M3 puts up an impressive 414 from its 4.0-liter V8, it won't show up until a screaming 8,300 rpm, while the 335's inline six delivers at a more accessible 5,800. Personally, I'll take the more streetable 335.
For a truly insane amount of torque, enough to tear the asphalt right out from underneath you, look to the 335d, powered by a turbodiesel 3.0-liter inline six offering 425 lb-ft of torque at an immediately apparent 1,750 rpm. 265 horses show up at 4,200 rpm, making sure your arms will stay straight all the way to redline.
Ride & Handling
The 3 Series has long been considered the benchmark for handling in a sport sedan and has been the goal for many other classes besides. All setups are firm but never abrupt, with just enough information transferred through the wheels and suspension to inform, but not annoy. On smooth pavement, there's nothing better than a 3 Series.
The 335is gets an M suspension good for a slight 10mm drop, along with the stiffer springs and shocks and larger tires that transfer road inconsistencies with increased resonance. The steering might be an even more impressive characteristic of the 3 Series, with perfectly balanced feel regardless of speed.
Cabin & Comfort
By far, the cabin of the 3 Series draws the most complaints, with occasionally frustrating ergonomics and interfaces, including the consistently crappy iDrive system – despite claims of improvement. Overcomplication seems to be the inspiration in a lot of interior decisions, with turn-signal stalks and audio controls drawing the most negative attention.
Cabin materials, however, are of top quality – even those that don't seem to fit at this class, like vinyl upholstery and hard plastics. Construction, fit, and finish are impeccable, with no mismatched seams or joints and even a total lack of cowl shake in the convertible. Doors close with a pleasing and solid thud, and seats provide long-distance comfort and performance support, as long as the occupant doesn't stray too far from svelte. Front seats accommodate 6 footers with ease, with only the sunroof impeding headroom, but the rear space can be a bit cramped for adults.
The convertible's power top drops in just over 20 seconds, and even at highway speeds, wind buffeting is controlled enough for shoutless conversation. Tire noise increases with the larger wheels of the 335is, but still isn't intrusive.
Safety
While the coupe, sedan, and wagon get front and rear side head-protecting airbags in addition to the dual front and front side airbags, the convertible gets automatic roll bars instead. The sedan and wagons additionally get front-seat active head restraints. All 3 Series vehicles have antilock four-wheel disc brakes and an antiskid system, and the coupe and convertibles have daytime running lights.
NHTSA crash test results show a four-star rating for all frontal impacts and a five-star rating for all side impacts. 3 Series sedans and wagons have a four-star rollover resistance rating, but coupes and convertibles managed to score a top five-star rating.
What Owners Think
The 3 Series fellowship is a loyal crowd, wary to criticize their beloved icon, but nevertheless complaints have been heard. Despite near-perfect engines, transmissions, and suspension setups, the interior design has drawn continual complaint in recent years, primarily from frustrating ergonomics and an overly complicated technical interface. Still, the comfort, performance, and overall finish of the 3 Series seem to overshadow any complaints.
Updated
A CarGurus contributor since 2008, Michael started his career writing about cars with the SCCA - winning awards during his time as editor of Top End magazine. Since then, his journalistic travels have taken him from NY to Boston to CA, completing a cross-country tour on a restored vintage Suzuki. While his preference is for fine German automobiles - and the extra leg room they so often afford - his first automobile memories center around impromptu Mustang vs. Corvette races down the local highway, in the backseat of his father's latest acquisition.
What's your take on the 2011 BMW 3 Series?
2011 BMW 3 Series Top Comparisons
Users ranked 2011 BMW 3 Series against other cars which they drove/owned. Each ranking was based on 9 categories. Here is the summary of top rankings.
Have you driven a 2011 BMW 3 Series?
Cars compared to 2011 BMW 3 Series
Looking for a Used 3 Series in your area?
CarGurus has 15,700 nationwide 3 Series listings starting at $2,499.
Trims
328i Convertible RWD

Avg. Price: $15,691
328i Coupe RWD

Avg. Price: $11,913
328i Sedan RWD

Avg. Price: $10,250
328i Wagon RWD

Avg. Price: $10,461
328i xDrive Coupe AWD

Avg. Price: $12,238
328i xDrive Sedan AWD

Avg. Price: $11,142
328i xDrive Wagon AWD

Avg. Price: $14,005
335d Sedan RWD

Avg. Price: $13,806
335i Convertible RWD

Avg. Price: $17,375
335i Coupe RWD

Avg. Price: $15,701
335i Sedan RWD

Avg. Price: $12,929
Show 4 more trims
Quick Links