Looking for a Used Element in your area?
CarGurus has 559 nationwide Element listings starting at $2,495.
Review
The Good
The 2010 Honda Element, as it has from the start, offers fun and versatility to those who lead an active lifestyle and dare to be different.
The Bad
The 2010 Honda Element plays up the "utility" part of the SUV tag, but it does have its limitations, one of which is that it seats only four.
The CarGurus View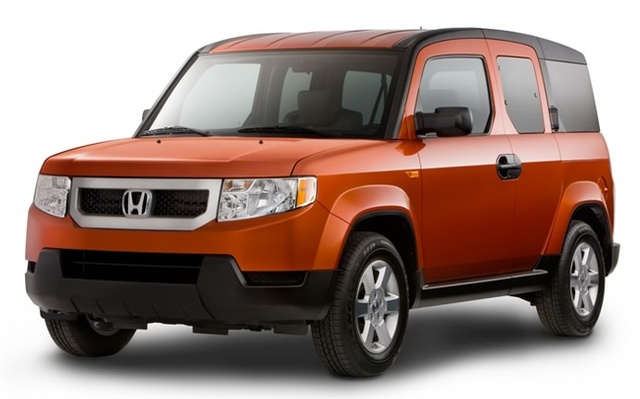 The 2010 Honda Element may still catch the eyes of some folks for its dorm-room-on-wheels styling. It's what's on the inside that counts: The Element's expansive cargo space and versatility are among its major selling points.
At a Glance
Let's get the animal jokes out of the way right up front. No, the 2010 Honda Element is not going to the dogs. But yes, Honda is ready to pamper your pet and more than willing to bow down to Bowser's needs and wants.
A new Honda feature that caters to canines, the Dog Friendly Element Package, is now available. It includes everything from a soft-sided kennel to rubber floor mats for - well, easier cleanup - to a storable and extendable ramp designed to help age-challenged dogs make their way more comfortably into their home on wheels. And, oh yes, there's a rear ventilation fan to keep Fido from getting overheated. Hey, we told you they were being pampered.
Jokes aside, it's probably fitting that Honda would break into the doggie market with the Element. The box-shaped vehicle itself is unique, and has been appreciated for that and its versatility from its 2003 introduction.
That's not about to change with the 2010 edition. The Element is still a fun car, known as well as ever for its looks and cargo space and handling ability.
Originally targeted to a college-aged and slightly older crowd that was maybe ready to break out in its own style and looking for wheels to carry camping gear, bikes, and other outdoorsy and active gear, the Element appeals to a broad spectrum these days.
The 2010 Honda Element comes in LX, EX, and SC trims. The LX and EX versions come with front-wheel drive (FWD) or four-wheel drive (4WD). The SC is available only with FWD.
Looking to pamper a poodle? The dog package is available in EX trims only.
Drivetrain
The 2010 Honda Element is powered by a 2.4-liter four-cylinder engine rated at 166 horsepower and 161 lb-ft of torque. The Element has a five-speed automatic transmission and runs on regular unleaded gasoline.
EPA mileage estimates for the FWD Elements are 20 mpg city, 25 highway, and 22 combined. Those numbers dip just a bit to 19/24/21 in 4WDs. The Element is rated to tow up to 1,500 pounds when set up with Honda's accessory trailer hitch and ball.
Ride & Handling
Reviewers say they find the 2010 Honda Element's four-cylinder engine surprisingly quick and peppy for getting around town, as well as out on the road. They also like the compact crossover's responsive steering and handling and find the vehicle fun to drive and reliable even in tough conditions.
Some experts note the ride is generally smooth. Others feel that because of its stiff suspension, the Element feels a bit rigid and bumpy at times. That can make things uncomfortable, especially for those riding in the rear, on longer trips. They also complain about the level of road noise in back.
While the Element can do some crossover utility work, that's mostly because of the cargo space available because of its design. The vehicle's not going to do a lot of heavy towing given its trailering capacity of 1,500 pounds.
The LX and EX trims feature 16-inch wheels. The SC carries 18-inch wheels.
Cabin & Comfort
A roomy, spacious, and versatile cabin is one of the features that the experts appreciate most about the 2010 Honda Element.
There are several options for the use of the rear seats and cargo space. The seats can be folded down, folded up to the side or taken out. With the seats removed, the back opens up to 75 cubic feet of cargo capacity. Because of the height of the Element, bikes can be loaded upright, and when folded down the seats can make a two-person bed for camping. The tailgate opens wide to allow for better access to the back, or it can be lowered for tailgating.
The Element's theater-style seating sets rear-seat passengers up with nice visibility, and they have plenty of room. But all is not perfect. Reviewers find the seats in the rear somewhat uncomfortable. There are a couple of other issues with the seating. First, the Element seats only four. Plus, the rear doors can be opened only after the front doors are opened, which can make exiting difficult.
Safety
Traction control, antilock brakes, daytime running lights, a tire pressure monitoring system, and a full array of airbags are among the safety features of the 2010 Honda Element. Another highlight is a vehicle stability assist system that helps sense oversteer or understeer in an emergency situation and adjusts brake pressure to each wheel or reduces engine power to help restore control to the driver.
The Element grades well with five out of five stars in government crash tests for front and side impact. The vehicle receives only three stars, however, in rollover tests.
Visibility in the Element is very good in the front, but not as good towards the rear. A rear-view camera comes as part of an optional navigation system, but it is available with the EX model only.
What Owners Think
Owners of the 2010 Honda Element love its cargo space and its versatility. They appreciate that it's easy to use and that its upholstery and floors are easy to clean and keep clean. Did we mention the versatility? Some say they use the Element much like a truck and it serves that purpose quite well. It is, especially with the new dog-pampering setup, very canine friendly.
The Element, owners note, is a fun car to drive, and they like how it handles in varied conditions. They comment on how solidly it's built - like a little tank, they've said - and how reliable it is. Owners find it plenty peppy and powerful out on the highway or around the city and they like its gas mileage, too.
While some note the ease of access to the car, others agree with professional reviewers that it can be difficult to get in and out of the back seat. Still others would like to see more refinements, such as a nicer arm rest, heated outside mirrors, power windows in the back, and even a less wimpy horn.
What's your take on the 2010 Honda Element?
Have you driven a 2010 Honda Element?
Cars compared to 2010 Honda Element
Looking for a Used Element in your area?
CarGurus has 559 nationwide Element listings starting at $2,495.
Trims
EX

Avg. Price: $12,383
EX AWD

Avg. Price: $12,900
LX

Avg. Price: $10,203
LX AWD

Avg. Price: $10,832
SC
Quick Links